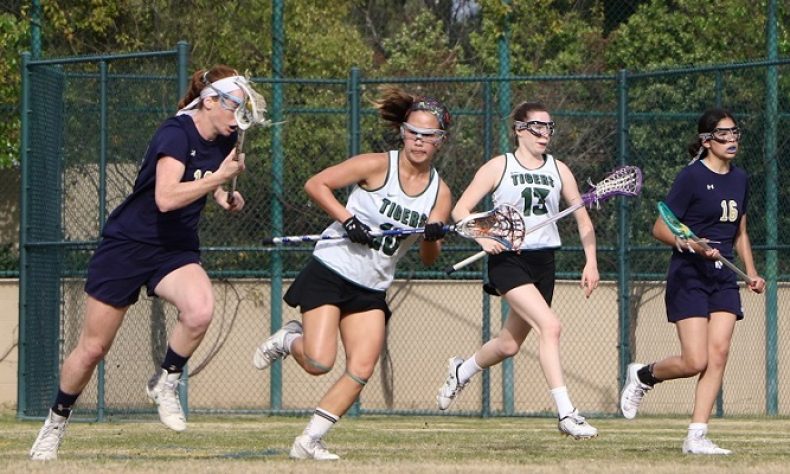 From STAFF REPORTS St. Monica Academy alumna Molly Hagan is the first freshman to walk onto the Notre Dame Women's Lacrosse team in 8 years. Only three girls were allowed to try-out to walk onto the team, and Molly was the only one to make it onto the 32-player travel roster. Coaches told Molly that […]
From STAFF REPORTS
St. Monica Academy alumna Molly Hagan is the first freshman to walk onto the Notre Dame Women's Lacrosse team in 8 years.
Only three girls were allowed to try-out to walk onto the team, and Molly was the only one to make it onto the 32-player travel roster.
Coaches told Molly that she was in the top 20% of the team for speed and overall fitness. They were impressed by her mental toughness, enthusiasm, and spirit, and said she could expect to get playing time as a freshman.
"We're completely thrilled," says Molly's dad, Jim Hagan. "She worked so hard on her fitness this past summer, but my wife and I were trying to be low key. We knew it was a long shot, and we did not want to get Molly's hopes unrealistically high. I couldn't be more proud of her. ND's campus will be seeing a lot of me this year."
Molly was the star of St. Monica Academy's new lacrosse team last year and led the team to victories against athletic powerhouses like Long Beach Poly, Notre Dame of Sherman Oaks, and La Canada High School.
She was also all-CIF in volleyball and basketball. In her senior year, Molly captained the volleyball and basketball teams to the playoffs and was the League MVP for both.
"Molly's successes and accolades put her alongside SMA's top female athletes," says SMA Athletic Director Darren Bradley. "But in terms of agility, strength, and versatility, she is unmatched. She is SMA's best female athlete."
Molly is now SMA's fourth NCAA athlete and second to play for a Division 1 school. Notre Dame was ranked 14th in the country in Women's Lacrosse at the end of the 2016-2017 season, and they play in the competitive Atlantic Coast Conference with Boston College, UNC, Virginia Tech, Duke, Louisville, Virginia, and Syracuse.
St. Monica Academy, an independent, Catholic, coeducational school for grades 1-12, is at the forefront of a renaissance in classical education, a time-honored method of teaching that inspires students to excel academically and morally. Founded by parents in 2001, the school provides 250 students in grades 1-12 with an academically rigorous education using a classical curriculum.
St. Monica Academy, grades 1-12 is located at 2361 Del Mar Rd, Montrose, CA 91020.