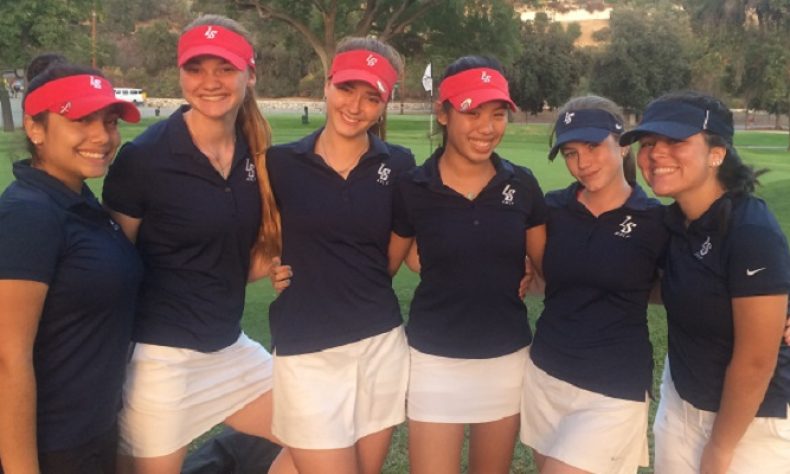 From STAFF REPORTS La Salle coach Steve Haderlein knows his Lancers have had an up-and-down season thus far. As of late, it's been more up than down. And if there is one constant, it's been the play of Makenna Hicks. Hicks shot 47's in Del Rey League victories over St. Paul and then Pomona Catholic. […]
From STAFF REPORTS
La Salle coach Steve Haderlein knows his Lancers have had an up-and-down season thus far.
As of late, it's been more up than down.
And if there is one constant, it's been the play of Makenna Hicks.
Hicks shot 47's in Del Rey League victories over St. Paul and then Pomona Catholic.
In their two wins, Hicks' average is 12 strokes better than her next closest teammate.
La Salle defeated St. Paul, 295-315.
A couple days later, the Lancers dispatched of Pomona Catholic, 279-313.
La Salle can finish no worse than second place in league.
Top 5 placers in win over Pomona Catholic:
Makenna Hicks 47
Collette Allen 53
Sarah Day 58
Ashely Mayo 60
Sophie Woodman 61
Top 5 placers in win over St. Paul:
Makenna Hicks 47
Sarah Day 61
Josephine Lo 63
Sophie Woodman 62
Ahtziri Rios-Aguirre 62
Quotable:
La Salle coach Steve Haderlein: "The girls played well and on a course that was unfamiliar to them. Very encouraging that we had one of our best efforts less than two weeks from the league tournament. The league tournament is October 16 and league finals October 19."