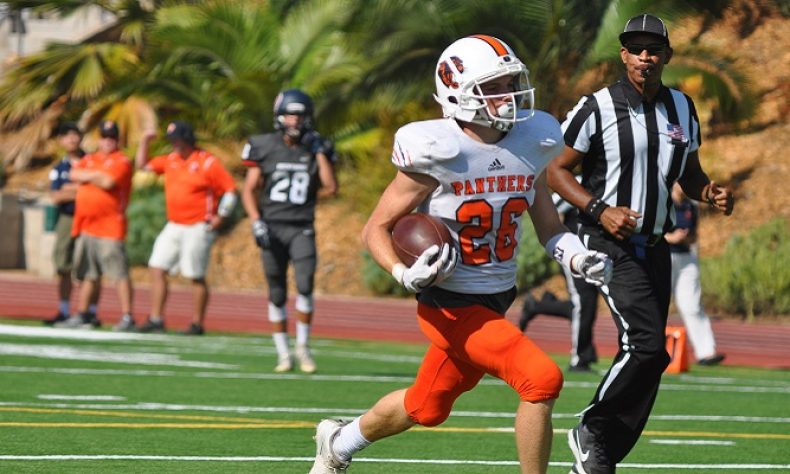 By BRIAN REED-BAIOTTO, Sports Editor Take one glance at Jackson Hayes, and he'd do anything but intimidate you. Hayes, 17, is about 5-foot-8 and 145 pounds on a day he ate a big breakfast. His contributions, though, on the field and in the classroom rival anyone. Hayes plays wide receiver and defensive back on Chris […]
By BRIAN REED-BAIOTTO, Sports Editor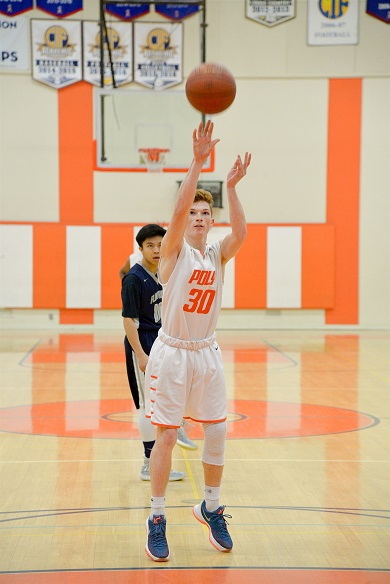 Take one glance at Jackson Hayes, and he'd do anything but intimidate you.
Hayes, 17, is about 5-foot-8 and 145 pounds on a day he ate a big breakfast.
His contributions, though, on the field and in the classroom rival anyone.
Hayes plays wide receiver and defensive back on Chris Schmoke's first-place football team, and he runs the point for Brad Hall's basketball program
He also plays second base and center field when needed for the baseball program.
Last season, Hayes won Prep League titles with each of the three programs.
He's certainly more impactful for the football and basketball programs, but when called upon, he filled in competently on the baseball field.
More importantly, though, his intellect, character and the respect he's earned from classmates, teammates, coaches and teachers at Poly is unimpeachable.
This orange-haired, skinny kid is a bad ass in no uncertain terms.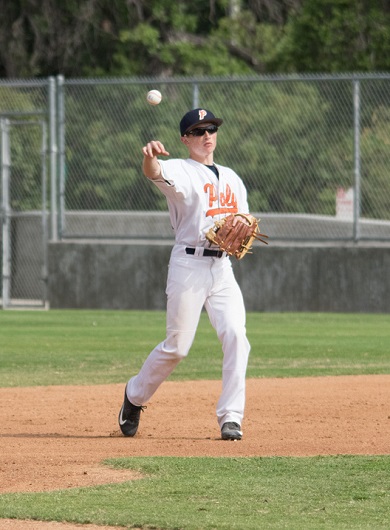 I've made the mistake of going to a Poly football game, and turned my head for a second to say hello to a parents, and I hear a crack and then "ooooh's" from the crowd, and it's Jackson getting up from laying out someone twice his size.
Number 26 can make a play on either side of the ball, and at any place on the field.
He scored 3 touchdowns his sophomore year, 8 last season and he's scored 8 times in 7 games thus far.
Hayes spends more time at receiver, but also lines up to run the ball and he's equally dangerous.
For those who haven't seen a lot of Poly football games over the last couple years, stats are incredibly misleading.
Their stars (Cameron McFarlane, Christian Henderson, Graham Olson, Hayes and others) have their numbers somewhat muted because they typically play two quarters in blowouts.
Poly is 16-2-1 over the last year-plus, and have won those games by a combined margin of 615-181.
"Jackson is a tough and competitive kid. He has excellent quickness, great hands, is in great condition, but what makes him special is that toughness and competitive nature," football coach Chris Schmoke said. "He has a chip on his shoulder and is going to prove to you that he is a player."
Hayes would be the first to tell you he's one of 11 guys on the field at one time, and how much Henderson, the Olson brothers, McFarlane, Jackson Treister, Thomas McConnell, Sean Tibay, Franco Alonso and everyone on their roster does to make them the class of the Prep League.
He's always wished he was bigger, but since there was nothing he could do about it, he knew the only options were to work 24-7 to be stronger and faster and be in the best shape of his life.
"There are a ton of cliches about size and they are all appropriate when discussing Jackson. He doesn't just want to be good or want to win, he needs to. I love that he has that chip on his shoulder," Schmoke said.
Poly has three league games left at Trinity Classical on Thursday, and then they'll host Firebaugh and Rio Hondo Prep in that order.
They might not say it, but the Panthers are the heavy favorites to win another Prep League championship.
Once that's done, Hayes will get one or two days off, and then he'll rejoin Brad Hall and the basketball program to play point guard and with the hopes of winning a second consecutive league championship, despite the graduation of Ryan Bowen and John Genske.
But to overlook what Hayes can do in any scenario is something you do at your own peril.
"One thing that defined him for me is how animated and energetic he is. He always wanted to be a leader and is super vocal," Poly basketball star from 2017 Ryan Bowen said. "He high-fives you after a lay up or even a missed shot. We became really good friends because of basketball, and because of how positive he is. We really shared a passion for basketball and we always tried to compete against each other."
Aside from the football and baseball fields and basketball court, the two things Hayes is most proud of are his family and his academics.
Hayes had maintained about a 3.5 grade-point average and said it might change a little, because he's taking four AP classes and an honors class.
His source of strength, guidance and love comes from his parents Lynn and Jordan, and he's the fierce big brother of Evan and Dillon.
Evan is a sophomore at Poly and Dillon is just 12.
Said Hayes: "My Dad is the hardest working person I've ever met. He works in wealth management, and his job and mentality is that you get what you put into whatever it is you're doing. After a long day, he comes home and is light-hearted. My Mom has put so much time into each one of us. I don't know where any of us would be without her."
Hayes also said his coaches have all had a lasting impact on him, especially Schmoke and Hall.
"They are both different people and have different ways of communicating, but they both share the same values and ideals," Hayes said. "We're taught to help our younger teammates and classmates to not only feel welcome, but to understand they way we do things here at Poly Coach Schmoke, ask anyone who plays for him, is a second father and someone we all admire greatly."
A couple weeks back, we did a feature on another impressive Poly student-athlete named Cameron McFarlane, and he and Hayes both mentioned how much being a part of the Poly campus has enriched their lives.
Both stars said the diversity in thought, politics, religion, and everything else are not only accepted, but respected on their campus.
Hayes surprised some when he took part in a musical, which is something you won't see most jocks participate in.
But that's what made it so special, because Hayes said it proved to non-athletes that he was more like them than they might know.
He hopes to work in wealth management like his father, but that is far from decided.
All he cares, he said, is that he helps improve the lives of people.
Hayes has plenty of very attractive options for continuing his athletic and academic careers in college, but he's not yet ready to make that final announcement.
He is certain what he hopes his teammates and classmates know.
When asked to verbally pen a letter to his fellow Panthers, Hayes said:
"I want all of you to know that the last four years have been the best four years of my life. I have had so many memories that I'll have with me over my life and I know for certain that I couldn't have been this happy or successful without each and every one of you. I thank you all for being such important figures in my life."
That's how impressive many Poly kids often turn out.
Getting To Know Jackson Hayes:
Favorite Team: Lakers
Favorite Athlete: Steph Curry (sophomore year, went to his camp in Pebble Beach)
Favorite Movie: 21 Jump Street
Favorite Musical Artist: Chance the Rapper
Someone Be Surprised: La La Land Soundtrack
Someone famous (alive or dead) I'd Most Want A Conversation With: Kobe Bryant
Quotable:
Poly basketball coach Brad Hall: "Jackson is a fierce competitor. He gives his best effort in every practice and game. Jackson enjoys the challenge of playing against the best opponents. He is willing to do whatever it takes for his teams to perform at their highest level."
Poly football coach Chris Schmoke: "Jackson has really stepped up in a lot of ways. He is one of the corners we put out on an island and expect to cover 1 on 1. He can catch, run good routes, run inside and outside, return kicks, kicks and holds kicks. He does a little of everything."
Poly athletics director Steve Beerman: "Jackson is very athletic. He is quick, agile, fast and strong. He is confident, extremely competitive, while being mentally and physically tough. He has excelled at multiple sports in high school, while never playing the sport he focused on in middle school (soccer)."
Poly senior Christian Henderson: "As a player, Jackson is somebody who is afraid of no one, and is excited to step up to any occasion. As a teammate, he is someone who is always excited and happy to play, and he is somebody who you trust will go out and make a play."
Poly senior Cameron McFarlane: "While Jackson's talent and natural ability are far and above most, his work ethic is what differentiates him from everyone else. Jackson is one of the hardest workers I know, whether it's on the field or in the classroom. As a teammate, he always has your back. He's the first to defend you and the last to deter you. Jackson is a valuable asset to anyone's team, and I'd take him every day of the week, size and all."
Poly senior Graham Olson: "Jackson is a dynamic athlete, who always makes a big play when we need it most. Off the field, he is a really nice guy and a strong student. I am proud to count Jackson among my best friends."
Poly senior Matt Queen: "Jackson is an all-around athlete. He has that unteachable quality of competitiveness and drive in every sport he plays and it sets him apart from every other kid, no matter their size, strength or speed. As a teammate and friend, he is one of the most caring people I know, and he always has my back."
Poly 2017 Football Schedule-Results:
August 25: Temple City 20, Poly 7
September 2: Poly 55, Mission 0
September 8: Poly 14, Brentwood 14
September 16: Poly 60, Mary Star 0
September 22: Poly 33, Rosamond 6
September 28: Poly 29, Maranatha 0
October 13: Poly 34, Boron 8
October 19: Poly at Trinity Classical Academy at 7:30
October 27: Firebaugh vs Poly at South Pasadena High at 7
November 3: Rio Hondo Prep at Poly at 2:30
Prep League Standings:
Poly (5-1-1)
Rio Hondo Prep (4-2)
Trinity Classical Academy (2-5)
Firebaugh (2-5)