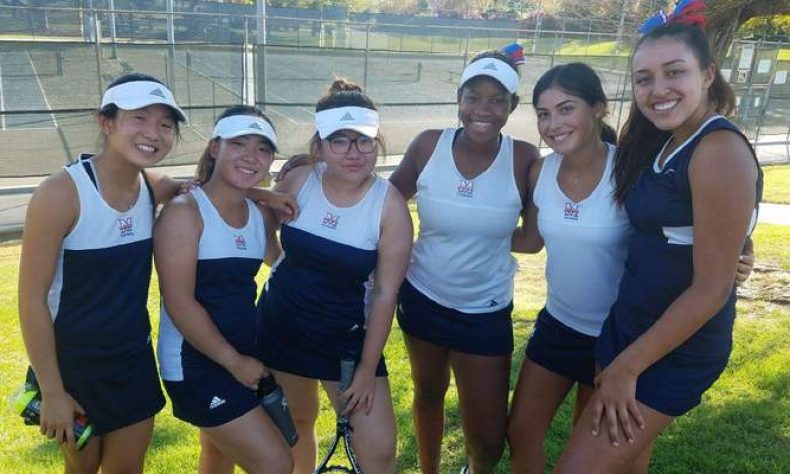 From Left to Right: Angela Hsieh, Stella Wang, Hellen Hong, Michael Wilkins, Maddie Hernandez, Malena Smith From Staff Reports: In an all-Maranatha affair, both the singles and doubles Olympic League tournament championship matches were filled with Lady Minutemen. No. 1 ranked Angela Hsieh faced #2 Malena Smith in the singles final. And top-seeded Madelyn Hernandez and […]
From Left to Right: Angela Hsieh, Stella Wang, Hellen Hong, Michael Wilkins, Maddie Hernandez, Malena Smith
From Staff Reports:
In an all-Maranatha affair, both the singles and doubles Olympic League tournament championship matches were filled with Lady Minutemen.
No. 1 ranked Angela Hsieh faced #2 Malena Smith in the singles final.
And top-seeded Madelyn Hernandez and partner Michael Wilkins squared off against No. 2 seeded Hellen Hong and Stella Wang.
For Hsieh and Smith, it was a rematch of last year's final.
Both matches were filled with competitive tennis and strong efforts from all participants.
In the end, though, the top seeds prevailed, with Hsieh winning, 6-4, 6-3, and Hernandez/Wilkins earned a 6-4, 6-1 victory.
Today's matches represented back-to-back league tourney championships for both Hsieh and Hernandez/Wilkins, and marked the end of Hsieh's, Hernandez's, and Hong's Olympic League careers.
As the league's all-time leader in league wins (106), and a two-time singles league MVP, Hsieh also leaves as a four-time First Team All-League selection, and having reached all four tournament singles finals, winning two of them.
Hernandez and Wilkins are the league's first two-time doubles champions, as well as the first individuals to win the doubles crown twice.
They also earned their first doubles MVP.
Hernandez graduates as one of the most prolific doubles players in Maranatha history, garnering two First-Team All–League selections and a Second Team All-League spot to complement her two league tourney titles.
Hong concludes her Olympic League career, having worked her way from the ground up, improving each season, to now make an All-League team for the first time in her career, reaching First Team All-League this season with Wang, and reaching the championship match in the league tournament.
All of the finalists today will represent the Olympic League in the prestigious CIF-SS Individuals tournament on Nov. 20.
But before that is the CIF Team playoffs, which begin with the wildcard matches on October 31.
As the top-ranked team in CIF-SS Division 5, the Lady Minutemen are expected to get an automatic bid into the first round on Nov. 1.
Quotable:
Olympic League singles champion Angela Hsieh of Maranatha: "It feels good to finish my league career strong. As a team, I'm glad to recapture our title. I hope we'll be able to make a deep run in the CIF playoffs."