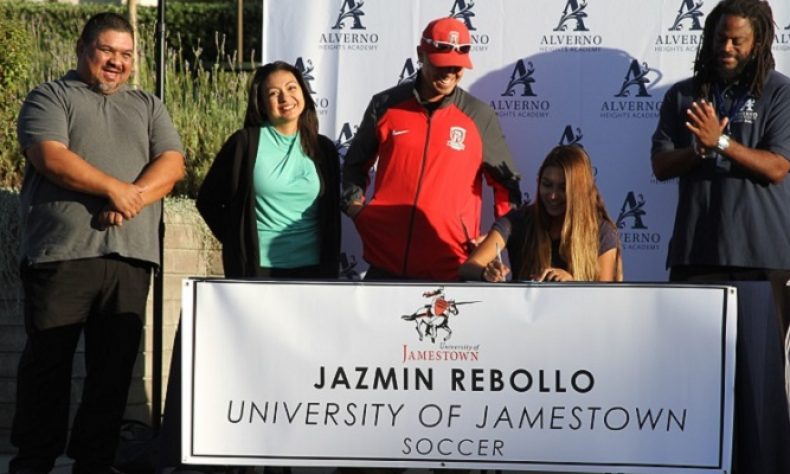 From STAFF REPORTS On Wednesday, October 18 Alverno Heights Academy recognized the athletic efforts of senior Jazmin Rebollo '18 as she signed a National Letter of Intent to play soccer for the University of Jamestown in Jamestown, North Dakota. In front of the entire Alverno community, her parents, and coaches, Jazmin excitedly signed on to […]
From STAFF REPORTS
On Wednesday, October 18 Alverno Heights Academy recognized the athletic efforts of senior Jazmin Rebollo '18 as she signed a National Letter of Intent to play soccer for the University of Jamestown in Jamestown, North Dakota.
In front of the entire Alverno community, her parents, and coaches, Jazmin excitedly signed on to play collegiate soccer for the next four years for the University of Jamestown Jimmies. The Jimmies are a member of the National Association of Intercollegiate Athletics (NAIA), which includes 249-member colleges and universities across the country. They play as a part of the North Star Athletic Association (NSAA) that includes nine full member institutions in Iowa, Nebraska, North Dakota, South Dakota and Wisconsin. They currently boast an impressive 11-1 record for 2017-2018 season.
During her last four years at Alverno Heights Academy, Jazmin has served as a midfielder and a top scorer for the Jaguars. Last season, she scored nine goals, making her one of the top scorers in the Horizon League. She is loved by her teammates, coaches, and teachers alike and has worked hard on the field and in the classroom where she has maintained her position as a scholar athlete earning a 3.5 GPA.
"Alverno Heights Academy is delighted to celebrate with Jazmin in this exciting time. We look forward to all she will accomplish in her future endeavors both on and off the field. She will be missed on campus and the field, but we are overjoyed for her plans and are confident that she will be a star player at Jamestown," said Julia V. Fanara, Head of School. "We will proudly continue to offer more young women the opportunity to advance in the six different sports we provide on campus, while benefitting from the personalized training and coaching that Alverno puts forward for each of our athletes."
About Alverno Heights Academy
Alverno Heights Academy is an all-girls, independent, progressive Catholic, college preparatory school dedicated to its mission of empowering each young woman to be exactly the person she wants to be. Located on the property of the former Barlow Estate in Sierra Madre, California, Alverno Heights Academy was founded in 1960 by the Sisters of St. Francis who sought to create an environment in the San Gabriel Valley where young women could become informed and knowledgeable persons. Later renamed Alverno High School and sponsored by the Immaculate Heart Community, Alverno's program—academic, spiritual, aesthetic, social, and physical—has been shaped by the staff, trustees, and students. As Alverno Heights Academy once again, the school remains committed to its mission by encouraging each of their young women to be who they imagine. For more information about Alverno Heights Academy, please visit www.alvernoheightsacademy.org.