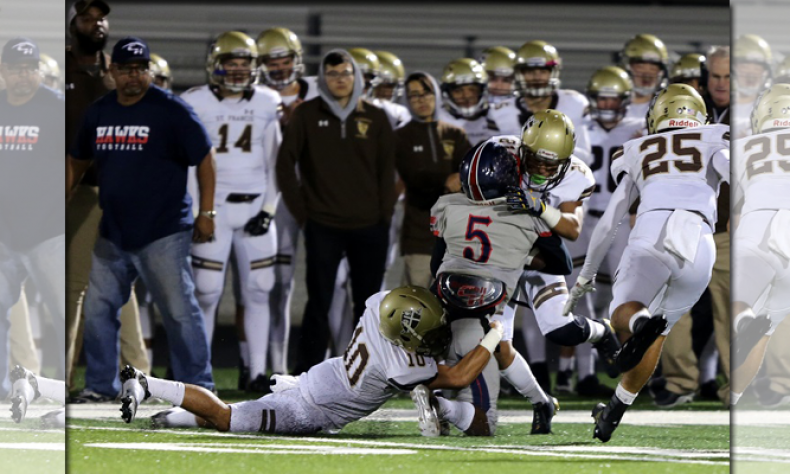 By BRIAN REED-BAIOTTO, Sports Editor | Photography by RYAN TOMEY St. Francis picked an incredible time to play its most complete game of the year. The Golden Knights offense, defense and special teams all played well. They had just five penalty yards the entire game and did not turn the ball over. St. Francis also held […]
By BRIAN REED-BAIOTTO, Sports Editor | Photography by RYAN TOMEY
St. Francis picked an incredible time to play its most complete game of the year.
The Golden Knights offense, defense and special teams all played well.
They had just five penalty yards the entire game and did not turn the ball over.
St. Francis also held Citrus Hill to their second lowest scoring output of the season, and the Golden Knights offense tied for the most points the Hawks have given up this year.
It took all that for St. Francis to earn a tough, and hard-fought, 30-20 victory at Citrus Hill Friday night in the CIF-SS Division 3 quarterfinals.
Darius Perrantes threw for 270 yards and hit Greg Dulcich for two scores.
Dulcich caught TD passes of 44 and 16 yards and the 6-foot-4 senior had a game-high 135 yards receiving on seven catches.
Blake Howard played huge in all three phases as well, including an incredible job punting and he caught 6 passes for 58 yards.
Kevin Armstead got SF on the board first when he dove over the top from 1 yard out.
Jonathan Jefferson got the Hawks (10-2) to within 7-6 when he scored on a short run, and the extra-point attempt clanked off the goal post.
After two Dulcich scores and a Nico Boschetti 37-yard field goal, St. Francis had what looked to be a comfortable 23-6 lead.
But Citrus Hill got to within 23-20 after a Jefferson 2-yard TD and Dee Miles 32-yard sprint to the end zone.
One of those two drives totaled 97 yards and seemed to put all the pressure back on the visitors from La Canada.
But St. Francis showed its stones in a season-extending drive that ended in 7 points.
Elijah Washington runs, and passes to Dulcich and Howard all extended the drive until they got to the Citrus Hill 7-yard line.
After failing on the third-down play, the Golden Knights set up for a 25-yard field goal and holding that 23-20 lead.
Ironically enough, the hometown Citrus Hill announcers on the live stream had just said "a field goal gets you nothing," and while they were wrong, it would have made the Hawks score a TD to beat the Golden Knights, they didn't have to worry about answering a second field goal from Boschetti.
That was because St. Francis head coach Jim Bonds once again, at the biggest moment of the game, showed the prep football world how unpredictable he is.
Bonds ordered a fake punt and it worked to perfection.
Elijah Washington, the long snapper, snapped the ball a little high so Isaac Cordova could handle the ball standing up, and Cordova found Conor McGrory for the 7-yard TD.
And that was all she wrote.
Jefferson rushed for nearly 200 yards, and his two rushing TD's gave him 31 for the season, but a one-dimensional offense wasn't enough to defeat the visiting Golden Knights.
St. Francis got 56 yards from Washington on the ground, but it wasn't his total yards that looked impressive.
It was the captain's wearing down of the Hawks' defense late that played huge in the victory.
St. Francis will host El Toro (8-4) on Friday at 7:30.
Quotable:
St. Francis coach Jim Bonds: "It was a complete team win. We kept them off-balance offensively. Our special teams was outstanding. Defensively, you can load the box up more against a running opponent like Citrus Hill. If you're going to be one-dimensional against (defensive coordinator) Mark Gibbons, good luck. He's going to have a scheme to take away whatever it is that you want to do most."
St. Francis captain Greg Dulcich: "It was a great team win tonight on all sides of the ball. Our defense did a great job of setting the tone early and offensively we fed off of that energy. I was able to make plays because the line was doing great with protection and Darius was putting the ball in perfect spots."
St. Francis captain Elijah Washington: "It was a great win and a real boost in confidence leading into the semifinals next week. We just have to keep our heads right and prepare for a good El Toro team."
St. Francis senior Blake Howard: "I think we all played as a unit, which proved to be the difference in the game. We ignored the hype about Citrus Hill and played probably our best and most complete game of the year."
St. Francis senior Andrew Monarrez: "It was a great team win. We brought our own energy and had our backs against the wall prior to kickoff, but we knew what needed to be done to get the win. I'm very proud of my team and am looking forward to taking this journey week by week."
St. Francis senior Isaac Cordova: "Although we were called the 'underdogs,' prior to the game, we didn't let that distract us from playing our game, and in the end, we played as a unit and came out with a big win."
Box Score:
St. Francis: 14-3-6-7-(30)
Citrus Hill: 6-0-7-7-(20)
Scoring:
SF: Kevin Armstead 2 run (Nico Boschetti kick)
CH: Jonathan Jefferson 4 run (Kick Failed)
SF: Greg Dulcich 44 pass from Darius Perrantes (Nico Boschetti kick)
SF: Nico Boschetti 37 FG
SF: Greg Dulcich 16 pass from Darius Perrantes (Kick Failed)
CH: Jonathan Jefferson 2 run (Ivan Caballero kick)
CH: Dee Miles 32 run (Ivan Caballero kick(
SF: Conor McGrory 7 pass from Isaac Cordova (Nico Boschetti kick)'
CIF-SS Division 3 Scores:
St. Francis 30, Citrus Hill 20
Hart 55, Rancho Verde 27
El Toto 37, Lompoc 16
Charter Oak 39, Westlake 28
CIF-SS Division 3 Semifinals on Nov 24:
El Toro (8-4) at St. Francis (11-1) at 7:30
Charter Oak (12-0) at Hart (9-3)
Friday's Angelus League Team Scores:
St. Francis 30, Citrus Hill 20
Upland 59, Cathedral 20
Saugus 28, St. Paul 27