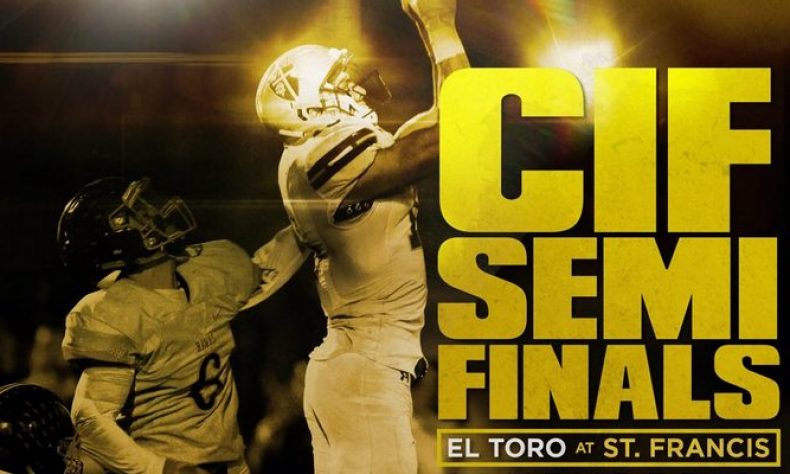 By Brian Reed-Baiotto, Sports Editor Each week presents a different challenge for any football program. It doesn't matter if it's the regular season or the CIF-SS playoffs. In this postseason run alone, the Golden Knights had to defeat a recent rival for the second time this season, and a week later, they had to keep […]
By Brian Reed-Baiotto, Sports Editor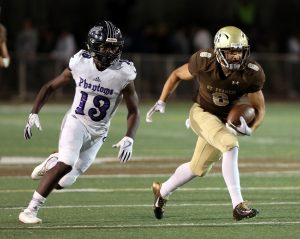 Each week presents a different challenge for any football program.
It doesn't matter if it's the regular season or the CIF-SS playoffs.
In this postseason run alone, the Golden Knights had to defeat a recent rival for the second time this season, and a week later, they had to keep a torrid running game in check, and do so on the road.
St. Francis defeated La Serna, 31-27, in the first round of the CIF-SS Division 3 playoffs, and last Friday, the Golden Knights earned a tough, 30-20 victory out in Perris over Citrus Hill.
This week, and with a spot in the Division 3 championship game at stake, the Golden Knights defense faces an El Toro team that is almost the polar opposite, at least in terms of their offensive identity as compared to Citrus Hill last week.
The Chargers (8-4) put up about 400 yards of total offense per game, and 300 of that is through the air.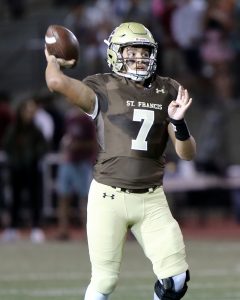 Cooper Jones has been incredible all season, and the senior quarterback has completed 217 of 352 passes for 3,455 yards.
Jones averages 295 yards per game, and has 41 touchdowns to 11 interceptions, and he boasts a 62-percent completion ratio.
El Toro is coming off a 37-16 victory over previously unbeaten Lompoc (11-1) last week in the quarterfinals.
The Chargers average 39 points per game and have three receivers (Noah Aguilar, Shane McLaughlin and Austin Derrico) who combine for just under 3,000 yards receiving and 36 touchdowns.
Julian Bruce and Steven Casteneda anchor the El Toro running game.
The Chargers tandem has combined for 1,220 yards and 11 TD's.
St. Francis (11-1) Is looking for their first 12-win season in at least 20 years if they are to hold serve at home on Friday night at 7.
And the Golden Knights 'Friedman Field' is arguably the area's best home-field advantage, thanks to the size and decibel level of its crowd.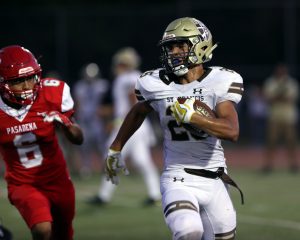 Better yet, St. Francis played its most complete and disciplined game of the season last Friday at Citrus Hill.
They were penalized just once for 5 yards the entire game.
Greg Dulcich, Blake Howard, Andrew Monarrez and Isaac Cordova were outstanding in terms of not dropping the ball each time quarterback Darius Perrantes came their way.
Those catches, in traffic, often times came on third-down plays, which allowed them to not only extend drives, but to turn those drives into points.
Perrantes now has 21 touchdown passes on the season, and he's been picked 6 times.
The junior had a pair of TD passes to Dulcich last week and threw for 270 yards.
Running backs Elijah Washington and Kevin Armstead hope to establish the running game for many reasons, but none more than to keep Cooper Jones on the El Toro sidelines for as long as possible.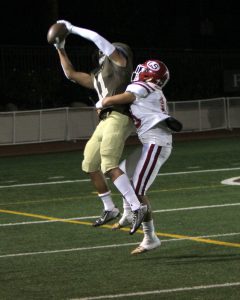 Washington and Armstead have combined for 1,400 yards and 28 TD's.
Defensively, El Toro linebacker Sam Whipple is a beast with 132 tackles and 5 sacks.
Jake Landry leads the Chargers with 7 interceptions, and he's also totaled 58 tackles.
El Toro also has four players on defense with at least four sacks apiece.
Blake Howard's 61 tackles and Gabriel Grbavac's 59 paces the Golden Knights defense.
Sophomore Kevin Armstead's 5 picks on defense is tops for St. Francis.
St, Francis matches up in every way with El Toro, but earning a berth in the CIF-SS Division 3 title game will likely come down to the Golden Knights not turning the ball over and staying as disciplined as they were last week.
The Golden Knights' players and coaching staff encourage all their fans, students and alumni to come out Friday night and make a difference in their favor.
St. Francis is the lone Angelus League program still alive in the playoffs and they're looking to make its first championship game appearance in Coach Jim Bonds' 18 years at the school.
Quotable:
St. Francis coach Jim Bonds: "It's a kind of 'pick your poison' situation (regarding defending El Toro's passing game). If you sit back and play zone, you give (Jones) a ton of time to find open receivers, and he doesn't need much space to fit the ball in there. If you blitz and play man, they have weapons on the outside with those receivers, so your coverage has to be great. Playing at home is huge for us. We love playing in front of a packed stadium at Friedman Field. Our alumni support has been outstanding and grows each and every year. We have guys from the 1963-64 championship teams that don't miss a game, as well as the guys I've coached over the last 18 years. Our student section, 'the dungeon,' is the best around if you ask me. I can't wait to hear those guys on Friday."
By The Numbers:
Records: St. Francis 11-1; El Toro 8-4
League: St. Francis second in Angelus; El Toro second in Sea View League
Points Scored: St. Francis 523; El Toro 433
Points Allowed: St. Francis 200; El Toro 298
40-Point Games (Offensively): St. Francis 7; El Toro 6
High Points: St. Francis 77 (vs Harvard-Westlake); El Toro 66 (vs El Dorado)
St. Francis Home Record: 5-1
El Toro Road Record: 4-1
2017 El Toro Schedule-Results:
August 25: Green Valley (Nevada) 42, El Toro 35
September 1: El Toro 66, El Dorado 21
September 8: Corona del Mar 39, El Toro 15
September 15: El Toro 34, Tesoro 29
September 22: El Toro 42, Saddleback Valley Christian 0
September 29: Mission Viejo 49, El Toro 17
October 6: El Toro 41, Aliso Niguel 24
October 13: Capistrano Valley 26, El Toro 14
October 20: El Toro 40, Dana Hills 0
October 27: El Toro 42, Laguna Hills 7
November 10: El Toro 50, Villa Park 45
November 17: El Toro 37, Lompoc 16
November 24: El Toro at St. Francis at 7
2017 St. Francis Schedule-Results:
August 31: St. Francis 48, Mira Costa 21
September 8: St. Francis 42, Pasadena 0
September 15: St. Francis 49, La Serna 20
September 22: St. Francis 49, Saugus 20
September 29: St. Francis 39, Buena Park 14
October 6: St. Francis 24, St. Paul 7
October 13: St. Francis 49, La Salle 16
October 20: St. Francis 69, Salesian 0
October 26: St. Francis 77, Harvard-Westlake 27
November 3: Cathedral 28, St. Francis 16
November 10: St. Francis 31, La Serna 27
November 17: St. Francis 30, Citrus Hill 20
November 24: El Toro at St. Francis at 7