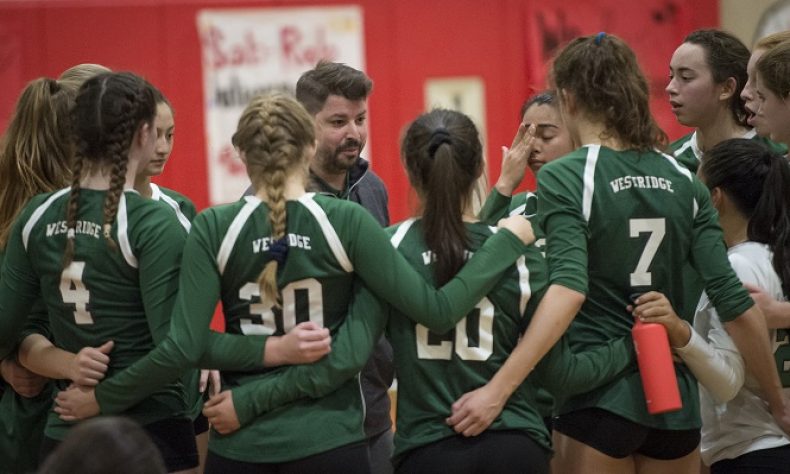 Coach Otto Lacayo with the Westridge Team Volleyball players By BRIAN REED-BAIOTTO, Sports Editor It can certainly be said that the loss both Pasadena and Los Angeles volleyball players are feeling is Brooklyn's gain. Otto Lacayo, the 33-year old head volleyball coach at Westridge School since 2010, and a member of the staff at San […]
Coach Otto Lacayo with the Westridge Team Volleyball players
By BRIAN REED-BAIOTTO, Sports Editor
It can certainly be said that the loss both Pasadena and Los Angeles volleyball players are feeling is Brooklyn's gain.
Otto Lacayo, the 33-year old head volleyball coach at Westridge School since 2010, and a member of the staff at San Gabriel Elite since he was 17, will begin a new journey on December 4, when he builds his own academy in Brooklyn, New York.
Lacayo just finished his last day as the assistant director at SG Elite and has watched it grow over the years from 15 teams to its now 60 teams.
It also boasts a lineup of some 500 players, and of both genders.
They range in age from 8-19, and they've produced big-time Division 1 athletes.
In club ball alone, Lacayo has coached boys and girls teams from California in at least 15 states and he's known to put in 14-hour days/nights, if not longer.
During 'club season' (December-June), Lacayo worked seven days a week.
Lacayo, the 2016 Pasadena Sports Now Girls Volleyball Coach of the Year is leaving both the club and Westridge in a much better place than he found it.
At Westridge, the Tigers just wrapped up their second consecutive Prep League championship, and it made the CIF-SS semifinal round in back to back years, and despite being moved up to Division 3 this season.
The Tigers only lost two matches all year that were of the regulation 3-of-5-set format.
Their undefeated Prep League run this year was the school's first outright league title since 2006, but things weren't always so rosy.
When he took over the reigns in 2010, Lacayo recalls 40 girls showing up on campus for the first day or tryouts.
He wanted to establish early on that anyone who played for him and the school was going to have to work their butts off every day.
On the second day, nearly 75-percent of the players who came out the night before stayed home and Lacayo wasn't quite sure what he had gotten himself into.
That season, the Tigers didn't win a single match.
But thanks to the support of athletic director Melanie Horn and players Meghan McPhee, Sasha Vasquez, Michelle Aguirre, Natalie Martinez, Talleen Mitchell, Angelica Raymundo, Quincy Foster, Cheyenne Dobine, Stephanie Davis, Carmen Costa, Makana Meyer, Allison Martinez and Cate Hurley, Westridge became a volleyball power.
Lacayo said he is sure he is forgetting someone's name as this interview took place the night before Thanksgiving, and he wanted all his coaches and players to know that he not only appreciates their efforts, he considers them all family.
And despite the many headaches and drama that come with coaching at the club or high school level, Lacayo wouldn't trade these experiences for anything.
His passion for his athletes resonates in the desire to make them as marketable as possible so college programs come after them and not vice versa.
More importantly, though, he cares about his student-athletes off the court and in the classroom even more than anything they produce in a gymnasium.
Lacayo went on a trip with Ben Diaz, the head coach of Notre Dame of Sherman Oaks to Brooklyn a couple months back.
Diaz was interviewing for and accepted the job at Poly Prep Country Day in Brooklyn, a school that prepares students for Ivy League colleges.
On that same trip, former Harvard-Westlake athletic director Audrius Barzdukas, convinced Lacayo to start his own academy at Poly Prep.
As hard as it was to make the decision to leave his jobs at Westridge and San Gabriel Elite, and to leave his friends, family and players behind in California, Lacayo couldn't turn down the opportunity of a lifetime, and the challenge to build something on his own.
In between the CIF-SS and CIF State playoffs at Westridge, Lacayo has been back and forth a number of times to New York to get things started, and so far, the turnout has been even better than expected.
He and Barzdukas have agreed it will take five years or so to get a program established, and at a level they both would be proud of.
Both men know patience will be key to their success, and both have track records of making things and people around them better.
"It is a really big move to go to the other end of the country and to leave something that is already established," Lacayo said. "But at this point in my life, this is an incredible opportunity and I am very excited to get started. I'll actually be back in California from time to time and I'm willing and wanting to help in any way I can, and wherever I'm needed."
His respect for San Gabriel Elite owner-director Kenji Mukai is so profound, Lacayo has decided to name his club "Brooklyn Elite Volleyball."
Looking back over his eight years as head coach at Westridge, he has so many fond memories of players and individual greatness.
There were also the collective efforts that mean even more to Lacayo.
Whether it was Stephanie Davis blocking Lexi Sun, or a third-place showing at the Infiniti Tournament in San Diego last year.
Whether it was earning a share of the Prep League title in 2016 or the 12-0 run to win the league championship outright in 2017.
Or whether it was watching seniors Allison Martinez, Makana Meyer and Eryn Boken lead his program to the highest level of play and expectations, he has nothing but happy memories of Westridge and those at the school that made his and their success possible.
The respect among his coaching peers is universal and his players will tell you he's someone who will put you first, and himself last.
What will Lacayo miss most? "Everyone that I see on a daily basis is family. The kids/coaches/parents I work with. I will miss them all."
Lastly, what is he most excited about? "Being able to create something and to inspire kids to play at the next level. I want to be able to create the same thing we have here, so kids can take life lessons as they grow as athletes and people."
For this reporter, as sad as I am to see a coach/person that I've gotten to know well over the past two years and become good friends with leave, I am even more happy that he's able to pursue a dream that he is oh-so qualified to succeed at.
New York, you are getting a very good coach, and an even better man.
Quotable:
SG Elite Owner-Director Kenji Mukai: "Otto Lacayo, a Los Angeles native, has taught valuable lessons on and off the volleyball court to countless local student-athletes over the last 15 years. In my opinion, that is the ultimate way to give back to your community. Over the years, I've watched Otto consistently place his players' interests above his own, and that's the kid of selflessness and kindness that makes him a great coach and an even better person. I admire and respect Otto, and I call him a best friend. We're all going to miss him."
Westridge athletic director Melanie Horn: "When I reflect on Otto as a coach, I can't help but feeling the utmost respect for him as a professional and a person. From an assistant coach just out of college to the savvy head club and high school coach he is today, Otto has always commanded respect and has kept the girls welfare at the forefront of his mind. While he is highly competitive, Otto has a very calming effect on his teams which has been invaluable to Westridge's success. While I will miss his coaching expertise, I will miss the gentile man whom I've come to know as part of the Westridge family. The Tigers will certainly have a hole to fill for a coach, but a greater hole to fill in our hearts."
Poly coach Steve Beerman: "Otto has done an outstanding job leading the Westridge program. His teams are always well prepared and fundamentally sound. He is excellent at evaluating talent and putting players in positions to be successful. Through coaching club, Otto has helped grow the talent in the San Gabriel Valley, which had helped every high school program in the valley. In my experiences with him, he's always been classy in victory or defeat. I wish him the best."
FSHA coach Trent Tcheng: "Otto has done so much for the volleyball community in the Pasadena and surrounding areas. From his time at Westridge coaching girls to La Canada coaching boys, Otto has been a fixture in the community. He was really one of the people who influenced me and brought me over to the San Gabriel Elite, where we currently work together. He coaches with the sense that the game should be fun. He wants his players to work hard, but understands that it's just a game. I know that where Otto goes, he will fit right in and be successful. I wish him nothing but the best. Kick some butt on the Eastside and bring some of that California swag to the streets of New York."
La Salle coach Tiare Tuitama: "Otto is a coach that I highly respect in the San Gabriel Valley and volleyball community. He has done a tremendous job building up his program at Westridge over the years. He is very knowledgeable in the game and has a great reputation in the volleyball world. This sport and this area are better off for Otto Lacayo being part of it."
Former Mayfield coach Stephen Bernabe: "Coach Otto has had a great run with the Westridge program. You knew each year they (Westridge) were going to go deep into the playoffs, and for a coach like myself, who had to play in the same league with him for four years, I knew every game against them if we didn't bring our A+ game, it was going to go into their favor. I think that speaks volumes about the person in charge, because in the world of coaching, having a winning program is a very difficult thing to accomplish. He did it for many years in this area and continued to have a very well and respected team each year."
Westridge senior Eryn Boken: "Otto has made such a positive impact on my life as a volleyball player and as a person. I remember first having Otto coach me in the sixth grade at a Westridge middle school volleyball camp during the summer. Otto showed me how volleyball can be competitive and that a lot of skill goes into becoming a great athlete, but also showed me how fun volleyball could be. Otto has supported me ever since then, not just as a volleyball player, but as a student and person. These past three years on varsity have been such an incredible blessing because I got to have Otto as a coach. I have improved so much in volleyball because he has pushed me to be better each day I stepped into the gym. If I am struggling on a certain skill, he is always there to give me advice and the guidance I need to improve. The summer before my first year on varsity, I struggled to keep up with the pace at the varsity level. Yet, despite me feeling discouraged at first, Otto never gave up on me and since that time Otto has pushed me to become better throughout my high school and club seasons.He is the kind of coach who always remains positive and is always willing to lend a helping hand, whether it be on the volleyball court or outside the gym. I know if I am nervous for a test coming up at school or I'm getting down on myself, Otto is always there to lift me up with encouraging words. As a student-athlete, having a coach like Otto who supports my endeavors in the classroom and my success on the volleyball court means the absolute world to me. Though I will miss his positive attitude and coaching style in the gym, I am beyond excited for him and his journey in New York!"
Westridge senior Makana Meyer: "Otto is one of the reasons why I dedicated myself to volleyball and became passionate about the sport. I met Otto my freshman year when I really decided to focus on volleyball. I worked with him the entire summer to become a better player and athlete. Luckily, everything in my life led me to transfer to Westridge, where I got the experience Otto as my high school coach. At practice, there is always an emphasis on not only becoming a better player and working on specific skills, but becoming a better teammate as well. He's always tried to be good emotional coach and has kept the line of communication between coaches and players strong. I am going to miss having Otto as my coach, but I am extremely excited to see one of his dreams come true. I am so grateful for what he has taught me and what I have learned during my career at Westridge with him as my coach."
Former FSHA player-Current Univ. of Pittsburgh athlete Kayla Lund: "Although I never had the opportunity to have Otto as my coach, he still helped me in many ways throughout my years at SG that I will always be thankful for. He always supported me and wanted the best for me. There was a weekend he even gave me the opportunity to help coach his team along his side and in that weekend alone, he opened a new perspective of volleyball for me. He loves the game, loves the people and kids he works with, and it's contagious to those around him. I wish Otto the best of luck in his endeavors in New York and I know that if anyone was going to conquer this challenge with ease, it is him."
Northeastern volleyball player Clare Lund: "Otto had a way of pushing each of his players while still keeping his practices interesting. I wouldn't be the player I am today without him."
Westridge coach Otto Lacayo: "I'd like to thank my athletic director Melanie Horn at Westridge, the original owner of the San Gabriel Volleyball Club, Art Camarillo, who gave me my first shot, and current owner Kenji Mukai. I wouldn't be at this point without their help and support. I also appreciate coaches Jez Nueve, Jenna Orlandini and Brian Thornton for their contributions. I'm incredibly humbled to have been surrounded by such quality people."
Former Westridge setter Angelica Raymundo: "Otto has been an inspiration to so many players throughout his time coaching at SG Elite and Westridge. He made such an impact on my own life through his immense support and constant reminders of the importance of teamwork, dedication and spirit. I am so incredibly thankful that I got the opportunity to be coached by him. I know he'll do amazing things in New York, but he will definitely be missed here."
Westridge sophomore Krystal Raymundo: "The first year Otto coached me was my freshman year at Westridge. I never truly knew how great he was as a coach, and as a mentor. He built Westridge volleyball from the ground up and created a competitive atmosphere, where players grew and flourished, not only as teammates, but as a family. I am forever thankful for Otto, because he made me a better player and a better person. He taught me how to play the game at a higher level and love the challenge that came with it."