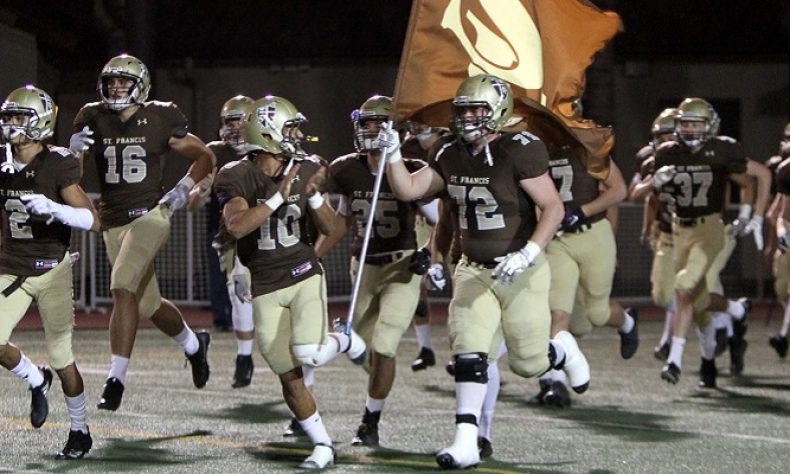 By BRIAN REED-BAIOTTO, Sports Editor In our second year covering St. Francis football, a few (of the many) things really stick out in regards to the Golden Knights success. St. Francis, over the past 15 months is a combined 21-3, and they have outscored opponents by a margin of 937-423. They are wickedly smart, disciplined […]
By BRIAN REED-BAIOTTO, Sports Editor
In our second year covering St. Francis football, a few (of the many) things really stick out in regards to the Golden Knights success.
St. Francis, over the past 15 months is a combined 21-3, and they have outscored opponents by a margin of 937-423.
They are wickedly smart, disciplined and well coached.
In many cases, "more athletic" teams come into Friedman Field assuming or expecting to use their perceived physical advantages to victories over the Golden Knights.
However, what is often underestimated by St. Francis opponents or doubters is the importance of having 11 guys on both sides of the ball, and in all three phases of the game that are all pulling in the same direction and each executing their jobs to the letter.
St. Francis earned its first trip to the CIF-SS (Division 3) finals last night in 53 years, and they did so with emphasis.
The Golden Knights thumped a very able El Toro program, 52-17, in a game they never trailed, and behind 7 total touchdowns by junior quarterback Darius Perrantes.
To put Friday night's achievement in its proper perspective, there have been over 19,300 days since the last time the Golden Knights football program has had the opportunity to end the season as CIF champions.
Over that time, the United States has seen Lyndon B. Johnson, Richard Nixon, Gerald Ford, Jimmy Carter, Ronald Reagan, George H.W. Bush, Bill Clinton, George W. Bush and Barack Obama all serve in the nation's highest office.
And while generations have come and gone over that time, the keys to success haven't changed much.
St. Francis (12-1) has now won more games this year than in the last 20 seasons and they'll close out this remarkable run Friday night when they host Rancho Verde (11-2) at 7.
How did a team that entered the playoffs with a thud find its way to the title game?
St. Francis' lone setback of the season came at home in the regular-season finale against Angelus League champion and rival Cathedral, 28-16.
There wasn't a single Golden Knights player that stood out, and worse yet, they entered the postseason without the confidence they had hoped to be enjoying.
In the first round, St. Francis hosted the same La Serna team they had spanked 8 weeks prior, but this time, the Lancers weren't going down without a fight.
It took a last-minute, Kevin Armstead game-and-season-saving interception at the 7-yard line to hold off La Serna, 31-27.
The following week, the Golden Knights played their most complete game of the season in the 30-20 victory at Citrus Hill in Perris.
That brings us to Friday night.
El Toro came to La Canada with a swagger and confidence it had earned from defeating previously undefeated Lompoc in the quarterfinal, and knowing they had a prolific quarterback in Cooper Jones that was on top of his game.
Cooper entered the semifinals with 41 passing touchdowns and nearly 300 yards per game, and for an offense averaging nearly 40 points per game.
The first key to victory, obviously, was keeping Jones on the El Toro sidelines for as long as possible with sustained and time-consuming drives.
The second, third and fourth were to not turn the ball over, play with discipline and execute.
Check, check and check.
St. Francis did all of that and before the Chargers and Jones had seen the field.
Despite looking like it was about to punt, El Toro roughed punter and all-purpose star Blake Howard to continue the Golden Knights first drive of the game.
That one mistake was costly, as Perrantes rumbled in from 7 yards out and St. Francis took a 7-0 lead.
On the Chargers first drive of the game, Jones had El Toro on the St. Francis side of the 50 quickly, and trying to answer the Golden Knights score.
But Malcolm Wallace, making his first start, caused a fumble that Isaac Cordova recovered.
Perrantes immediately turned that into a two-score lead when he hit Greg Dulcich on a 58-yard TD and the standing-room-only crowd was in a frenzy.
Reality, though, was evident less than 30 seconds later when Jones hit Shane McLaughlin on a 74-yard score and the Chargers cut the Golden Knights lead in half.
It was the physical proof that if not careful, Jones and the El Toro offense can score in one play and from anywhere on the field.
Perrantes was able to answer back with a 1-yard rushing TD, and his 21-yard scoring connection with Cordova, expanded the Golden Knights lead to 28-10.
Again, Cooper and McLaughlin struck quickly. This time, it was a 66-yard score that pulled El Toro to within 28-17 in the second quarter.
But St. Francis got a 12-yard Cordova TD reception late in the second quarter and then Wallace picked off Jones.
Perrantes and Dulcich turned that into 7, and did so with less than 5 seconds left in the half.
That score, for all intents and purposes, ended the game, and despite there being 24 minutes of football to play.
The 42-17 halftime lead, and the Golden Knights defense shutting out the Chargers the rest of the way resulted in a much more lopsided game than anyone on either side had seen coming.
But just to make sure El Toro didn't feel any momentum, the St. Francis defense forced a three-and-out on the first Chargers possession of the second half.
And to make matters worse for the visitors, Perrantes and Dulcich connected on a 42-yard score and the 49-17 lead early in the third quarter.
That's where running backs Elijah Washington and Kevin Armstead took over.
The Golden Knights tandem ran down the Chargers' throats, and in the process, turned the clock into their ally.
Washington and Armstead combined for about 200 yards on the ground and they both also play key roles on defense and special teams.
Nico Boschetti, who has been solid all season, made a 30-yard field goal in the fourth quarter, which added the final kick in the planters to El Toro.
The 35-plus point lead forced a running clock the rest of the way.
And with no doubt as to the eventual winner, people must have thought all that St. Francis could do was past, and all the bad El Toro could endure was done.
Not the case.
For St. Francis, Bobby Gazmarian's interception of Jones was the icing on the cake.
The low point for El Toro came shortly thereafter.
The head referee, who was up in his years, had taken a fall and was being attended to as he lay on the Golden Knights' turf.
As the back judge went to check on his crew member, an El Toro player already on the field said, "that referee deserved to be hurt," and was flagged for 15 yards.
After it was apparent the referee was going to be OK, one of his crew members let the player know just how classless he thought his actions were in celebrating an injury.
Even if you had 10 fingers on each hand, you'd still run out of digits when counting the players and coaches that made Friday night's victory not only possible, but probable.
Jim Bonds and his staff are as accomplished as anyone in the area, and so many people, even outside of St. Francis are thrilled that the 18-year coach and his program are finally getting a shot at a championship.
In fact, La Salle coach Russell Gordon, a rival, texted Bonds before the game wishing him luck, and then sending a message as to how "no one deserves this more than Jim."
Aside from Perrantes' 7 TD's, Dulcich's 3 TD receptions and Cordova's 2 scores, so many players that may not see the stat sheet did everything asked and needed of them.
The Golden Knights' offensive and defensive lines, the special teams, the not turning the ball over and the limiting penalties all played factors last night.
Each player that put on a uniform, each coach that spent the year and the week preparing their roster to make this run and the incredible home-field advantage the students, fans, families and alumni created all deserve immense praise in what was a historical night in so many ways for the St. Francis football program.
Without having a so-called "highly-sought after (college) Division 1 recruit," as many playoff teams possess, this Golden Knights' team is on the verge of a championship opportunity, because they have more than a D1 player or two, they have each other.
In the end, the whole of this group, especially one that is single-minded in a cause, is going to accomplish greater things than those who rely on a superstar or two to change games.
St. Francis plays with purpose, they are focused, intelligent and disciplined, and each plays for the greater good.
And what coach, program, school or parent wouldn't be proud of that?