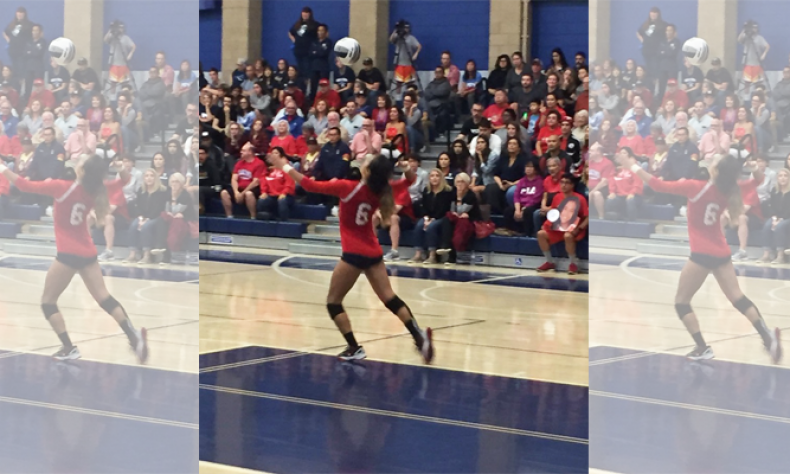 From STAFF REPORTS This epic 2017 girls volleyball season has finally come to an end for La Salle. But not before the Lancers won the Del Rey League without a loss, and La Salle made CIF-SS Division 3 and CIF State Division 2 Regional Finals appearances. In both of those title matches, they ran up […]
From STAFF REPORTS
This epic 2017 girls volleyball season has finally come to an end for La Salle.
But not before the Lancers won the Del Rey League without a loss, and La Salle made CIF-SS Division 3 and CIF State Division 2 Regional Finals appearances.
In both of those title matches, they ran up against a Sierra Canyon team that many in the volleyball world said should be in Division 1 based on their hand full of Division 1 committed athletes.
But even after a four-set loss in the CIF-SS Division 3 finals back on November 11, La Salle went back to work and got better.
After CIF State Division 2 victories (and sweeps) over Bakersfield Christian, Del Norte and Olympian, the Lancers met up this time in Chatsworth at Sierra Canyon.
And despite the confidence the Trailblazers must have had playing at home and coming off their CIF D3 championship victory over La Salle, the Lancers came to play.
La Salle won the first two sets by scores of 25-16 and 25-19.
But Sierra Canyon showed its championship form and rallied for three straight games and the victory.
The final three set scores were 25-16, 25-23 and 15-10.
Claire Forrest finished off her remarkable senior year with a team-high 19 kills and she had 2 blocks.
Sofia Sanchez added 15 kills and 7 blocks.
Tori Ashkinos finished with 10 kills, 33 assists and 14 digs.
Vanessa Ramirez added 30 digs and Sophia Anderson had 7 kills and 7 digs.
La Salle finished the season 28-7, while Sierra Canyon improved to 37-7.
Quotable:
La Salle coach Tiare Tuitama: "I am very proud of the Lancer volleyball program, and I am honored that I had the opportunity to coach these girls. They have truly fought day in and day out, whether it was practice, a scrimmage or a state regional game. Unfortunately, the outcome is not what we wanted, having been up two games to none, and to lose in five games is hard to swallow. However, the girls were able to walk out with their heads held high, accomplishing things this volleyball program had never done before. They fought for every point and left their blood, sweat and passion out on the floor. I am proud of all the girls, every single one of them brought something unique to the team and they all contributed throughout the season."
La Salle senior Sofia Sanchez: "There was nothing we can do, but keep our heads up. We fought and did what we could. I wish them the best of luck. It was definitely a long ride, and it is sad it had to end that way, but that's the beauty of sports. It's awesome that we made school history and I couldn't be more proud of my team."
La Salle senior Claire Forrest: "I'm really proud of my teammates for a hard-fought game and an even harder-fought season. We've had to overcome more obstacles than most, but we still went out and made school history. Sierra Canyon is a strong team with incredible players, and it was fun to compete against them tonight. The loss is disappointing, but we played hard and unfortunately, these games come down to which team is going to "show up," and after the first two sets, Sierra Canyon did just that. Our own personal errors may have cost us that game, but in the end, it was an amazing season, and I couldn't be more proud of every girl on this team for giving it everything we had."