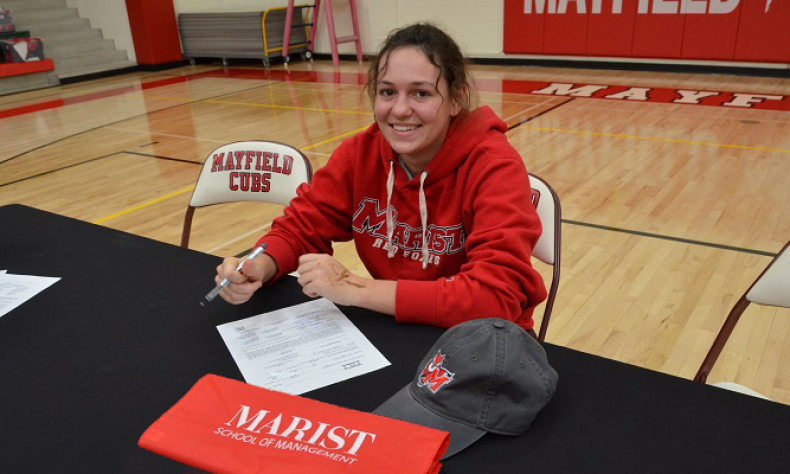 Kathryn McCullough From STAFF REPORTS Even at age 10 Kathryn McCullough '18 had a competitive, adventurous spirit when it came to sports. She wanted to try something different than swimming laps and decided her next dive into a pool would be for a water polo game. "It didn't take long for me to become completely […]
Kathryn McCullough
From STAFF REPORTS
Even at age 10 Kathryn McCullough '18 had a competitive, adventurous spirit when it came to sports. She wanted to try something different than swimming laps and decided her next dive into a pool would be for a water polo game.
"It didn't take long for me to become completely enraptured by water polo," said the Mayfield Senior School athlete, who signed her National Letter of Intent to play next year for Marist College in New York.
Her love of the sport and skill in the often rough waters of the water polo pool contributed to her success as a Mayfield player and drew the attention of Marist College. Kathryn said she was attracted to Marist by the water polo team's collegiality and commitment.
"I picked Marist because their coach and the girls on the water polo team are really nice and supportive and they are also a very competitive team," said Kathryn, who plans to study criminal justice.
Mayfield Athletic Director Lynda Gilbert described Kathryn as "a solid force" on the team since freshman year.
"Kathryn is quiet, really quiet and shy but when she is in the pool playing water polo she becomes a different person," Gilbert said. "She is aggressive, strong and determined. She is an inspiration to all on the team to be a better player, to train hard and to never stop reaching for your dreams."
Her determination is evident in her rigorous schedule, which balances the demands of Mayfield's college prep education with athletic training, club sport participation and team practice. She typically trains from 5:30 to 9 p.m. every night during water polo season.
"My love for the team sport drives me," Kathryn said. "We all win together and lose together. You are not alone in the water—you have the comfort of knowing that your friends have your back."
It's that Cub spirit that has made Kathryn an exemplary Mayfield athlete who embodies the values of sportsmanship with a competitive edge and relentless drive.
Her advice to girls like herself considering a jump into water polo?
"Water polo is a challenging sport, as it calls for mental toughness and a stubborn personality that refuses to quit," she said. "But, if you are interested and motivated in getting better and evolving as a player, then you are already halfway there."