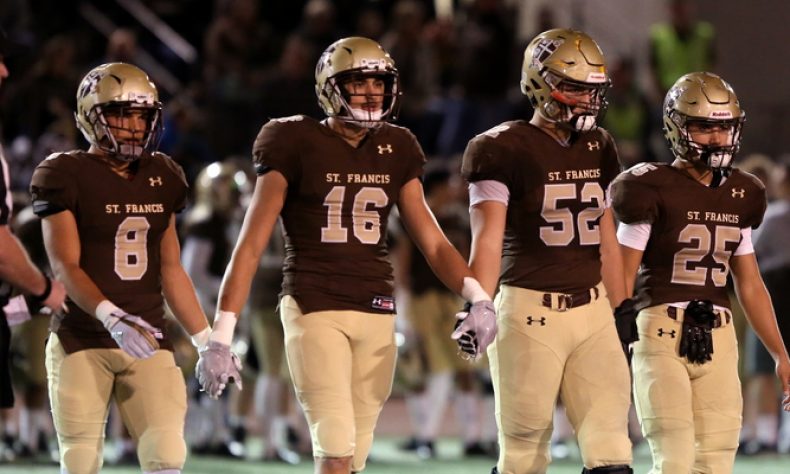 By Brian Reed-Baiotto, Sports Editor, Photos by Ryan Tomey Not even the most articulate of scholars could find a way or the words to sugarcoat just how painful Friday night's CIF-SS Division 3 title game loss was for St. Francis. The Golden Knights, who hadn't made an appearance in the CIF championship game since 1964, […]
By Brian Reed-Baiotto, Sports Editor, Photos by Ryan Tomey
Not even the most articulate of scholars could find a way or the words to sugarcoat just how painful Friday night's CIF-SS Division 3 title game loss was for St. Francis.
The Golden Knights, who hadn't made an appearance in the CIF championship game since 1964, either trailed or were tied for 45:37 of Friday's 48-minute thriller.
St. Francis, trailed 41-35 with 140 seconds left after a 70-yard TD connection from Rancho Verde quarterback Brock White to Kamryn Woodson.
The extra-point attempt, though, was blocked and the Golden Knights drove 87 yards in just over one minute of clock time when Kevin Armstead rumbled in from 5 yards out.
Nico Boschetti's clean extra-point gave St. Francis its first lead of the game at 42-41 with 1:01 to play.
And with all the hoopla in the overflow crowd from both sides, you almost had the feel like "there is too much time left on the clock for Rancho Verde."
The Mustangs justified those fears, as they got down to the Golden Knights' 30 yard line and with just 2. 6 seconds on the clock.
John Bahena's 37-yard field goal just barely cleared the upright and sucked the wind and heart out of every St. Francis coach, player, student, alumni and family member.
As the Rancho Verde players literally scattered across every part of the field after the 44-42 win, it was difficult to see the pain and devastation in the eyes and faces of so many quality young men in uniform and equally quality adults that had spent the last 12 months preparing their players for exactly this moment.
As is usually the case, opposing sidelines were often heard, including Friday night dismissing the "less athletic" Golden Knights.
And despite giving up over 700 yards of total offense, including 500 passing yards and 4 TD's for Rancho Verde's sophomore quarterback Brock White, St. Francis was literally one play away from their first title in 53 years.
Right when Rancho Verde fans were figuratively hammering the nails in St. Francis' coffin with 2:01 to play, the Golden Knights did what they've done all season, they rallied and proved not only their own worth, but their doubters or skeptics wrong.
Jim Bonds again proved his spot in the most elite company of coaches within the entire southern section with decisions to call for a fake-punt that was completed and turned into points, and then going for it on 4th-and-9 late in the game, and within field goal range.
Instead of kicking the field goal and pulling to within 41-38, Bonds allowed quarterback Darius Perrantes the opportunity to make a play, and the junior made his coach look good.
Perrantes hit Blake Howard on a 9-yard score with 4:43 to play and the game was tied at 35-35.
But the defense just couldn't make a stop and the dream unfortunately for everyone on the St. Francis side became a nightmare.
Perrantes completed 13 or 23 passes for 299 yards, and he threw for two TD's and ran for two more.
His favorite target, again, was senior captain Greg Dulich, who led St. Francis with 4 catches for 131 yards, including a 30-yard TD that got the Golden Knights even at 21-21.
Dulcich's numbers in the postseason would match any player from any team and from any division within the CIF-Southern Section.
He had over 500 yards and 7 scores in the playoffs alone.
Kevin Armstead led the St. Francis rushing attack with 79 yards on 14 carries, and that included the 5-yard go-ahead score with 1:01 to play.
Kamryn Woodson caught 7 balls for 142 yards and TD's of 30 and 70 yards, and Manny Allen took a White pass 96 yards for another Mustangs' score.
Xavier Ugorji had a game-high 115 yards rushing and TD runs of 4 and 10 yards for the visitors from Moreno Valley.
St. Francis captain and leading rusher Elijah Washington scored on a 5-yard TD run in the first quarter, but didn't carry the ball nearly as often as he had all season.
It was rumored Washington was gutting it out on the field, despite having severe knee discomfort.
It will take a while for those who were intimately involved in this game and this season to get over this.
But the overriding feeling for anyone that was not only responsible for making a title-game appearance, but also a 12-win season, should and can be nothing short of immense pride.
St. Francis is a classily run program, and while many of their stars will graduate in six months, they will also see many key players come back for the 2018 season.
And as much as this loss will serve as a kick in the guts (or other places), somewhere down the road, the pain will subside, at least somewhat.
In the long run, the overriding success they'll enjoy both individually and collectively in life will greatly outweigh any disappointment of something that happens on a football field.
With thanks to their strong and structured families, as well as the contributions their coaches and friends have made in their lives, St. Francis student-athletes are destined for greatness.
For those of us in the media, along with your fans, classmates and families, thank you for the honor of witnessing your putting of your heart and soul on your sleeve each Friday night, and showing everyone what can be accomplished when 11 guys on both sides of the ball and in all three phases of the game pull together.
You're the face and definition of what a team and family should be, and your perseverance and winning the right way are inspiring to far more people than you know.
Box Score:
RV: 7-14-7-16-(44)
SF: 7-14-0-21-(42)
Scoring:
RV: Xavier Ugorji 4 run (John Bahena kick)
SF: Elijah Washington 5 run (Nico Boschetti kick)
RV: Manny Allen 96 pass from Brock White (John Bahena kick)
SF: Darius Perrantes 5 run (Nico Boschetti kick)
RV: Jasiah Richard-Lewis 59 pass from Brock White (John Bahena kick)
SF: Greg Dulcich 30 pass from Darius Perrantes (Nico Boschetti kick)
RV: Xavier Ugorji 10 run (John Bahena kick)
SF: Darius Perrantes 2 run (Nico Boschetti kick)
RV: Kamryn Woodson 30 pass from Brock White (John Bahena kick)
SF: Blake Howard 9 pass from Darius Perrantes (Nico Boschetti kick)
RV: Kamryn Woodson 70 pass from Brock White (kick blocked)
SF: Kevin Armstead 5 run (Nico Boschetti kick)
RV: John Bahena 37 FG
Records:
Rancho Verde (12-2); St. Francis (12-2)
Pasadena Area Teams Final Records For 2017
St. Francis (12-2)
Poly (8-2-1) ** Prep League champs
Maranatha (6-5)
Muir (6-5)
Flintridge Prep (5-5)
La Salle (3-7)
Pasadena (2-8)
Marshall (1-9)