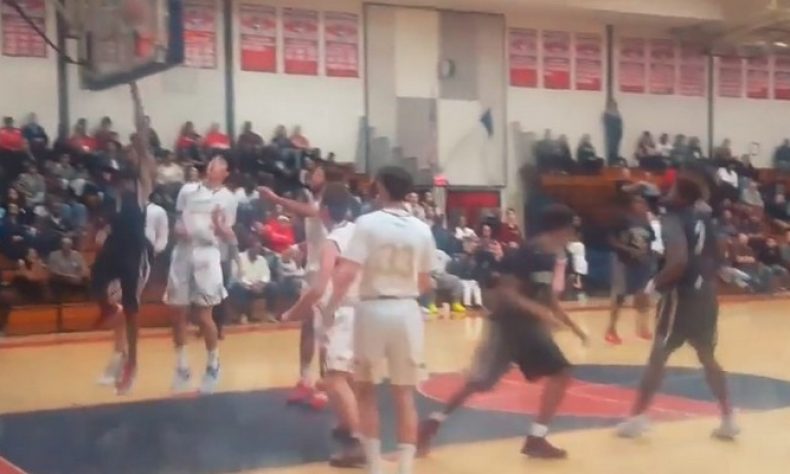 By Brian Reed-Baiotto, Sports Editor It's just the first week of the 2017-18 basketball season. But on Saturday night, Pasadena area fans got to watch a battle between two power programs. In fact, the showdown between Oak Park and Pasadena in the finals of the Rose City Roundball Classic at Maranatha is the kind […]
By Brian Reed-Baiotto, Sports Editor
It's just the first week of the 2017-18 basketball season.
But on Saturday night, Pasadena area fans got to watch a battle between two power programs.
In fact, the showdown between Oak Park and Pasadena in the finals of the Rose City Roundball Classic at Maranatha is the kind of match up you'd like to see in a CIF-SS playoff setting.
Bryce Hamilton led all scorers with 32 points on 10-of-19 shooting, and the senior grabbed 3 rebounds.
Hamilton wants to be the best player on the court every time he suits up for Pasadena (which he almost always is), and the proud future UNLV athlete would be the first to tell you that his five missed free-throw attempts down the stretch were costly.
Hamilton made 11 of his 16 free throws and Oak Park outlasted the Bulldogs, 61-60, in overtime.
Riley Battin, a 6-foot-10, 240-pound forward for Oak Park had 25 points and north of 10 rebounds.
Battin, who will play next season at the University of Utah, was incredibly efficient on Saturday, especially down low and near the bucket.
Battin earned tournament MVP honors.
Darius Brown II finished with 21 points, a team-high 6 rebounds, 2 assists and 2 steal.
DBII made 9 of 16 shots from the field, including 3 of 8 from behind the 3-point arc.
Brown got in foul trouble midway through the second quarter, but he was still able to find a way to alter the game with timely baskets.
Tavian Percy added 7 points on 3 of 9 shooting, and he pulled down 3 rebounds.
PHS (3-1) played catch up for much of the second half, but every time it looked like there was a chance they were down and out, they rallied to close the gap, and did it quickly.
The problem for the Bulldogs, though, was they only got points from three players, including 53 of their 60 from Hamilton and DBII.
Darius Mason was held scoreless, and only took two shots the entire game.
He did finish with 3 rebounds.
Much of the fourth quarter saw Hamilton bring the ball up court and then attempting to drive past Oak Park players to the rim.
More times than not, Hamilton made the best of the situation, but it did seem to take PHS somewhat out of a balanced offensive attack like they had earlier in the game.
PHS shot 46-percent from the field, connecting on 22 of 48 shots.
They made 12 or 18 free-throw attempts and were 4 of 15 from behind the 3-point arc.
Oak Park had wins over School Sport Australia, Maranatha, Muir and then Pasadena en route to the tournament championship.
The Eagles' Wes Slajchert finished with 11 points and 8 assists, and Clark Slajchert added 15 points and 5 assists.
Ezekiel Richards grabbed 8 rebounds for Oak Park.
Pasadena earned victories over Eagle Rock, Cantwell-Sacred Heart and Loyola, before falling just short on Saturday night.
PHS will have the next 17 days off from games, and then the Bulldogs will take on Clark High of Nevada at the Tarkanian Classic in Las Vegas.
The tournament will start December 20 within the Orleans Hotel at their arena.
Quotable:
Pasadena coach Tony Brooks: "It was a missed opportunity. We'll look at film and get better. The kids fought hard, and we had to make some adjustments based on their size. We need more balance. We can't put it all on Bryce's shoulders. I thought he (Bryce) got to the hole and got hit and there was no call, so it was a little frustrating."
Oak Park coach Aaron Shaw: "I think we kept our poise and tried to contest their shots. We made some plays. Pasadena is a great team and are well coached. Two good teams going at it in a championship game. We've been in a lot of close games, and it was nice to take the next step."
Oak Park senior Riley Battin: "We knew it was going to be a tough game and coming into their hometown. We did a good job of setting the tone defensively. Bryce (Hamilton) is a good player and we knew we had to limit him as much as we could."
Box Score:
Pasadena: 9-16-14-18-3-(60)
Oak Park: 5-18-21-12-4-(61)
Records:
Oak Park (6-2); Pasadena (3-1)