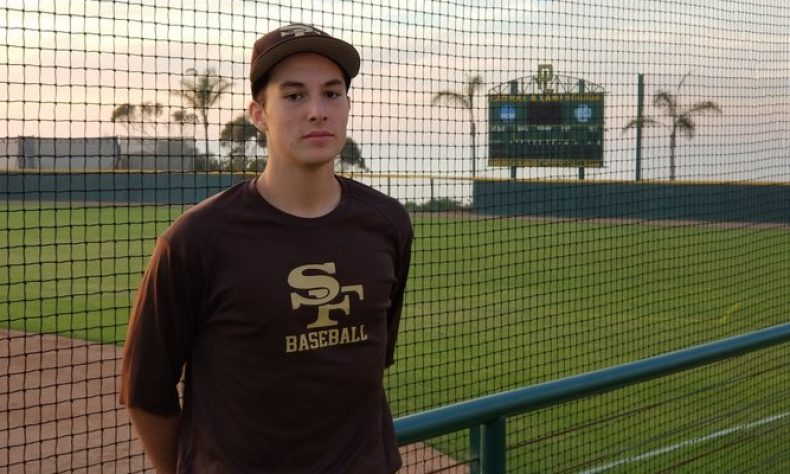 By Brian Reed-Baiotto, Sports Editor It's every prep baseball player's dream, especially seniors, to have their collegiate destination in place before starting their final high school season. Thankfully, for St. Francis pitcher-infielder Aaron Trealor, that was all taken care of this past weekend in a trip to San Diego. Treloar committed to Point Loma and […]
By Brian Reed-Baiotto, Sports Editor
It's every prep baseball player's dream, especially seniors, to have their collegiate destination in place before starting their final high school season.
Thankfully, for St. Francis pitcher-infielder Aaron Trealor, that was all taken care of this past weekend in a trip to San Diego.
Treloar committed to Point Loma and will play for the Sea Lions next year.
Despite being a solid third baseman and hitter, Treloar is going to Point Loma with the understanding that his role will be that of pitcher only, which is fine with him.
Treloar gushed about how much he felt at home at the school, and loves the location.
More importantly, though, it was his connection with coaches Joe Schaefer and Demetre Kokoris, and the desire to continue his career at a Christian-based college that sealed the deal.
Treloar was a first-team member of our Pasadena Sports Now Baseball All-Stars after hitting .300 with 22 hits and 17 RBIs.
He also spent some time on the mound, striking out 16 batters in just 11 innings.
Treloar has four pitches he can go to, and has the confidence to use any of the four, regardless of the count or situation.
St. Francis looks to continue the momentum they began to build behind second-year coach Aaron Dorlarque.
The Golden Knights went just 6-12 in the tough Mission League last season, and while that might not sound impressive, it equaled the league win total from the previous three years combined.
"I picked Point Loma, because I wanted to attend a Christian school for college. I absolutely love Coach Schaefer and Coach Kokoris's coaching styles. And you can't beat the location," Treloar said.
His parents, Roxanne and Jeff, are the two people Treloar credits with his ascension as a player, and a student, but more importantly, as a young man
"The feeling is unbelievable. The amount of stress taken off my chest is amazing. I am looking forward to showing everyone this season that St. Francis can be great because of our coaches and players," he said. " I can not thank my parents enough for pushing me, driving me to tons of places to play, and most of all for supporting me through it all."
Now that the recruiting process is over, Treloar and the Golden Knights baseball program can spend the next 82 days to prepare for the first pitch on February 24 in the Easton Tournament.
Quotable:
St. Francis coach Aaron Dorlarque: "I am extremely excited about Aaron Treloar committing to Point Loma. He has worked extremely hard and will make an immediate impact on the mound, at the plate and on defense. Aaron's leadership on and off of the field at St. Francis are unsurpassed. He carries himself with class and dignity, and his character is deeply rooted. He will be a great fit for Point Loma."
St. Francis senior Aaron Treloar: "We have a talented group of returning players, all of which are extremely close. We have Chris Stamos and Hayden Byrnes coming back, both of whom are insanely talented pitchers. We have Christian Muro, John Politis, Doyle Kane, and Niko Khoury all returning in the lineup this year. Plus, we have a couple promising underclassmen. To top it off, Coach Dorlarque knows how to run a program the right way. We will win because of the close bond of our returners, the promise of our young guys, and our coach."