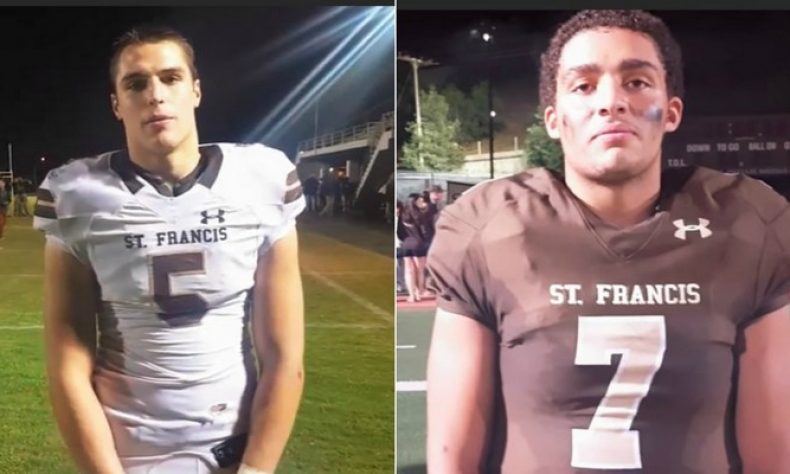 By Brian Reed-Baiotto, Sports Editor The Angelus League released its end of year football awards this week. Cathedral earned the most spots thanks to another unbeaten league run and championship. The Phantoms' quarterback Bryce Young was the no-brainer MVP choice. The sophomore, who is expected to transfer to the newly crowned CIF champions at Mater […]
By Brian Reed-Baiotto, Sports Editor
The Angelus League released its end of year football awards this week.
Cathedral earned the most spots thanks to another unbeaten league run and championship.
The Phantoms' quarterback Bryce Young was the no-brainer MVP choice.
The sophomore, who is expected to transfer to the newly crowned CIF champions at Mater Dei led Cathedral to two league championships in his two years at the school for Coach Kevin Pearson.
Young threw for 3,431 yards and had 41 TD passes and another 8 scores on the ground.
St. Francis quarterback Darius Perrantes was named co-Offensive Player of the Year with Harvard-Westlake quarterback Jameson Wang.
Perrantes had an incredible first year at St. Francis.
He threw for 2,625 yards and had 28 TD passes.
Perrantes also scored 10 TD's with his feet.
The Golden Knights junior led the program into their first CIF-SS title game appearance in 53 years.
Gabriel Grbavac also got top honors when he was named co-Defensive Lineman of the Year with Harvard-Westlake senior Liam Douglas.
Grbavac has turned in two of the area's most elite seasons in back to back years.
The senior finished with 65 tackles and four sacks.
His tackles are second to Blake Howard, and he's tied with his best friend (Howard) with a team-high 4 sacks.
St. Francis running back Elijah Washington (over 1,000 yards and 18 combined TD's) and Greg Dulcich (1,160 yards receiving, 12 TD's) earned first-team honors.
La Salle's Justin Lockhart was named a first-team receiver after over 500 yards receiving and 6 TD catches for Coach Russell Gordon.
Daniel Cina (La Salle) and Matt Barriga earned first-team offensive lineman.
St. Francis place kicker, Nico Boschetti, was the first-team kicker, and he was arguably the best in the entire area with his accuracy.
St. Francis' Blake Howard and La Salle's Joey Rivera both finished as first-team linebackers, and both young men were the heart and soul of their respective teams.
Rivera had a team-best 93 tackles, and Howard led St. Francis with 70 tackles and 4 sacks.
Kevin Armstead and Bobby Gazmarian were first-team defensive backs.
Armstead was as good on offense as he
was on defense, and led the Golden Knights with 5 interceptions, while Gazmarian was second with 3 picks.
The entire first and second team lists are below.
All-Angelus League:
Most Valuable Player:
Bryce Young, Cathedral sophomore
Co-Offensive Players of Year:
Darius Perrantes, St. Francis junior, Jameson Wang, Harvard-Westlake sophomore
Defensive MVP:
Halid Djibril, Cathedral senior
Co-Most Valuable Lineman:
Gabriel Grbavac, St. Francis senior, Liam Douglass senior
First-Team Offense:
Linemen:
Keith Conley (Cathedral)
Matt Barriga (St. Francis)
Louis Moctezuma (St. Paul)
Daniel Cina (La Salle)
Backs:
Elijah Washington (St. Francis)
Thomas Glover (Harvard-Westlake)
Armando Velasco (St. Paul)
Sean Aldana (Salesian)
Receivers:
Greg Dulcich (St. Francis)
Justin Lockhart (La Salle)
Josiah Zamora (Cathedral)
Jabari Kindle (Cathedral)
Ahmad Lipscomb (Cathedral)
Cameron Jones (Harvard-Westlake)
Kicker:
Nico Boschetti (St. Francis)
First Team Defense:
Lineman:
Stephon Wright (Cathedral)
Craig Francois (Cathedral)
Alexandre Dumaris (St. Paul)
Dylan Sanchez (Salesian)
Linebackers:
Blake Howard (St. Francis)
Joey Rivera (La Salle)
Dylan Taylor (Cathedral)
Will Goldbery (Harvard-Westlake)
Sultan Daniels (Harvard-Westlake)
Joseph Troncoza (St. Paul)
Defensive Backs:
Kevin Armstead (St. Francis)
Bobby Gazmarian (St. Francis)
Aaron Howard (Cathedral)
Terrell Long (Harvard-Westlake)
Punter:
Charlie Mendez
St. Francis and La Salle Second-Team Angelus League Players:
Nick Konrad (St. Francis) second-team offensive lineman
Luke Hunter (St. Francis) second-team offensive lineman
CJ Montes (La Salle) second-team offensive backs
Andrew Monarrez (St. Francis) second-team receiver
Jacob McDonough (La Salle) second-team receiver
Zach Kejmar (St. Francis) second-team defensive lineman
Andreas Garcia (La Salle) second-team defensive lineman
Isaac Cordova (St. Francis) second-team defensive back
Cristian Reyes (La Salle) second-team kicker
Final Angelus League Football Standings:
Cathedral (10-2 overall, 5-0 in league)
St. Francis (12-2, 4-1)
Harvard-Westlake (8-3, 3-2)
St. Paul (5-7, 2-3)
La Salle (3-7, 1-4)
Salesian (1-9, 0-5)