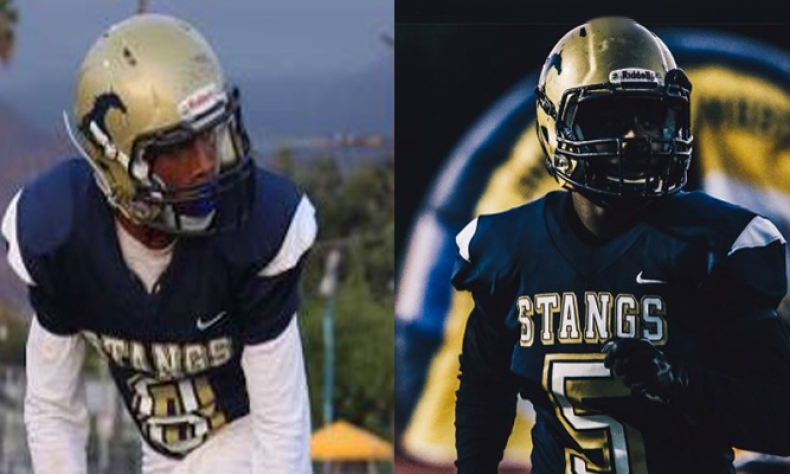 Aryonis Harrison (l) and Jonathan Stephens (r) From STAFF REPORTS Muir senior Jonathan Stephens, one of the area's most elite running backs, earned first-team all-Pacific League honors. The Mustangs finished in fourth place. Offensively lineman Carlos Ramirez also represented coach Antyone Sims' program on the first team, as did defenders Aulonzo Bailey, Jordan Trice and […]
Aryonis Harrison (l) and Jonathan Stephens (r)
From STAFF REPORTS
Muir senior Jonathan Stephens, one of the area's most elite running backs, earned first-team all-Pacific League honors.
The Mustangs finished in fourth place.
Offensively lineman Carlos Ramirez also represented coach Antyone Sims' program on the first team, as did defenders Aulonzo Bailey, Jordan Trice and DJ Bailey.
Pasadena's Jalen Jolley was the only Bulldogs played named to the first team offense or defense.
One curious selection or lack thereof is Muir's Aryonis Harrison, who had first-team numbers and was one of the area's best receivers.
Harrison was only a second team member, despite an elite season.
Pacific League champion Burbank had 10 first-team selections, including co-Players of the Year Drew Pendleton and Matthew Porras.
Burbank's Adam Colman is the 2017 Pacific League Coach of the Year after knocking off perennial league power Crescenta Valley.
2017 Pacific League Standings:
Burbank (10-3)
Arcadia (8-4)
Crescenta Valley (8-3)
Muir (6-4)
Burroughs (4-5)
Pasadena (2-8)
Hoover (2-8)
Glendale (2-8)