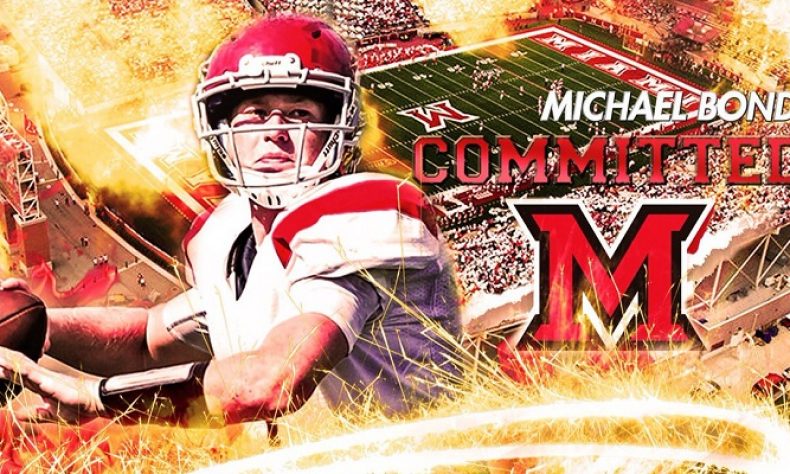 By BRIAN REED-BAIOTTO, Sports Editor Michael Bonds set the bar for excellence when it came to quarterback play in 2016. The St. Francis signal caller led the Golden Knights to a 9-2 season and was far and away the area's best quarterback. Bonds threw for over 2,200 yards. He completed 64-percent of his passes, going […]
By BRIAN REED-BAIOTTO, Sports Editor
Michael Bonds set the bar for excellence when it came to quarterback play in 2016.
The St. Francis signal caller led the Golden Knights to a 9-2 season and was far and away the area's best quarterback.
Bonds threw for over 2,200 yards.
He completed 64-percent of his passes, going 159 of 249.
The 6-foot-2 quarterback had the honor of playing for his uncle, Jim Bonds at St. Francis, and his numbers since transferring from Newport Harbor were incredible.
Bonds threw for 25 touchdowns and was picked just 4 times.
It wasn't just his numbers that stood out.
It was his being able to rise to the occasion when St. Francis most needed a big play.
He was clutch, accurate, very intelligent and a great leader, even in spite of the fact that he's a pretty quiet kid.
Bonds is truly an old-school kid in a young man's body when it comes to his values and belief system, as well as the way he carries himself with honor and dignity.
And it wasn't just his strong right arm that made him the most complete QB in the area.
It (throwing arm) was a game-changing weapon on its own, but Bonds also surprised many with timely first downs with his legs.
He gained 230 yards on the ground and scored four times.
So, the big question around this time last year was what college program would be lucky enough to have a young man with both exceptional talent and character?
Some of the local area school's unwillingness to give a proven winner a shot was nothing short of a disgrace.
Bonds ended up attending Glendale College on the JC circuit, which was a giant departure from the success and structure he enjoyed and thrived in at St. Francis.
From the outside, it seemed going from St. Francis to Glendale College was as good a fit as LaVar Ball participating in a conference to promote higher learning and staying in school.
He never said or thought he was too good for Glendale nor did he put himself above his teammates, but going from a disciplined 9-2 program to one that went 2-8 is quite the drop off both physically and psychologically.
Bonds, though, in his classy fashion was thankful for the time and effort his coaches and teammates gave him.
Another aspect that made the 2017 season more frustrating was Glendale's inability to protect Bonds in the pocket, which caused him to take far too many hits and injure his shoulder.
If that weren't enough, his parents, Thomas and Julie moved to Bellevue, Washington after Thomas was promoted at work.
So, at 19, and being bruised and battered on the field and somewhat lonely off it, Bonds could only dream about his chances at the next level.
And that is precisely what makes today's announcement so much more special.
Bonds confirmed on social media, three days before Christmas, that he has committed to play at Miami University of Ohio.
It's probably one of the best Christmas gifts he's even gotten.
Bonds made the trip last weekend to Oxford, Ohio, to meet with head coach Chuck Martin and offensive coordinator Eric Koehler, and there was an immediate connection.
"I like everything about their program, as well as their academics and alumni," Bonds said. "The competive-driven coaching staff really made an effort to get to know me and made me feel cared for."
If his abilities and character weren't enough to make one a Michael Bonds fan, maybe adding in that he finished his time in Glendale with a 3.6 grade-point average would.
And his former coaches and teammates, as well as his friends are ecstatic for the 19-year old standout.
We feel pretty comfortable in saying the entire Pasadena and La Canada area sports fans are not only thrilled Bonds finally got the opportunity he so greatly earned and deserves, we're all pulling for Michael to excel and thrive at a level he's prepared for his entire life.
Quotable:
Former St. Francis QB Michael Bonds: "Being patient through this process was very difficult. It was my amazing parents and family/friends that kept motivating me and keeping me on my toes and believing in me. The whole process has made me stronger. I am healthy again thanks to Eric Landswick and the Glendale coaching trainers and I learned a lot from Coach John Rome. Glendale was a stepping stone in my life and it was humbling, but I'd have it no other way. The experience made me tougher and stronger."
Michael's father, Thomas Bonds: "I am very proud of Michael's work ethic and belief in himself. He has worked hard and trusted that through this process that he would find the right fit. We think it's a really good fit for him, and I think Miami got a great player and person. We are all very excited to see him compete again."
St. Francis coach/uncle Jim Bonds: "I'm so happy for Michael and excited about his future. There is no one more deserving of this opportunity than he is. He's such an outstanding young man and one of the hardest workers I've ever had the privilege to coach."