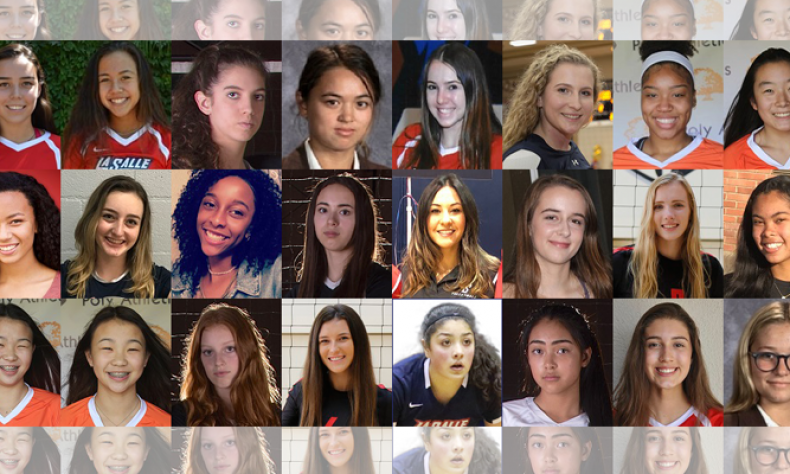 By BRIAN REED-BAIOTTO, Sports Editor Pasadena area volleyball programs left quite a mark in the San Gabriel Valley and southern section. La Salle (28-7) went 8-0 on their way to another Del Rey League championship, and with great thanks to the most balanced roster around, the Lancers earned spots in the CIF-SS Division 3 and […]
By BRIAN REED-BAIOTTO, Sports Editor
Pasadena area volleyball programs left quite a mark in the San Gabriel Valley and southern section.
La Salle (28-7) went 8-0 on their way to another Del Rey League championship, and with great thanks to the most balanced roster around, the Lancers earned spots in the CIF-SS Division 3 and the CIF Division 2 State Regional finals.
They fell short both times to eventual CIF and State champion Sierra Canyon (38-7), but La Salle took the Trailblazers to four and five games, respectively, while Sierra Canyon was busy sweeping almost everybody else.
A host of talented seniors, including Sofia Sanchez, Sophia Anderson, Claire Forrest and Tori Ashkinos left their mark in leading La Salle to the school's first trip to the CIF State Regional final.
They finished with playoff wins over Arcadia, Yorba Linda, Sage Hill, Bakersfield Christian, Del Norte and Olympian.
And in those five postseason victories, only once did they not sweep their opponent.
Seventh-year coach Tiare Tuitama did a great job leading the Lancers through rough waters and was named the 2017 Pasadena Sports Now Girls Volleyball Coach of the Year.
Westridge (25-6) senior and future Cal State Long Beach 49er, Allison Martinez set records that will likely not be duplicated with nearly 2,100 career kills.
Martinez was named the Pasadena Sports Now Girls Volleyball Player of the Year.
The Tigers also got huge efforts from seniors Makana Meyer and Eryn Boken in a year Westridge won their first outright Prep League title since 2006, and did so with a 12-0 league run.
Poly's (23-5) only two losses this Prep League season was to Westridge, but they battled throughout and won more games this year than the last two combined.
Senior Halston Harper, sophomores Ella and Zoey Mao and freshman Debbie Hong were key in allowing Coach Steve Beerman's program reach incredible heights, including playoff victories over Camarillo and Mayfair.

Pasadena Sports Now 2017 Player of the Year: Allison Martinez
When Allison Martinez walked on the Westridge campus some four years ago, the school was known for their rigorous and exemplary academic standards. When she exits Madeline Drive for the last time about five months from now, Westridge will have become part of the conversation for its athletic excellence as well. Read more…

Pasadena Sports Now 2017 Coach of the Year: Tiare Tuitama
Volleyball can mirror life in many ways. There are moments of pure joy and others where we all fall short. Seventh year La Salle coach Tiare Tuitama and her program experienced both exhilarating successes and heartbreaking failures this season. That includes moments on and off the court. Read more…
Pasadena Sports Now 2017 All-Stars​

Sophia Anderson, La Salle senior: The Lancers outside hitter finished the season with 301 kills, 382 digs, 29 blocks and 16 aces. She was also a huge part of La Salle winning the Del Rey League undefeated, as well as trips to the CIF-SS and State finals.

Tori Ashkinos, La Salle senior: The Del Rey League MVP and Lancers' setter had 455 assists, 280 kills, 25 blocks and 18 aces. She's been huge in the 49 wins over the past two seasons alone, let alone two league titles and appearances in the CIF-SS and State finals.

Eryn Boken, Westridge senior: The Tigers middle blocker was underrated in her contributions to the back-to-back Prep League champs, as well as consecutive trips to the CIF-SS semifinals. Boken had 137 kills, 55 blocks, 63 digs and 84 aces. She finished with 386 career kills and 136 aces.

Annie Evans, Mayfield senior: The Cubs outside hitter finished with 72 kills, 72 digs and 11 aces to help lead Mayfield to a third place finish in the Prep League, and during a time that most believed they were in a rebuilding year.

Claire Forrest, La Salle senior: The Lancers outside hitter stepped up her game, especially in the playoffs and led La Salle with 455 kills. She also had 176 digs, 71 blocks and 28 aces for the CIF-SS Division 3 and CIF State Division 2 runner up.

Tiffany Godley, Maranatha senior: The Minutemen outside hitter shined throughout in what was otherwise a down season for Maranatha. She finished with 204 kills, 266 digs, 31 aces and a .134 hitting percentage.

Halston Harper, Poly senior: The Panthers middle blocker was second in kills with 171, first with 72 blocks and she also added 4 aces for a Poly team that won more games in her senior year than two previous two season's combined.

Debbie Hong, Poly freshman: The Panthers defensive specialist is another indispensable cog in the Poly machine that took Westridge to the wire before finishing second. Hong had 24 aces and 76 aces, but her value goes way beyond stats.

Samanatha James, Marshall senior: The Eagles outside hitter led the way with a team-best 214 kills and 29 aces. She also added 112 digs and did her part in Marshall tripling their win total from a season ago.

Courtney Johnson, Flintridge Prep junior: The Rebels outside hitter was Prep's lone member on the all-Prep League, first-team. She finished with 172 kills, 42 aces and 149 digs and the captain helped Coach Sean Beattie's program finish 13-10.

Divine Johnson, Pasadena junior: The Bulldogs' outside hitter finished with 117 kills this season, but her value goes far beyond that. She averaged 10 kills, 8 digs and 3 aces per match in a season PHS won 6 more games than in 2016, including one in the postseason.

Sophie Lindsay, Pasadena senior: The Bulldogs' setter's stats could never define her contributions to PHS earning their first playoff victory in 11 years. Lindsay had 276 assists, and averaged 21 assists, 5 kills, 4 aces, 2 blocks and 2 aces per match.

Megan Lund, FSHA junior: The Tologs outside hitter led the way with 384 kills (four per set) and 49 aces, but she also rallied FSHA to end the season on a 19-8 clip after a slow start and injuries to key players. They finished 20-14 with a very tough league schedule.

Taurie Magee, Pasadena senior: The Bulldogs middle blocker led her team with 128 kills for a PHS team that won 15 matches. She averaged 11 kills, 2 aces and 4 blocks per match, and is arguably PHS' most versatile female athlete.

Ella Mao, Poly sophomore: The Panthers outside hitter led the way with a team-best 220 kills and 59 aces. She had 17 blocks and 10 assists to help Poly win 10 more games than a season ago, including playoff victories over Camarillo and Mayfair.

Zoey Mao, Poly sophomore: The Panthers setter had 708 assists, 112 kills, 38 blocks and 18 aces as Poly (23-5) had a second-place Prep League finish and a trip to the CIF-SS quarterfinals

Makana Meyer, Westridge senior: The Tigers outside hitter had 353 kills, 197 digs, 66 aces and 33 blocks. For her career, "Mack" helped earn two Prep League titles, two trips to the CIF semifinals and finished with 796 career kills and 125 aces.

Maddie Pernecky, FSHA senior: The Tologs libero had a team-high 397 digs and 51 aces. She and Megan Lund kept FSHA afloat during an injury-plagued season, and somehow found a way to win 20 matches in her final prep season.

Vanessa Ramirez, La Salle sophomore: The Lancers libero is a two-year starter and finished this record season for La Salle with 401 digs, 35 kills and 22 aces. She has been an indispensable member of the back-to-back league champs and their deep playoff run.

Krystal Raymundo, Westridge sophomore: The Tigers setter had 293 digs, 390 assists, 68 aces and 359 serve receptions for the back-to-back Prep League champs. In just two years at Westridge, Raymundo had 647 digs, 419 assists and 85 aces.

Sofia Sanchez, La Salle senior: The Lancers opposite hitter was second on the team with 420 kills and 58 blocks. She's been credited with not only being an incredible leader as a captain, but is also one of the Lancers and area's most complete players.

Ellie Watkins, Mayfield junior: The Cubs setter finished with 260 assists and 73 digs for a Mayfield team (11-14) who's record doesn't in any way do justice to how competitive they were behind first-year coach Cami Martin. She also had 24 kills and 20 aces.
Pasadena Area Volleyball Team Leaders in Wins:
La Salle (28-7 overall, 8-0 in league) * Del Rey League champs
Westridge (25-6, 12-0) * Prep League champs
Poly (23-5, 10-2)
FSHA (20-14, 2-6)
Pasadena (15-10, 8-6)
Flintridge Prep (13-10, 4-8)
Mayfield (11-14, 8-4)