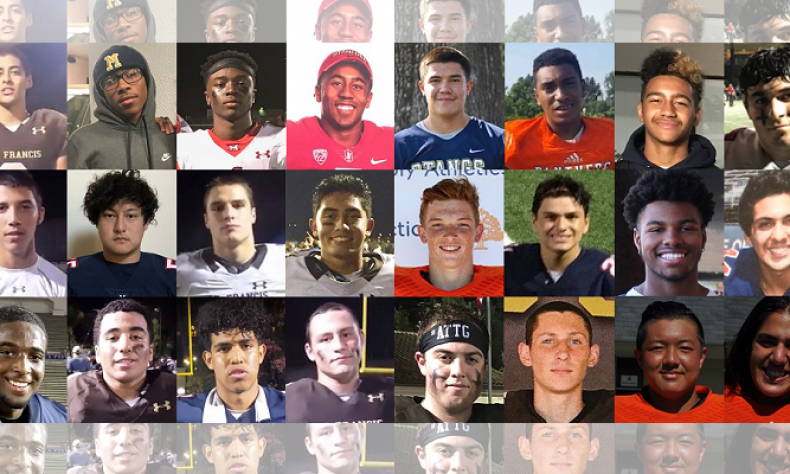 By BRIAN REED-BAIOTTO, Sports Editor It wasn't a secret that St. Francis would and should dominate the 2017 Pasadena Sports Now All-Star team. The Golden Knights went to their first CIF-SS championship game in 53 years and were the only Pasadena area program to win a postseason game, let alone three games. On top of […]
By BRIAN REED-BAIOTTO, Sports Editor
It wasn't a secret that St. Francis would and should dominate the 2017 Pasadena Sports Now All-Star team.
The Golden Knights went to their first CIF-SS championship game in 53 years and were the only Pasadena area program to win a postseason game, let alone three games.
On top of that, they were two seconds from a CIF-SS Division 3 championship.
Their 12 wins, best at the school this century, was four more than Poly and twice as many as both Maranatha and Muir.
St. Francis (12-2) reached new heights behind two-time Pasadena Sports Now Coach of the Year Jim Bonds, as well as huge season's from our Players of the Year, Greg Dulcich, Blake Howard and Darius Perrantes.
Rancho Verde might have ruined the night for St. Francis on December 1 with their last-second field goal, but nothing from that game will stain what was the best season since 1964 for the Golden Knights.
They were led by so many quality seniors, including captains Elijah Washington, Matt Barriga and Greg Dulcich.
SF's Isaac Cordova, Andrew Monarrez, Bobby Gazmarian and Gabriel Grbavac all had solid senior efforts, as did junior quarterback Darius Perrantes and sophomore running back Kevin Armstead.
Poly (8-2-1) had the area's second most wins and won consecutive Prep League titles behind senior studs Cameron McFarlane, Christian Henderson and Jackson Hayes.
Graham Olson took over the full-time quarterback duties when Matt Loomis got injured and he also spent time on the Panthers' defensive line.
Many did their parts, including Franco Alonso, Matt Queen, Sean Tibay, Zane Behary Thomas McConnell, Jackson Treister and so many more for coach Chris Schmoke's program.
Maranatha (6-5) doubled their win total from a year ago behind their star quarterback Kwon Peterson, who quietly led the Minutemen to a playoff appearance.
Peterson threw for over 2,000 yards and 21 TD's.
Awan Parker had a breakout year at running back, receiver and defensive back and Jacob Moreno is one of the toughest kids walking the streets of Pasadena.
Moreno literally never left the field unless he was dragged off due to injury.
Vic Hoffman is what Maranatha is all about as he came back from injury and refused to come off the field.
One poignant moment came right after his return, where Hoffman, wearing a cast and his helmet flying off, chased an opposing ball carrier and made the tackle.
Muir (6-4) also had a solid comeback season after weathering three consecutive losses to have a solid run in the Pacific League race.
Jonathan Stephens, Brian Love, Aryonis Harrison and so many Mustangs players stepped up for coach Antyone Sims and his program.
The Mustangs won their second consecutive Turkey Tussle with their 33-21 victory over crosstown rival Pasadena (2-8).
La Salle (3-7) had a rough rebuilding year, but the light at the end of the tunnel is visible thanks to hard work and leadership from coach Russell Gordon and his coaching staff.
Gordon counted a lot on senior linebacker Joey Rivera, who was the heart and soul of the 2017 Lancers.
They also broke in quarterback CJ Montes, who had an impressive freshman season and his upside looks to be very high as he matures physically and grows into his body.
Justin Lockhart, R'Mon Huff and Dante Coxsom all did what they could for the program.
Chris Wilson, who originally wanted to be the Lancers quarterback, swallowed his pride and contributed as the tight end and at defensive end.
Pasadena had another rough year, but they got solid play from brothers Randy and Anthony Santellan, as well as Jalen Jolley, who was the Bulldogs' big-play athlete.
PHS fell for the second consecutive year in the Turkey Tussle, 33-21, to crosstown rival Muir, but the game was competitive throughout.
Despite a 2-8 record, PHS was only outscored by a margin of 335-283.
2017 Pasadena Sports Now Football All-Stars

Kevin Armstead, St. Francis sophomore: The Golden Knights two-way starter rushed for 656 yards on 103 carries, including 14 TD's. He also was vital on defense with 36 tackles & a team-high 5 interceptions, one of which saved the season in first round of playoffs against La Serna.

Matt Barriga, St. Francis senior: The Golden Knights captain and one of the area's best leaders had 26 tackles and 3 sacks at defensive end, but Barriga did his best work on the offensive line opening holes for Washington and Armstead, as well as protection for QB Darius Perrantes.

Zane Behary, Poly senior: The Panthers senior helped anchor an offensive line that, alongside Sean Tibay and others, helped lead Poly to consecutive Prep League titles, and allowed guys like Cameron McFarlane, Jackson Hayes and Christian Henderson to thrive and for an offense that averaged 30 points per game.
Nico Boschetti, St. Francis junior: The Golden Knights kicker was easily the area's most reliable and accurate foot. Boschetti made 7 of his 8 field goal attempts for the CIF-SS Division 3 runner up, as well as converting on 64 point-after attempts.

Daniel Cina, La Salle senior: The Lancers senior is credited with anchoring the La Salle offensive line by teammates and coaches alike, with his main job being protecting freshman quarterback CJ Montes, and opening holes for Kole Hamane and Damian Curl. La Salle averaged 22 points per game behind his leadership.

Isaac Cordova, St. Francis senior: Cordova was arguably the most underrated & an incredibly complete player on the area's best team. He caught 26 passes for 484 yards & 4 TD's & was an Angelus League leader among DB's for tackles with 62, and a pick. He was a great blocker, has terrific hands and is also a holder on point-after attempts.

Gabriel Grbavac, St. Francis senior: The Golden Knights defensive end was second in tackles with 66 and he tied his best friend, Blake Howard, with a team-best 4 sacks. He played some tight end and had a postseason offensive receiving TD and had over 100 tackles and 14 sacks over the last two years, which included 21 wins.

Aryonis Harrison, Muir junior: The Mustangs wide receiver had 25 catches for 423 yards and 5 TD's. He scored 4 more touchdowns on special teams (1 kickoff return, 3 punt return) to give Harrison 9 for the season. He played in all three phases of the game and was a game-changer for the Mustangs.

Jackson Hayes, Poly senior: The Panthers two-way stud did a little of everything to help coach Chris Schmoke's program win consecutive Prep League titles. Hayes was second with 8 total TD's, including 6 in the air, and had 325 receiving yards. He rushed for 351 yards and two more scores, and had 19 tackles and 4 interceptions.

Christian Henderson, Poly senior: The Panthers' senior led Poly with 5 interceptions on defense and finished with 20 tackles. Henderson played so many roles that a stat sheet could never measure, but he rushed for 59 yards for 2 TD's and caught 17 passes for over 200 yards and 2 more scores for the two-time Prep League champions.

Jalen Jolley, Pasadena senior: The Bulldogs' running back-receiver-defensive back did it all for PHS. He rushed for over 600 yards, and led the defense with 86 tackles and an interception while playing in the defensive backfield. Jolley, the PHS big-play stud also had nearly 1,100 receiving yards.

Nick Konrad, St. Francis senior: The Golden Knights senior is someone who earned the universal respect of his teammates & coaches. Along with Sean Barkley, Luke Hunter, Kevin Macho and Matt Barriga, Konrad opened holes for Elijah Washington, Kevin Armstead and protected quarterback Darius Perrantes.

Cameron McFarlane, Poly senior: The Panthers two-way starter rushed for 10 TD's and over 500 yards on the ground. The future Stanford Cardinal had 54 tackles and a team-high 5 sacks for the back-to-back Prep League champions. He finished with 13 total TD's and is one of the best student-athletes this area has seen in a long time.

Andrew Monarrez, St. Francis senior: The senior receiver was credited with having the best hands on the CIF Division 3 runner up. He caught 26 passes for 469 yards and 3 touchdowns. He also filled in at defensive back when needed and is a big-game performer.for a Golden Knights team that won 21 games the last two seasons.

CJ Montes, La Salle freshman: Montes took over the full time QB duties a couple weeks in and led the Lancers to a 42-40, furious comeback at Monrovia. He completed 117 of 170 passes for 1,800 yards and 18 TD's. The freshman is likely headed to rewrite the Lancers record book when he is finished in 2020 and his future and the program's looks bright.

Jacob Moreno, Maranatha sophomore: The Minutemen all-purpose stud caught 25 passes for 394 yards and 4 TD's. He rushed for 250 yards and played in all three phases of the game for coach Steve Bogan. Moreno tied Joey Rivera for an area-best 93 tackles and is pound-for-pound as tough as they come.

Awan Parker, Maranatha senior: The Minutemen receiver-defensive back was one of the area's elite and big-play guys. Parker rushed for 334 yards and scored 5 TD's on the ground. He also caught 37 passes for 646 yards and 8 more TD's. The PHS transfer thrived when given the chance and made plays from everywhere on the field.

Kwon Peterson, Maranatha senior: The Minutemen quarterback led MHS to twice the wins (6) than they had the year before, and despite having approximately 18 teammates suit up each week. Peterson completed 137 of 260 passes for 2,029 yards and 21 touchdowns. He rushed for 250 yards, including one score, and let his actions do the talking.

Carlos Ramirez, Muir senior: The Mustangs offensive lineman did a great job of protecting quarterbacks Brian Love and running back Jonathan Stephens. Ramirez helped pace the Muir offense to a 340-170 advantage in points scored this season, including a second consecutive victory over crosstown rival PHS.

Joey Rivera, La Salle senior: The Lancers linebacker led all Pasadena area players with 93 tackles, but even that stat couldn't come close to defining just how much Rivera meant to the La Salle program and coach Russell Gordon. He led the program through a rebuilding year and was the guy that everybody looked to.

Jonathan Stephens, Muir senior: The Mustangs' running back rushed for 713 yards on 81 carries, including 10 touchdowns. Stephens led Muir with two TD runs and 135 yards in the 33-21, Turkey Tussle victory over rival Pasadena, and is one of the area's most respected and respectful student-athletes.

Elijah Washington, St. Francis senior: The Golden Knights captain was remarkable as a leader and his performances. He led SF with 1,005 yards rushing and a team-best 16 touchdowns on the ground. He also caught 20 passes for 329 yards and 2 TD's. On defense, EW had 48 tackles. Over the past two years, he gained over 1,700 yards rushing and 23 total scores.

Ethan Zhou, Maranatha junior: The Minutemen junior is revered among his coaches and teammates for his toughness, and as just one of the very few healthy lineman, Zhou helped Maranatha double their win total from a year ago. He protected quarterback Kwon Peterson and opened holes for Awan Parker, Jacob Moreno and helped earn Maranatha a playoff berth.