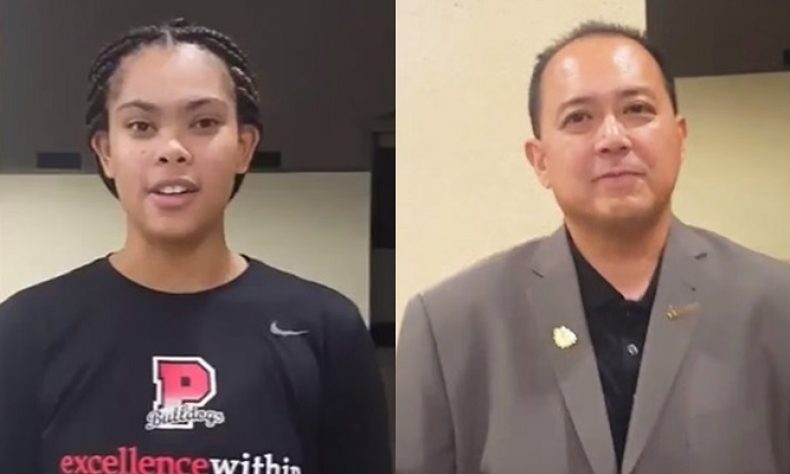 Taurie Magee (l) and Coach Jett del Mundo From STAFF REPORTS Pasadena has played two Pacific League basketball games in 2018. So far, PHS has scored 94 points and their opponents have scored 94 points. After Wednesday's one-point loss at Crescenta Valley, the Bulldogs needed a victory and got it. Barely. It took 17 points, […]
Taurie Magee (l) and Coach Jett del Mundo
From STAFF REPORTS
Pasadena has played two Pacific League basketball games in 2018.
So far, PHS has scored 94 points and their opponents have scored 94 points.
After Wednesday's one-point loss at Crescenta Valley, the Bulldogs needed a victory and got it.
Barely.
It took 17 points, 22 rebounds and 2 blocks from Taurie Magee and her teammates did their part in the 55-54 victory in overtime Friday night at Marshall High School over Arcadia.
Kamesha Moore added 14 points, 4 assists and 3 steals.
Mariah Cathcart finished with 7 points, 7 rebounds and 3 steals.
PHS coaches pointed out that freshman Sydney Brumfield's 3-pointer with 1:14 to play in overtime put the Bulldogs up, 43-41, and was huge in the changing of momentum.
Pasadena also held a 13-4 made free-throw advantage over the Apaches.
PHS will be busy next week with three Pacific League games.
Kameria Piggee had a huge rebound and bucket in OT as well.
The Bulldogs are at Burbank on Monday, and then host Hoover on Wednesday, and finished out the week at Glendale on Friday evening.
Box Score:
PHS: 10-9-10-10-6-(45)
AHS: 8-11-9-11-5-(44)
Records:
PHS (11-6 overall, 1-1 in league); Arcadia (6-5, 0-2)