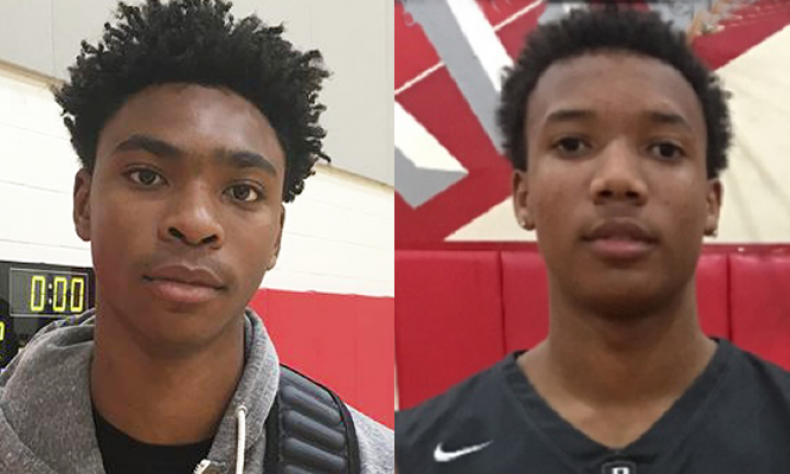 By BRIAN REED-BAIOTTO, Sports Editor The Pasadena area basketball scene is a hotbed for talent, and that includes both male and female athletes. Two of our best were nominated for one of, if not the nation's most prestigious, and nationally televised All-Star game. PHS' Bryce Hamilton and Darius Brown II have officially been nominated to […]
By BRIAN REED-BAIOTTO, Sports Editor
The Pasadena area basketball scene is a hotbed for talent, and that includes both male and female athletes.
Two of our best were nominated for one of, if not the nation's most prestigious, and nationally televised All-Star game.
PHS' Bryce Hamilton and Darius Brown II have officially been nominated to play in the 41st Annual McDonald's All-American game in Georgia.
Hamilton, who averages 28 points and 8 rebounds per game, is already secured to play his collegiate ball at the University of Nevada Las Vegas.
DBII, our area's best point guard, is back after an early-season ankle injury and he's got the Bulldogs playing their best basketball since his return.
Brown averages 12 points, 8 assists, 4 rebounds and almost 3 steals per game, but his numbers will continue to climb as the season goes on.
The Bulldogs dropped their first Pacific League game of the season without Brown in uniform, and since his return, PHS is 2-0 and by a margin of 155-92.
The two Pasadena High School senior standouts were nominated among players from 45 states and the District of Columbia.
They are among 19 Southern California male players that have been nominated, including three from Damien in La Verne.
On January 16, the final rosters will be announced, and you can follow "McDaag" on Twitter and Instagram to get up to date information
The game will take place on March 28 at Phillips Arena in Atlanta and will be broadcast on ESPN.
The official list is below.
31 SOUTHERN CALIFORNIA PREP STARS RECEIVE NOMINATION TO PLAY
IN 2018 McDONALD'S ALL AMERICAN GAMES
Local Student-Athletes in the Running to Play in Prestigious High School Basketball Event in Atlanta
Jan. 10, 2018 – McDonald's is pleased to announce the more than 700 high school seniors who have been nominated to play in the 2018 McDonald's All American Games. This year's list includes players from 45 states and the District of Columbia who have been selected by high school coaches, athletic directors, principals and members of the McDonald's All American Games Selection Committee. 31 players hail from Southern California – 19 male and 12 female players. The local players nominated for the 2018 Games include:
Boys:
• Devonaire Doutrive, Birmingham High School, Van Nuys
• David Singleton III, Bishop Montgomery High School, Torrance
• David Mixon, Cathedral High School, Los Angeles,
• Orlando Robinson Jr., Cathedral High School, Los Angeles
• Brandon Williams, Crespi Carmelite High School, Encino
• Shareef O'Neal, Crossroads School, Santa Monica
• Eric Hancik, Damien High School, La Verne
• Elijah McCullough, Damien High School, La Verne
• Cameron Shelton, Damien High School, La Verne
• Taeshon Cherry, Foothills Christian Academy, El Cajon
• Darryl Polk, Long Beach Poly, Long Beach
• Harrison Butlet, Mater Dei High School, Santa Ana
• Spencer Freedman, Mater Dei High School, Santa Ana
• Riley Battin, Oak Park High School, Oak Park
• Darius Brown, Pasadena High School, Pasadena
• Bryce Hamilton, Pasadena High School, Pasadena
• Duane Washington, Sierra Canyon School, Chatsworth
• Ryan Turell, Valley Torah High School, Valley Village
• Jules Bernard, Windward School, Los Angeles
Girls:
• Jillian Archer, Bishop Alemany High School, Mission Hills
• Myrrah Joseph, Carson High School, Carson
• Kendal Ellenbeck, La Jolla Country Day, La Jolla
• Bianca Notarainni, La Jolla Country Day, La Jolla
• Kiera Oakry, La Jolla Country Day, La Jolla
• Jayda Villareal, La Jolla Country Day, La Jolla
• Nicole Freeman, Mater Dei High School, Santa Ana
• Madison Johnson, Mater Dei High School, Santa Ana
• Sarah Rahon, Mater Dei High School, Santa Ana
• Emma Torbert, Mater Dei High School, Santa Ana
• Andrea Aquino, Ribet Academy, Los Angeles
• Semaj Smith, St. Anthony High School, Long Beach