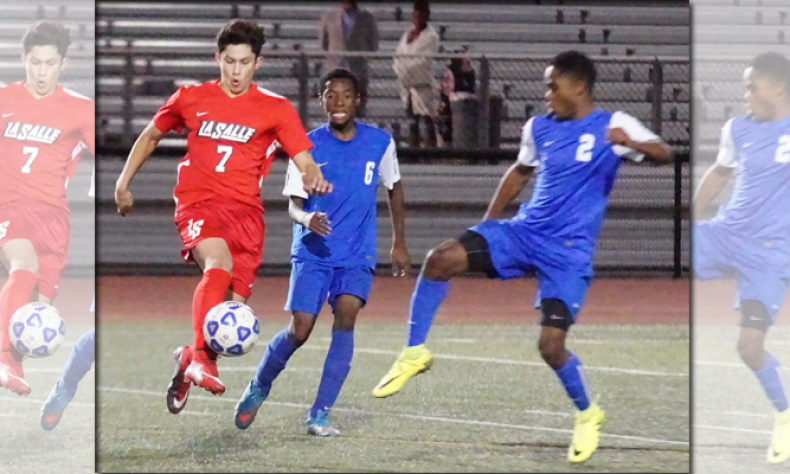 By BRIAN REED-BAIOTTO, Sports Editor: It might sound like hyperbole to say that Eric Rivero was a star in the sport of soccer from the first day he put on his tiny cleats and strode across the grass. But it's not. In his first game, and at the age of 5, Rivero scored 15 goals, […]
By BRIAN REED-BAIOTTO, Sports Editor:
It might sound like hyperbole to say that Eric Rivero was a star in the sport of soccer from the first day he put on his tiny cleats and strode across the grass.
But it's not.
In his first game, and at the age of 5, Rivero scored 15 goals, and the La Salle sophomore has continued his ascendance to this day.
He has 18 goals and 11 assists in 15 games thus far in the 2017-18 season.
That includes three hat tricks (three goals in a game), which matches his total of 3-goal games from his freshman year.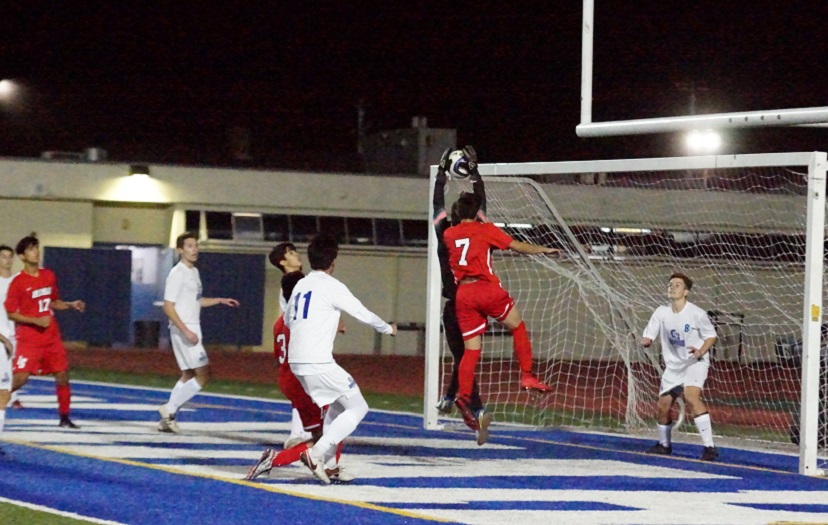 La Salle (10-5-1 overall, 5-0 in league) holds a one-game lead with 6 to play over Mary Star of the Sea in the Camino Real League standings after a 2-1 victory over the Stars this past week.
Rivero is without question 'the guy,' and someone each of his coaches and teammates look to when a big goal is needed.
But he is the first to say, and with emphasis, that none of this was possible without the vital contributions of captain Nick Zuniga, Cristian Reyes, Brandon Clarizio, Daniel Piesik, Vincent Zuniga, Nick Reynolds, CJ Rettig and every player that has taken the field for La Salle.
Last season, Rivero and the Lancers earned a share of the Camino Real League title with Mary Star of the Sea.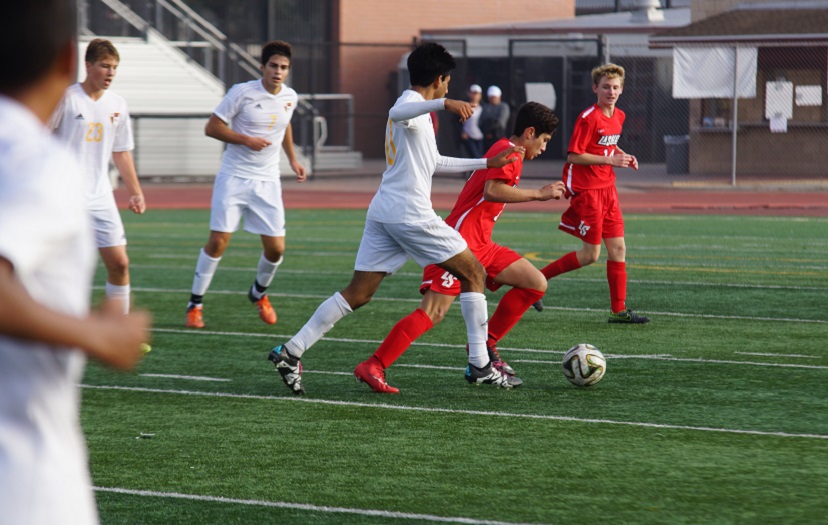 And despite being the leading scorer, he missed out on being the league MVP by one vote when a senior from Mary Star got the nod.
In that freshman season, he was remarkable with 24 goals and 8 assists and earned the team MVP honors.
What's noteworthy is that despite being so young (16) and being the offensive weapon that he's become, Rivero sees himself as just one of the guys.
And as impressive, his teammates, even those older, say he plays with a humility, selflessness and that Rivero is all about 'us' and not 'I' which is why he is very popular and someone others look up to.
You could easily make the argument that La Salle baseball player Ethan Patrick is the best athlete walking that campus.
Patrick, the reigning Pasadena Sports Now Baseball Player of the Year, had a remarkable 2017, and is about to start his senior season before heading to play his collegiate ball at Loyola Marymount.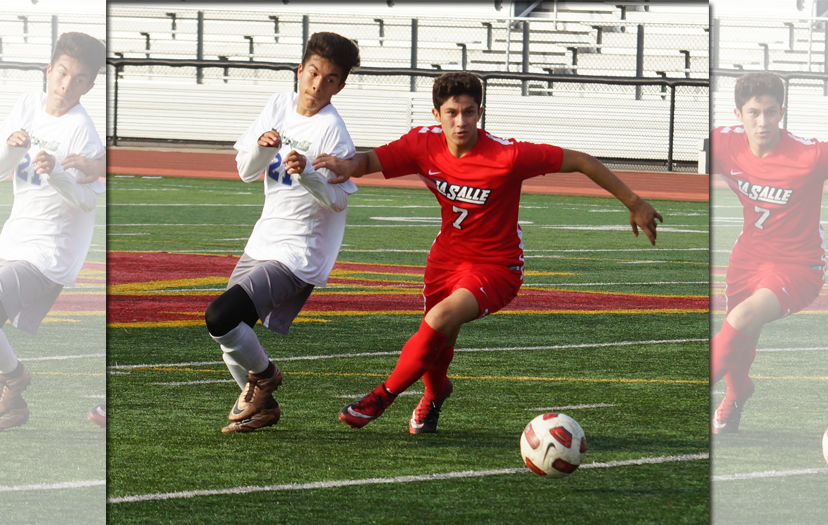 Despite being the stars in other sports and a two year age difference, Rivero and Patrick are very close and have formed a relationship based on mutual respect between two great athletes.
"Eric is one of my best friends and is a great kid with a lot of energy," Patrick said. " I can always count on Eric to be there for me whenever I need it. He's one of the most unselfish people I have ever met and I am so happy to call him my friend. The reason why he is such a special athlete is because of his hard work ethic. I never see Eric take days off and he is always striving to be the best player he can be."
His coach, Edgar Manvelyan, a former top soccer player himself, has known his star forward since he was a little boy.
Manvelyan said Rivero is unselfish, talented, humble, intelligent, a leader and credits Rivero's family for the way this young man carries himself, both on and off the field.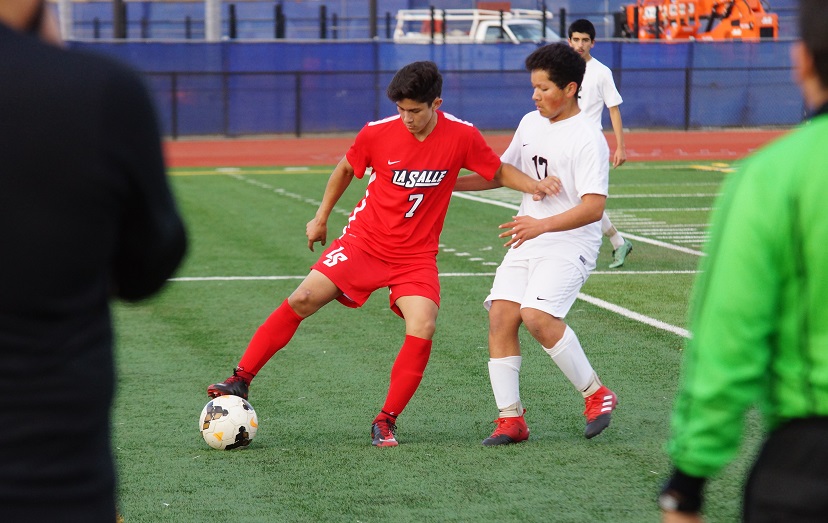 "He's always been really good and he wants to be the best," Manvelyan said. "His family has done a great job, because he is a very bright and respectful young man and he is the best player we've had since he got here. If he continues to get stronger, faster and work hard to improve his game, Eric could certainly play college soccer."
Rivero is also a 3.3 grade-point student, but he admitted his studies don't always get the attention that they should and he expects to make changes going forward.
But everything he is and will be is because of a strong family culture, including members from both his mother and father's side.
His parents, Yolanda and Ernesto, have never allowed Eric to settle for anything, because they believe he can always reach higher ground.
Ernesto is a network engineer and Yolanda is a legal secretary.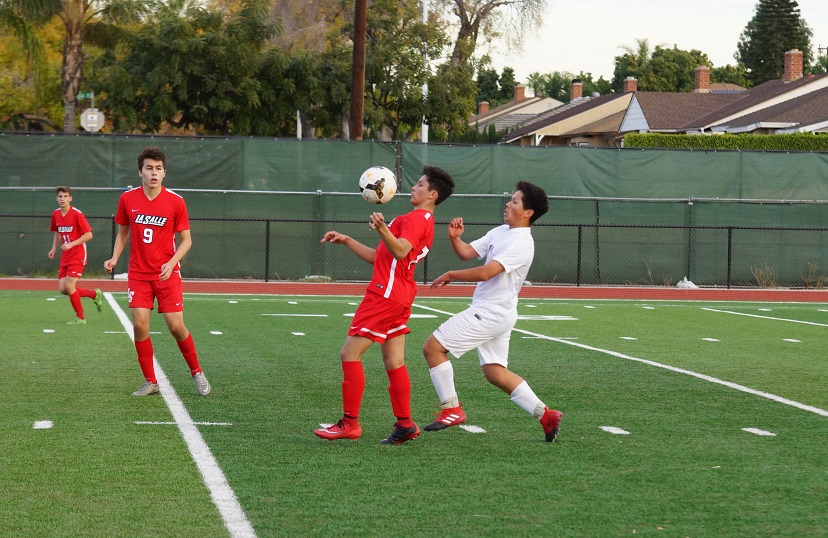 "My mom and dad are not only supportive and loving, they also demand a lot from my brother and me," Rivero said. "They want us to be the best versions of who we can be and neither of us want to let them down. They have given us so much, and I always strive to make them proud."
His brother, Daniel, 19, used to play goalie and Eric calls his big brother a really good player and someone who is never afraid to 'put me in my place' if I'm not doing things the right way.
"At the time, I might be thinking 'whatever' or roll my eyes, but once I calm down, everything he said made sense and I know he always has my best interest at heart."
That isn't it, though.
Eric's grandfather, Abel Ramirez, is someone Rivero has looked up to and gotten a sense of how hard his entire family has worked to be successful.
His grandpa owns the El Portal Restaurant on Green Street in Pasadena and has motivated Rivero to seek the best through diligence and dedication.
One of Eric's shining lights in his life is his grandmother, Anna Carbajal.
Rivero credited his grandma with helping him become the person he is, how to prioritize the things in life that matter most and he's indebted for her unconditional love.
His family has taught him that nothing is going to be given to you and great things are only accomplished with hard work.
Back to Eric Rivero the player for a moment.
What his coach, teammates and those who have seen him play say makes Rivero special is his strength, versatility, ability to head balls in, passing and he's working on becoming more accurate.
As well as he's played, Rivero could very likely have 10 more goals this season when he didn't finish as well as he'd like.
And to his credit, those goals burn in Rivero and not for individual glory, but because he knows each time he scores, he puts his brothers that run alongside him in a better position to win.
What also makes him special and unique is that despise being just 16, and being a sophomore, he has universal respect for and from the entire roster, including senior captain Nick Zuniga, who Rivero has a lot of admiration for.
His teammates told us that Rivero is their go-to guy, their star, and yet he is not only humble, Eric is a guy they all know would do anything to help the team or a teammate up their game.
To a man (or boy) they each said Rivero has become one of their best friends and that closeness is a reason why the success has been so rewarding for everyone in a Lancers uniform.
"I am just one guy on the team, and I work hard just like everyone else and I can say without doubt that none of this would be possible without the hard work, dedication and production of every player and coach on this team," he said. "I love these guys and love going to practice with them every day. Nick Zuniga is a great leader and captain and someone I've learned a lot from as to how to be a leader."
Cristian Reyes has also been amazing with goals and assists, including a penalty-kick that sealed the deal against then first-place Mary Star last week.
Brandon Clarizio, Daniel Piesik, Vincent Zuniga, who is Nick's younger brother have all been key and are underclassmen.
No one, though, has been a bigger surprise and a pleasant one at that than junior goalie CJ Rettig.
The 6-foot-3 star volleyball player and sometimes football and basketball player was asked by friends at the last minute to join the team because they needed a goalie.
One problem, though.
Rettig had never played soccer.
Because he really liked the guys on the team and had time before volleyball started, Rettig gave it a shot and the Lancers are so better off because of it.
In La Salle's 10 victories this season, Rettig has 8 shutouts, and in league play, he's allowed just one goal all season.
"There is no way we would be in first place or had this kind of success if CJ Rettig had not accepted our invitation to come out and play," Rivero said. "I didn't think he would, because he's such a good volleyball player, but it has made us very happy and so much better as a team."
Both Rivero and Manvelyan both say winning an outright league title means everything to them, which would mean the Lancers would have at least a share of the last three titles.
But they also want to make as deep a run in the CIF-SS playoffs as possible, as one of Rivero's big goals is to leave La Salle with a championship ring.
He wasn't pushing for more accolades, but when asked his most memorable athletic feat it was a hat trick at age 13 in the State Cup Final when he played for FC Golden State.
Rivero outscored the Fullerton Rangers, 3-2, in the title game.
He's still got over two years to grow as a player and physically, but eventually his dream is to play college soccer at the Division 1 level and earn his degree.
For now, though, this humble and bright and likeable kid from Altadena is going to work his butt off with his boys at La Salle as they strive for greatness.
Quotable:
La Salle coach Edgar Manvelyan: "He isn't selfish or cocky. All the kids on the team and those who come to watch him like him and he makes a lot of friends. Eric just wants to do his part to help his team win and his job is to score goals. He has a great family. If he's not scoring, he's helping his teammates out and always wants to be the best and to have his team succeed."
La Salle captain Nick Zuniga & brother, Vincent Zuniga: "Eric is a great player and friend. He does so much for our team. He has helped out by taking control of the offense and is a huge asset to our team as a player and the best we've played with."
La Salle junior Cristian Reyes: "Eric is a very athletic player and he plays a major role in our success. He is as good of a teammate and friend as I could hope to have. He is willing to take criticism and is easy to communicate with. We hang out and aren't just teammates, we've become really good friends."
La Salle junior CJ Rettig: "Eric's stats speak for themselves. when one talks about what a great player Eric is. His soccer skills are more than matched by his personality on and off the field. He is a loyal and true friend, who is there for everyone. He always brings positive energy to every situation he is presented and has so much dedication to both his sport and his friends. Eric is a leader for the team as he sets expectations on the field for his teammates."
La Salle sophomore Brandon Clarizio: Eric is one of my best friends, he is a great leader on and off the field in everything that he does. On the field, he is so dangerous and such an amazing player and I am so fortunate to play along side him. I am so glad that we are as close as we are because he is such an amazing person to be around."
Getting To Know Eric Rivero:
Favorite Athlete: Cristiano Ronaldo
Favorite Team: Real Madrid
Favorite Movie: Stepbrothers
Favorite Musical Artist: All-American Rejects
Musical Artist People Might Be Surprised I Like: Backstreet Boys
Famous Person I'd Most Want A Conversation With: Cristiano Ronaldo
La Salle's Remaining Regular Season Schedule:
Jan 24: La Salle at Bosco Tech at 1:30
Jan 26: St. Monica at La Salle at 5
Jan 31: Cantwell-Sacred Heart at La Salle at 3:30
Feb 2: La Salle at Mary Star of the Sea at 3
Feb 6: La Salle at St. Paul at 5