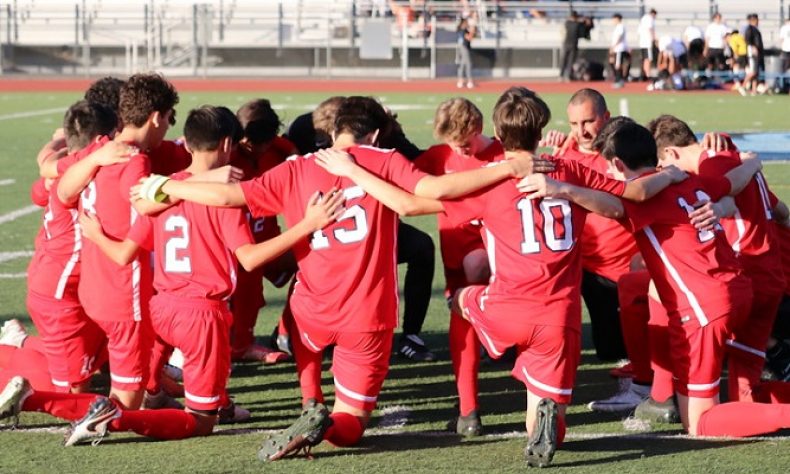 From STAFF REPORTS La Salle stayed undefeated and their shutout tally in Camino Real League play jumped to 5 after Wednesday's victory. The Lancers decimated Don Bosco, 9-0, at their place, to move to 11-5-1 overall, and 6-0 in league. In 9 of La Salle's 11 wins, goalie CJ Rettig and his defense have shut […]
From STAFF REPORTS
La Salle stayed undefeated and their shutout tally in Camino Real League play jumped to 5 after Wednesday's victory.
The Lancers decimated Don Bosco, 9-0, at their place, to move to 11-5-1 overall, and 6-0 in league.
In 9 of La Salle's 11 wins, goalie CJ Rettig and his defense have shut out opponents.
And in 6 league games, they've surrendered just a first-half goal to second-place Mary Star of the Sea.
The offense wasn't too bad, either.
Eric Rivero, the Pasadena area's premier scorer had four more goals in the win.
The sophomore forward also had two assists and is just four goals from the 50-goal career mark in under two years in high school.
Equally as impressive, the Lancers saw six different players score and five players had assists.
Brandon Clarizio, Nick Reynolds, Vincent Zuniga, Julian Prins and Fernando Urteaga each had a goal in the Lancers win.
Along with Rivero's two assists, Daniel Piesik, Stephen Burkhart, Corbin Jones and Cristian Reyes each helped a teammate score on Wednesday.
Rettig, the rookie, had four more saves in earning his 11th victory and ninth by shutout.
La Salle's senior night is this Friday when the Lancers host St. Monica.
Both Luis Serrano and captain Nick Zuniga will be honored in their last home game (regular season) of their prep careers.
Box Score:
LS: 7-2-(9)
BT: 0-0-(0)