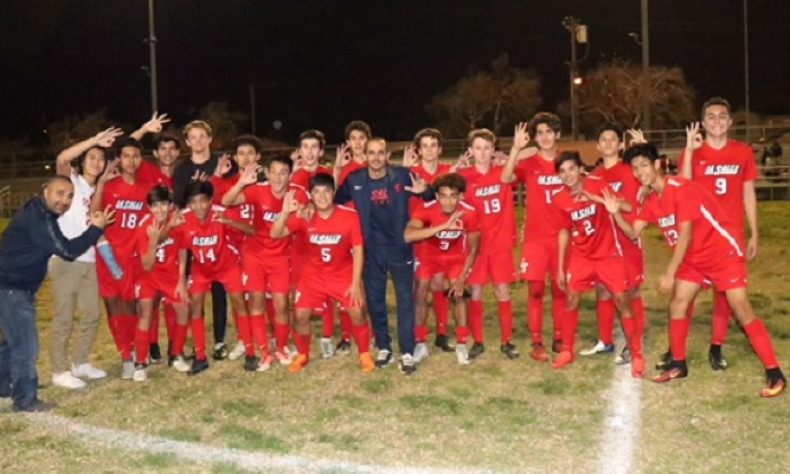 From STAFF REPORTS | Photography by Alex Veliz To say beating Mary Star at their place was satisfying would be the understatement of the year. One year after falling 5-0 in San Pedro with a chance to win an outright league championship, La Salle got another chance on Friday. And this time, the Lancers dropped […]
From STAFF REPORTS | Photography by Alex Veliz
To say beating Mary Star at their place was satisfying would be the understatement of the year.
One year after falling 5-0 in San Pedro with a chance to win an outright league championship, La Salle got another chance on Friday.
And this time, the Lancers dropped the wood on the Stars, 4-0, to win the Camino Real League outright, and the Lancers have handed Mary Star two of their three losses over the entire season.
It's the third consecutive championship, but the outright title feels so good for everyone in a red uniform on Friday.
Senior captain Nick Zuniga and his brother Vincent both scored, as did Julian Prince and Cristian Reyes.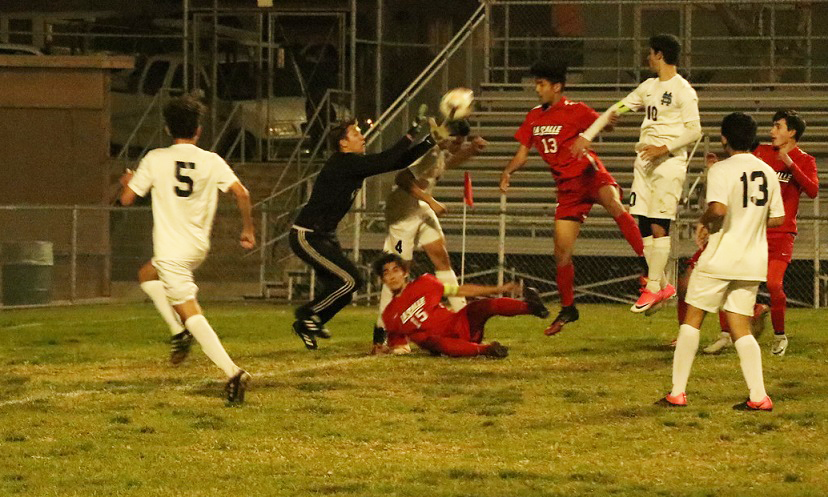 CJ Rettig shut out Mary Star with 7 blocks in goal, and sophomore captain and leading scorer Eric Rivero assisted on 3 of the 4 goals Friday.
Approximately 20 minutes in, Brandon Clarizio crossed the ball that Rivero headed Nick Zuniga's way and the captain finished it to give La Salle the 1-0 lead.
Zuniga's younger brother, Vincent, put the Lancers up 2–0 about 10 minutes later when a Clarizio crossed it again, Rivero sent it Vincent's way and Zuniga's shot went off the goalie and into the back of the net.
Prince scored at the 65th minute when AJ Puga took a shot that went off the goal keeper and Prince toe poked it in."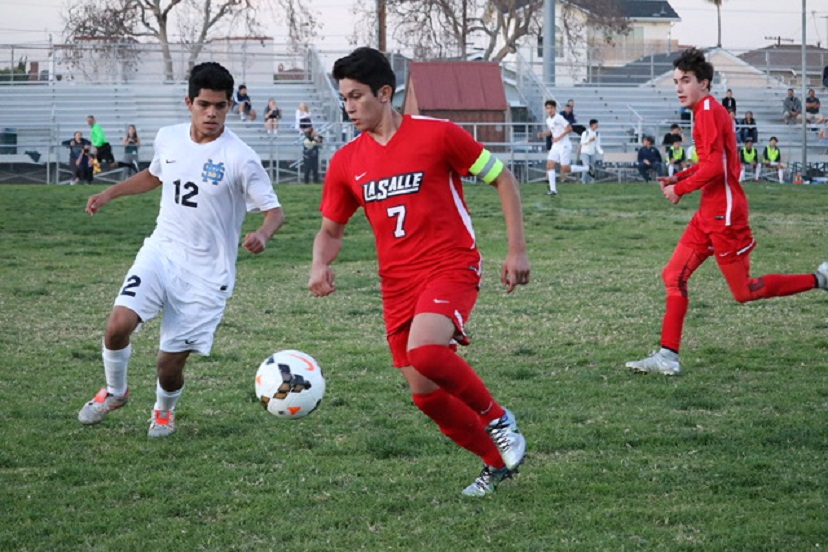 And last but not least, with 3 minutes to play, Rivero was tackled and it set up a penalty kick.
But instead of taking the shot himself, Rivero had to leave the field once his coach had come onto the field to check on his star sophomore.
So, Cristian Reyes, ended the second game like he did the first against Mary Star and punched in a penalty kick for the 4-0 lead and the eventual victory.
It is believed to be the first time a La Salle sports program has won three consecutive league championships in a row.
La Salle will face off with St. Paul in Santa Fe Springs on Tuesday at 5 and then wait for the CIF-SS playoff brackets to be released.
Quotable:
La Salle senior captain Nick Zuniga: "It felt amazing. They're not the nicest of teams, they do some talking, so that made the win even better for us. CJ's leadership in goal is amazing. Every time we make a mistake, he gets on us, but in a good way. To actually not be co-champs is awesome. Everyone hustled and shut everyone on Mary Star down."
La Salle sophomore captain Eric Rivero: "I am extremely happy for the seniors, because we're the first sport at La Salle to win three league championships in a row, our coach told us. I think it was the best game we've ever played as a team, because we all wanted revenge from last year when we shut down at their place. I couldn't be more happy or proud to be part of this group. We're all really close and good friends and everyone is working towards the same goal. We don't care who gets the credit as long as we win."
La Salle junior CJ Rettig: "First off, this team is great, the guys are what make this experience the best. The success I gain with great effort is mainly because of the guys that play in front of me. I am extremely humble and honored to be apart of such a great team with great coaches."
Box Score:
LS: 2-2-(4)
MS: 0-0-(0)
Goalie Saves:
CJ Rettig (LS) 7
Records:
Mary Star (15-3, 7-2); La Salle (14-5-1, 9-0)
La Salle's 2017-18 Camino Real Schedule-Results:
Jan 5: La Salle 3, Bosco Tech 0
Jan 10: La Salle 5, St. Monica 0
Jan 12: La Salle 8, Cantwell-Sacred Heart 0
Jan 17: La Salle 2, Mary Star of the Sea 1
Jan 19: La Salle 7, St. Paul 0
Jan 24: La Salle 9, Bosco Tech 0
Jan 26: La Salle 5, St. Monica 0
Jan 31: La Salle 6, Cantwell-Sacred Heart 1
Feb 2: La Salle 4, Mary Star of the Sea 0
Feb 6: La Salle at St. Paul at 5