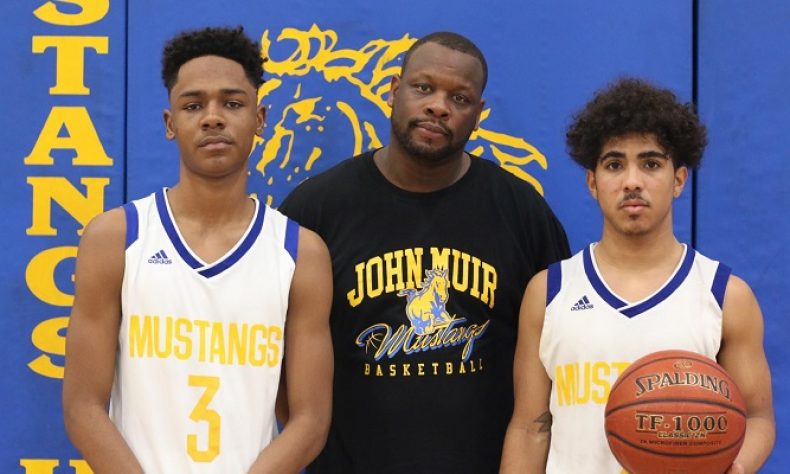 By BRIAN REED-BAIOTTO, Sports Editor A former U.S. President from the state of California once said, "There is no limit to the amount of good you can do if you don't care who gets the credit." And while that President finished his second term some 12-14 years before any of Muir's players were even […]
By BRIAN REED-BAIOTTO, Sports Editor
A former U.S. President from the state of California once said, "There is no limit to the amount of good you can do if you don't care who gets the credit."
And while that President finished his second term some 12-14 years before any of Muir's players were even born, the Mustangs' program has seen a huge jolt of success thanks to a selflessness and togetherness it hadn't seen in a while.
Muir's 20 victories so far this season are tops for any program in the Pasadena and La Canada area, and it's their highest win total in at least 15 years.
Their 12-1 mark in Pacific League play has them dead even with Pasadena as the two power programs are set to meet Thursday night at Muir, and with everything on the line.
It is no secret that Hunter Woods is the marquee name in sixth-year coach Simaine Stewart's program.
The Mustangs, though, are stacked with athletes that without whom this success would not be possible.
Along with Woods, Haleem Jenkins has been a key scorer and Tasson Aubry has had an enormous impact both in points and on the boards.
A lot of credit, though, also has to go to Stewart's son Simaine Junior as well as Tiyon Martin.
The Mustangs' dual point guards as we like to call them are incredibly consistent and they have more in common than just running Stewart's offense.
Martin and Stewart were born just 16 days apart, and they met when both were 11 years old for a fifth-grade basketball team out in Culver City.
Simaine Stewart and Tiyon's mother,Tracy, got to know each other approximately 6 months after their son's had become teammates.
Some 8 years later, Simaine's dad and Tiyon's mom are married and the two guards are officially brothers.
They have a new sister named Payton, who was born during the playoffs last year.
In fact, Payton came into the world approximately 20 hours before her father's program defeated Simi Valley, 72-50, in the CIF-SS playoffs on February 15.
Simaine Stewart senior had made remarkable changes in the Muir basketball program, but even more so in the daily lives of his players.
In his first year as head coach back in the 2012-13 season, Stewart's leadership paid immediate dividends when he inherited a team that had won just 4 games the year prior.
Muir won 17 games in his first campaign at the helm, which included a Pacific League mark that immediately climbed from 1-13 to 9-5 under Stewart's tutelage.
Stewart has just one win against Pasadena and it kills him as a competitor, but even more because the 1992 Muir graduate lives and bleeds for his school.
His players and their parents have told us that Stewart's impact far exceeds the basketball gym, and that his focus on the players as people and students is appreciated far more than he knows.
Muir is ranked No. 3 in the CIF-SS Division 2 poll and could certainly make a run at a CIF championship, but for now, they're locked and loaded for Pasadena tomorrow (Thursday) night at 7.
It's the first time in at least two decades, if not longer, that the final game of the season has an extra caveat of the outright Pacific League title hanging in the balance.
Stewart described his relationship with his son and stepson as 'competitive."
Simaine Junior lives with his mother and Tiyon Martin shares a house with his mom (Simaine's wife) Tracy, Simaine senior and his little sister Payton.
Stewart called his wife 'my best friend,' and 'my coach.'
"I appreciate everything about my wife," Stewart said. "She is someone I can talk to about anything, she supports me, my kids and our players like they were her own children, and she knows more about basketball than I do. She used to play and keeps us all on our toes and is never afraid to voice her opinion."
His work ethic starts at AT&T during the day, where he's been a systems tech for the last 18 years, and then each night he's off to Muir for practices and games, but that's not it.
In an interview for this story, he waited in line at a fast food restaurant, ordered for everybody he thought was at his house and drove home.
When he got in the house, he realized he didn't get a text message during our conversation and instead of saying 'oh well,' and sitting down and eating, he jumped right back into his car and waited for another round of food to bring home to those who expect and appreciate his generosity.
Stewart is just three victories from the 100-win milestone at Muir and his rivals respect him as much as his own players.
"I know for a fact how much Simaine loves his program and especially his players," Pasadena coach Tony Brooks said. "He is so much more than a coach to these kids, and he's helping them improve daily as athletes, students and people. His priorities have impacted Muir in many positive ways and he's also a great competitor."
Stewart can be a hard-ass when needed, but his heart shines bright for his players and a school he loves deeply.
"The wins are great, the losses hurt, but nothing compares to seeing my son grow into a solid basketball player and an even better person," Stewart said. "I am so proud of the way he represents us and it's also an honor to play whatever role I can in making the boys in our program feel cared for and giving them a direction in life to help them all become successful in whatever it is they want to be or do in life."
Tiyon Martin is just 5-foot-8 and 150 pounds or so, but he is one of the toughest players in the entire area.
He is always saddled with shutting down the best guard a Muir opponent has to offer and he is credited with being the spiritual and emotional leader.
Martin calls his relationship with his stepdad as 'love-hate at times' but he appreciates very much the father figure role Stewart plays in his life and he's glad to see his mom happy.
Martin is very consistent, and in a very good way.
He scores nearly 11 points a night, and typically had 5 rebounds, 6 assists and 3 steals per game.
As impressive as that versatility and those numbers sound/look, keep in mind that he and his stepbrother share the wealth when it comes to dishing out assists, so if there was just one distributor, their numbers would be even greater.
Martin can shoot, he's quick, strong and as mentioned, he's someone Muir gets it source of energy and enthusiasm from.
After the first Muir-Pasadena game at Maranatha, Martin was out in the parking lot around his teammates and waiting to go home.
While some were talking to others, Martin had his hoodie over his head and you could see that look of disappointment in his face and eyes.
He loves his school, program and teammates and he wanted, as a leader, to take the blame for not having them prepared.
And even though it wasn't his fault, or any one person's fault, that's what leaders do, they take responsibility, learn from their shortcomings and move forward.
In the classroom, Martin is over the 3.7 mark on his GPA and he takes his studies as seriously as his game.
"Tiyon has a heart of gold and it's a complicated relationship, because I don't want to over-do it, but I also want to provide some structure for him," Stewart said. "He wears his emotions on his sleeve and is someone that gets our guys going. He's also a very smart and hard working young man."
Martin agrees with Stewart that the chemistry has not only been an enormous change for all within the program, the closeness on and off the court has made the success this season even more rewarding.
"We've all become really close and it has made a significant change in who we are as a program," Martin said. "Maybe in the past somebody was playing for their own stats and we'd all blame one another in bad times or losses, but now we all play for each other because we are that close and connected as one."
There is no question who he gets his fire from and that's his mom.
Said Martin: "She (Tracy Stewart) is everything to me. She works so hard every day to provide for me and my sister and my teammates and does it all because that's who she is and because she wants everyone to feel loved. She isn't afraid to let me know or my teammates when we're messing up on the court, and she's not hard to find, because she's the one white lady yelling. I am the person, player and student I've become, because of the love, guidance and support of my mom."
Simaine Stewart Junior is also a very bright kid like Martin, but he's more of the quiet type.
Stewart averages 8 points, 5 assists and 3 steals per game.
He and Martin, as mentioned combine on 11 or more assists per night and set up plays for Hunter Woods, Tasson Aubry and Haleem Jenkins.
Stewart is a solid ball handler, especially when it comes to breaking a press and he doesn't care who gets the points or credit as long as Muir wins games.
There is no question that the ladies dig him, and he's been instrumental in the Mustangs' historic season.
But what makes this kid's effort so impressive is something many don't know the full details of.
Stewart, 18, broke his ankle back in July and he's been somewhat hampered all season.
You wouldn't notice it, though, because Simaine doesn't make excuses and when he's on the court, he's able to ignore the pain and do what he loves to do at a high level.
While he's not at 100 percent yet, Stewart said he's as healthy and mobile as he's been all season and that he and his boys are ready for Pasadena on Thursday night.
His job, he says, is to help facilitate scoring for the guys expected to put points on the board, but he's also willing to do any of the dirty work needed to win games, and things that don't necessarily show up on stat sheets.
He too is an amazing student and over the 3.8 mark, he's also a respectful and humble young man.
His high IQ isn't just in the classroom.
Stewart has been known to change a play his father just drew up in a timeout once they walk back out on the court because he notices something about the defense like a quarterback would.
And far more times than not, little Stu's audible turns out to be successful.
Being around his father at school, but not living with him has given both the ability to have some distance so the relationship isn't suffocating, and while it can be challenging at times playing for your own father, Simaine wouldn't trade it for the world.
His hero, like Martin, is his mother.
Katina Edgerly is someone Simaine says is his rock, and is the reason he's respectful as a kid, successful in the classroom and why he's got his priorities in line.
"My mom is my world," Stewart said. "She has guided me my entire life and I couldn't be more happy or proud to call her my mom. She works so hard to provide for me and always has. She puts in double shifts with foster children, because she's dedicated her life to making other people feel loved. Her values and teaching them to me have helped guide me to be the best person I can be, and she also motivates me."
Even though Simaine Sr and Katina have long since parted ways, there is no question the shared love they have for their son.
"Relationships don't always work out, and things are what they are, but I can say that she is the best mom I could have hoped for when it came to raising Simaine the right way, loving him, guiding him to be a good person and I'll always admire and respect her for the job she has done with our son."
Stewart hopes to finish out his senior year with a Pacific League championship and a CIF-SS title, and then he wants to continue playing at the next level.
When his playing days are over, he hopes to be an agent or connected to the game in some form or fashion.
One thing that is certain is that Simaine is going to make, along with Tiyon, their parents proud in the way they both conduct themselves in life and the sky is the limit for their futures in whatever they decide to pursue.
Quotable:
Muir parent (of Hunter Woods) Kimberly Green: "Simaine is a leader and father figure to some of these boys. He listens to their concerns and allows them to express themselves where they may not be able to speak freely to their parents. Simaine followed Hunter and I well before high school. He wanted us to be a part of his program. I trusted his process and allowed Hunter to be challenged. I appreciate the way Simaine challenges these boys to be a better athlete on the court and a better person in their life. He holds them all accountable for their actions in the classroom and on the court. He lets the boys tell him what they feel they did right or wrong, and they talk about it. I value his opinion. There are times when we don't always agree, but his values for these young men are so appreciated. Through his guidance, they will go far in their next chapter in life. Although some may disagree, he is a force to be reckoned with. He provides a solid foundation and always opens up his home to these players. He treats them all like they are his own. He personifies family and I am thankful we have crossed paths. Although Hunter will no longer be under his shadow of growth and development, I will forever be grateful for his leadership and the guidance he has provided during our tenure in the John Muir High School basketball program. Simaine Stewart has left a mark of excellence on our family and I am grateful for him and his family."
Muir senior Hunter Woods: "Coach Stu is a great coach, who treats us like we were his own. He is a father figure to all of us. He goes out of his way for us and teaches us more than just basketball. He has taught me life lessons and I can not thank him enough for all he's done. Tiyon and Simaine are our coaches on the court and they control the tempo of the game. They do a great job of getting us easy buckets. They've both grown to be great leaders as well. We have great chemistry that has grown over the years."
Pasadena coach Tony Brooks: "Simaine cares for his players on and off the court and he's making a positive impact on all their lives. The Muir players are great competitors and we have a great deal of respect for each of them."
Pasadena senior Darius Brown II: "Although Coach Stu is the coach for another team, he always wants to see teams from Pasadena succeed. He is a great coach and a great person. Little Stu and Tiyon are both good friends of mine off the court and I respect their games on the court. I really like the way Simaine thinks on the court."
Muir Record Under Simaine Stewart:
2017-18: 20-6 overall, 12-1 in Pacific League
2016-17: 18-10, 10-4
2015-16: 16-11, 11-3
2014-15: 15-14, 6-8
2013-14: 11-14, 8-6
2012-13: 17-13, 9-5 (4-22, 1-13 in 2011-12)
Totals: 97-68 overall, 56-27 in league