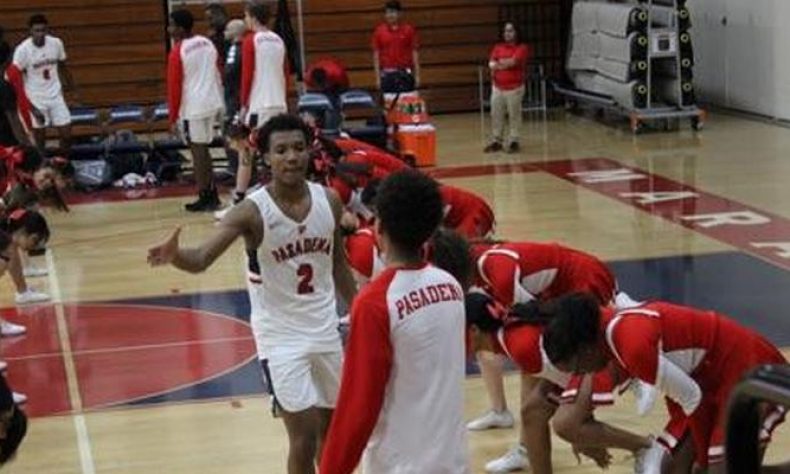 By Brian Reed-Baiotto, Sports Editor Pasadena High School was given so much (unfair) hype to live up to by the media before their season even began. A lot had to do with the return of their superstar trio of Bryce Hamilton, Darius Brown II and Darius Mason. But the additions of Tavian Percy from Miami, […]
By Brian Reed-Baiotto, Sports Editor
Pasadena High School was given so much (unfair) hype to live up to by the media before their season even began.
A lot had to do with the return of their superstar trio of Bryce Hamilton, Darius Brown II and Darius Mason.
But the additions of Tavian Percy from Miami, and Omari Moore from St. Francis had us all believing Pasadena was going to go 25-0 before they started their run in the CIF-SS playoffs.
What we in the media looked past, however, was the state and national programs they'd be playing in preseason tournaments at Maranatha, Las Vegas and Damien in that order.
And we certainly didn't count on Percy, Mason and DBII missing time or at least limited in their minutes on the court because of early season injuries.
After 12 games this year, PHS found itself at 7-5 and they were about to take the floor at Crescenta Valley without their injured point guard in the first game of Pacific League play back on January 3.
We'll get back to that in a minute, though.
In Las Vegas, on December 22, Brown was fouled on the game's first possession against George Washington of Colorado.
He knew right away that he had tweaked his ankle and after shooting his three free-throw attempts, he left the game and would not return for the final contest of the Tarkanian Classic against Rancho Christian.
Four days later in the first round of the Damien Tournament, the Bulldogs were taking on Corona Centennial and trailed 15-3 with their point guard on the bench and not expecting to play.
Each time his coach, Tony Brooks, paced back and forth in front of the PHS bench, DBII would pester his coach by saying, "Brooks, I can play."
On the fourth time, Brooks finally gave in, and Brown enter the game and spearheaded Pasadena to a 73-70 victory over Centennial.
It was a boost in the arm, but he still wasn't near 100 percent with his ankle so his minutes were limited and they lost two of their final three games in La Verne.
Now, back to being 7-5 and beginning Pacific League play at CV.
Brooks, knowing how competitive and feisty Brown is, told him up front he wouldn't be playing and the 18-year old watched his teammates fall, 65-60, and to 0-1 in league.
Next up for Pasadena was Arcadia at their designated home court at Marshall.
Brown began the day at the shoot around not expecting to play, but about 5 hours before tip off, he and his coach spoke and they decided the time was right to make a return.
DBII suited up that right and after getting his legs (and ankle) under him, Pasadena cruised to a 68-51 victory behind 17 points, 8 assists and 4 steals from their quarterback.
It took another week before he finally felt 100-percent, but since that Arcadia return, PHS is 12-0, and they're playing their best basketball of the season.
Over that stretch, the Bulldogs have beaten their opponents by a combined margin of 1,000-593.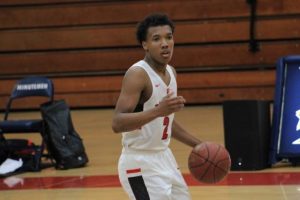 That included an 81-62 victory over Muir in the final game of the first round in league, and in a spirited contest that saw Brown lead his Bulldogs with a team-high 22 points and a game-best 12 assists.
Perhaps the most rewarding victory was the 38-point blowout of the same CV team that saddled the Bulldogs with their only league loss of the season.
In his first chance to play the Falcons this year, Brown finished with 20 points, had 7 assists, 4 steals and 3 rebounds.
But what people in attendance will remember most about the game, (other than the 38-point payback), was DBII's long buzzer beater's at both the end of the first and second quarters.
Since his return, PHS' smallest margin of victory is that 17-point victory over Arcadia in his first game back.
With Brown running the show, and obviously with help from the great Bryce Hamilton and the versatility of Darius Mason, PHS is 45-13 overall, which is a 78 winning percentage over the past two seasons.
Additionally, the Bulldogs are 25-0 in Pacific League action when Brown is in uniform and competing, and 25-1 combined over the past two years.
Brown's ability to make those around him better, his innate talent to get his teammate's the ball in stride and rhythm and the ability to shoot from distance and drive to the hole make him the area's best point guard.
His teammates and coaches as well as those who compete against him will tell you how shocked they are that the 6-foot, 170-pound star has yet to find a home at the next level.
Brown has gotten initial interest from the University of San Diego, Cal State Los Angeles and Biola, where he recently went an watched them play.
He's also getting a visit from Sienna this Saturday to watch him work out at practice.
But his coach said it best.
"He struggled through five or six games when he was hobbled, but he's healthy and playing his best basketball and he's making our offense run smoothly," Brooks said. "He's my coach on the court and is a perfect prospect. His talent is only going to get better, he continues to learn new things and his body is only going to get bigger and stronger. His stats don't even surprise me anymore, because he's gotten that good. But what makes him special is his character, work ethic and intellect, and I think college coaches are nuts not to be falling all over him."
Those stats Brooks is talking about?
Brown is now averaging 16 points, 11 assists, 6 steals and 3 rebounds per game.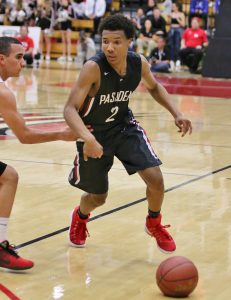 That includes Tuesday night's school-record 19 assists in a win over Burroughs.
The PHS shooting percentage over the last 12 games nears 60 percent and they've been over that mark at least 5 times thanks to the pressure defense and Brown's ability to distribute the ball in traffic to Hamilton, Mason, Percy and Moore.
It took a while to get used to having Percy and Moore on the floor, because 14-18 shots per game that used to be divided up between Mason, Brown and Hamilton are now going to his two newest teammates.
And he's not complaining at all, because both Percy and Moore have been invaluable to Brown's and PHS' success this season.
But how much pressure it is on a kid with his skills to sit back and be patient about where he'll be next season?
"I'd be lying if I said I didn't think about it all the time," he said. "I have confidence in myself because of my work ethic and having such a great coach and teammates that help make me better each day, that I know I can help any college and do it from day one. But there is one time I never think about it, and that's when I'm on the floor and competing with my brothers. Once we're on the court, it's all business. I'd obviously rather be locked up somewhere by now, but I'll continue to be patient, because I know eventually I'll be playing for someone on the collegiate level next year."
Among his accolades include a nomination along with Hamilton for the McDonald's All-American game, and he's near a 4.0 student in the classroom.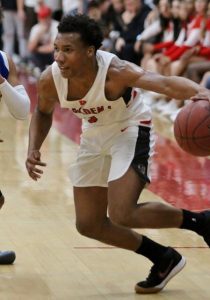 Brown admits his grades usually slip a little during basketball season, but that his studies are as important to him now as they are before and after the season.
Another quality trait for those who are considering taking a serious look at Brown is his maturity and willingness to admit when he's being stubborn or just wrong.
Early in the season, Brown said he was clashing with his coach over his role and the plan, but to his credit, he said the following: "It took me a while, but I finally realized that what Coach Brooks was telling me was not only best for me, but most importantly, it was best for the program and our success."
His love, respect and appreciation for his teammates is obvious.
Said Brown: "Darius Mason has become a lot more balanced this year and I don't know if everyone appreciates what he does as much as they should. Bryce is playing really well. He's doing what the team needs from him. He's having a great senior campaign and getting his skills ready for the next level. And Tavian and Omari really help me and our program a lot. Omari does everything well, and Tavian can shoot, defend and rebound."
The thing that evens out Brown's nerves and concerns are his parents Leah and Darius Brown Senior.
He also enjoys having his middle brother Davian on the team, and you'll almost always see his youngest brother Drew at the end of the PHS bench rooting on his big brother and the program.
His family structure has made him what he is today, which includes life on and off of the basketball court.
Pasadena takes on Muir tonight at 7, and they're looking for their 14th consecutive Pacific League championship.
The Bulldogs earned a 19-point victory over the Mustangs 20 days ago, but with that said, Muir is playing in its own gym and the winner of this rivalry game will earn the outright league title.
Once that's over, PHS hopes to make another run at a CIF-SS and CIF-State championship.
Last season, the Bulldogs fell to Harvard-Westlake in the CIF-SS Division 1A finals, but 11 days later, PHS defeated those same Wolverines in the State playoffs, 67-56, and did so on Harvard-Westlake's own floor.
They went on to earn a CIF State Regional final appearance before Esperanza came out on top.
But, with the entire team healthy, and with the addition of both Percy and Moore, as well as the continued excellence from Hamilton, Mason and DBII, PHS is positioned well to go deep in the postseason, and regardless if that means competing in the Open Division or Division 1.
What has made his time at PHS so rewarding is the genuine love he shares for his teammates and coaches, one of which is his father.
DBII is going to make one college or university proud when he represents them next year, it's just a matter of where he ends up.
His physical skills, intellect, versatility, leadership and the class in which he carries out his daily life are just a few of what all comes with signing Brown.
As usual, though, his laser focus in on PHS' next opponent, and that will remain the case until this magic ride the Bulldogs have enjoyed is over.
Before that day, however, PHS is all about "we" and not "I."
And as always, PHS will go as far as their point guard takes them.
Quotable:
Pasadena coach Tony Brooks: Darius is creating a lot of movement by passing and sharing the ball. He's a perfect prospect academically, his character is impecable, work ethic is second to none and his talent is only going to get better. I'm subjective, but I think college coaches are nuts to not be falling all over him."
Muir coach Simaine Stewart: "He's a hell of a guard. He is very deceptive. I didn't realize until I saw film again how well he handles the ball. He's like an old-school 80's guard. He uses his quickness and has total command. For a college, he is going to lead your team, he'll defend the other point guard, he's extremely competitive and he'll make open jump shots and tough shots."
PHS coach and father Darius Brown Senior: "It is a little nerve wracking not knowing where he's going to play next year, but I will continue to trust the process and know his mom and I will have the chance to see him play college ball somewhere. We're both proud of him for so many things, and that includes how well he carries himself, how humble he remains and not allowing outside pressure to affect his grades, play on the court or his work ethic."
Pasadena junior Darius Mason: "Darius is a strong leader and is always looking for the open man. He always stays composed and keeps calm. He is a true point guard."
Pasadena senior Bryce Hamilton: "Darius is a great player and has developed so much this season. He's also a great teammate on and off the court. I think a college should lock him up because he is a great point guard and a good leader and he makes his teammates better with his ability to create for others."
Pasadena senior Omari Moore: "Darius is such a complete player, he's able to get others involved and still score if needed. He's a great teammate and leader, making sure everyone is active on both sides of the floor. Off the court, Darius is one of my closest friends, he's always laughing and having a good time. A college needs him because he can do everything. He's great at facilitating and scoring, he plays good, hard defense and he brings another smart basketball player to the team."
Muir senior Hunter Woods: "I think Darius is a great point guard. He has a great shot off the catch and dribble, and using his shooting abilities to open up the floor and find his teammates. He does a great job of using the ball fake to shift defenders. Darius is like a brother to me. He's also a great competitor and always fun to play against."
Muir senior Simaine Stewart: "That's my guy. Our mom's are close. Darius is a great shooter and point guard. He's gotten so good at making those around him better and is much more athletic than he used to be.
He is exactly what (Coach) Brooks needs, in that he's a coach on the
court."
Pacific League Standings:
Muir (20-6 overall, 12-1 in league)
Pasadena (19-6, 12-1)
Crescenta Valley (14-12, 7-6)
Burbank (16-10, 6-7)
Arcadia (10-11, 6-7)
Glendale (17-9, 5-8)
Burroughs (13-13, 3-10)
Hoover (5-21, 1-12)