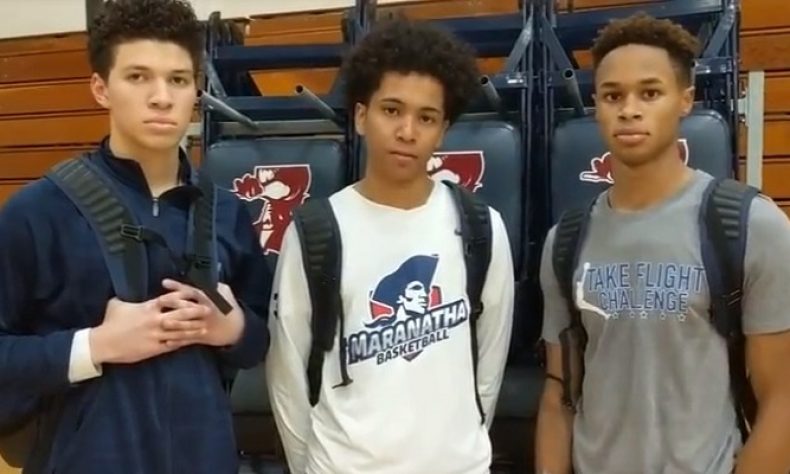 http://pasadenasportsnow.com/wp-content/uploads/2018/02/L-R: Wes Clarkson, Xavier Ford, Chris Austin From STAFF REPORTS On 'Senior Night' and in front of their raucous home crowd, even a 2-25 team can have a solid night. And it didn't help that Maranatha shot 28 percent (16 of 71) from the field. In the end, though, Maranatha did what league champions do, […]
http://pasadenasportsnow.com/wp-content/uploads/2018/02/L-R: Wes Clarkson, Xavier Ford, Chris Austin
From STAFF REPORTS
On 'Senior Night' and in front of their raucous home crowd, even a 2-25 team can have a solid night.
And it didn't help that Maranatha shot 28 percent (16 of 71) from the field.
In the end, though, Maranatha did what league champions do, they find a way to win.
Chris Austin led the way with 20 points and 11 rebounds, and the Minutemen defeated Village Christian, 58-51, Thursday night to close out the regular season.
Harrison Garner, a Village Christian transfer, scored 14 against his former mates.
Xavier Ford added 12 points and 5 steals, and Wes Clarkson had a team-high 12 rebounds.
Henry Alvarez led VC with 15 points on 4-of-6 shooting, and Chris Fluxa had 10 points for the Crusaders.
Maranatha will enter the playoffs next week on a four-game winning streak and have won 6 of their last 8 games.
MHS' bracket will be posted on Sunday at 1 at Cifss.org
Box Score:
M: 16-12-14-16-(58)
V: 11-14-7-19-(51)
Final 2017-18 Olympic League Standings:
Maranatha (12-13, 7-1)
Heritage Christian (13-15, 5-3)
Valley Christian (17-9, 4-4)
Whittier Christian (11-15, 4-4)
Village Christian (2-25, 0-8)