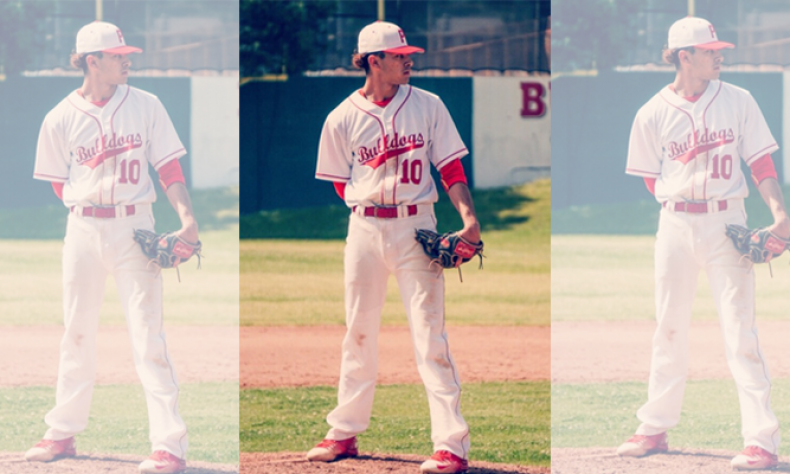 Pasadena High School senior pitcher Alvie Castro By BRIAN REED-BAIOTTO, Sports Editor It's only been a couple weeks since the 2018 prep baseball season began. And while Pasadena has an area best 7 wins (7-2), the Bulldogs aren't taking anything for granted. Last year, PHS won their first seven games. After the seventh game, though, […]
Pasadena High School senior pitcher Alvie Castro
By BRIAN REED-BAIOTTO, Sports Editor
It's only been a couple weeks since the 2018 prep baseball season began.
And while Pasadena has an area best 7 wins (7-2), the Bulldogs aren't taking anything for granted.
Last year, PHS won their first seven games.
After the seventh game, though, the Bulldogs went 7-14 the rest of the way and finished fifth in the Pacific League.
PHS returns many of its key players from a season ago, and their gained experience has seemed to mature this gritty and hungry program.
No one has more of a make-or-break role than senior pitcher Alvie Castro.
One year after going 5-6 on the mound despite an impressive 2.14 ERA, Castro is back and even better.
The senior right hander is 3-0 and has yet to give up a run in 17 innings.
Castro has struck out 17 batters in as many innings and he's just as impactful at the plate.
Castro is hitting .379 with team-highs in hits (11), runs (10), and doubles (3). He's also driven in 8 runs.
Steve Lopez has already made his presence felt on the mound.
Lopez (2-0) has yet to be scored upon too.
He's only surrendered a pair of hits in 8 innings and has struck out 10.
Nik Moran could be the x-factor for the Bulldogs.
If he's able to hold his own on the mound, PHS will be dangerous.
So far, Moran is 1-1 with a 5.60 ERA, and has surrendered 5 earned runs through 15 innings. He's struck out 8 batters.
Adrian DePasquale is off to a great offensive start.
The senior has a team-high .455 average on 10 hits, and he leads PHS with 12 RBIs.
DePasquale has scored four runs and has two doubles.
Robert Alivades (.333. 7 hits, 4 runs, 4 RBIs), Connor Terry (.333, 7 hits, 5 runs, 4 RBIs) and Jacob Green (.385, 10 hits, 6 runs, 2 RBIs) will all be key if Pasadena remains in the playoff hunt throughout the season.
Quotable:
PHS senior Alvie Castro: "The reason why this 2018 PHS team will not fade away like last year's team is because we have such great leaders that care for the whole team. We have very good team chemistry and we know how to play with each other. It was our first year playing together. We have a bond that not many teams have. We aren't quitters, and we fight through the whole game even if we are down by 10 runs. We will fight because you never know what can happen."
PHS' Recent Records By Year:
2018: (7-2)
2017: (14-13 overall, 5-9 in league)
2016: (10-17, 4-10)
2015: (17-11, 9-5)
2014: (20-7-1, 11-3)