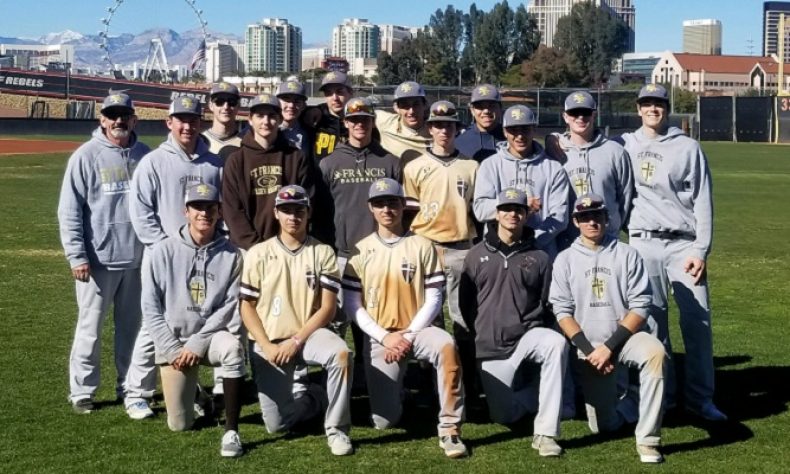 By BRIAN REED-BAIOTTO, Sports Editor Don't let their 1-5 start to the 2018 baseball fool you. St. Francis is prepared and built to hold their own with anyone. In the first six games this season, the Golden Knights have squandered a couple late leads, including Monday's four-run advantage against the nation's top-ranked program (Notre Dame […]
By BRIAN REED-BAIOTTO, Sports Editor
Don't let their 1-5 start to the 2018 baseball fool you.
St. Francis is prepared and built to hold their own with anyone.
In the first six games this season, the Golden Knights have squandered a couple late leads, including Monday's four-run advantage against the nation's top-ranked program (Notre Dame of Sherman Oaks).
But this is a senior-heavy program and they have the experience and have shown glimmers that St. Francis is on their way to a new horizon.
They are also led by a very respected man/coach, Aaron Dorlarque.
The Stanford graduate made waves in his first season at the helm (last year), as the Golden Knights won as many Mission League games (6) as they had the previous three year's combined.
St. Francis is led by senior infielder/pitcher Aaron Treloar.
Treloar is signed, sealed and delivered to pitch at Point Loma next year, so the 6-foot-3 standout can focus on his senior season and his studies.
Treloar is off to a quick start at the plate and will serve Dorlarque's program at the clean up spot in the line up.
He leads the team in hits (9), RBIs (8) and doubles (4) and is hitting over .500.
Treloar will also be expected to do his share on the mound.
Chris Stamos, who was injured most of last season is also off to an impressive beginning to the 2018 season.
Stamos is 1-1 with a 0.58 ERA and has allowed just one earned run over 12 innings and has tallied 8 strikeouts.
Christian Muro is a three-year varsity player and will anchor the defense at shortstop.
Muro is hitting .500 (6 of 12) and has scored 6 runs from the leadoff spot.
Doyle and Mikey Kane are also key if St. Francis is to take the next step as a group.
Mikey is off to a quick .500 start, and has 6 hits, 3 runs and a pair of RBIs.
Doyle is expected to break out of an early-season slump (1 for 15) and is someone Dorlarque said will contribute from the middle of the SF lineup and he can play first base and in the outfield.
Last but not least when it comes to key returning players is senior pitcher Hayden Byrnes.
Bynes is the only returning starting pitcher, and while he hasn't figured in a decision, he has only allowed four runs in 7 innings pitched and has 7 strikeouts thus far.
In terms of key newcomers, second baseman Mikey Kane (as mentioned above), pitcher/infielder/outfielder Tyler Quintero, pitcher/outfielder Jack Duncan, outfielder Matthew Odom and pitcher Tanner Tomko all expect to make major contributions to what St. Francis hopes will be a successful season.
"We've had a very tough schedule. We started with the Easton Tournament this year, which has many of the top teams in Southern California participating. This helps prepare us for the always tough Mission League competition," Dorlarque said." "We have more quality and depth on the mound and at the plate this year, which combined with an already solid defense, will allow us to compete with anybody.
Over the fall and winter seasons, the team has shown moments of brilliance, including a 4-1 victory over Basic Academy (Las Vegas) in the annual Border Battles Tournament (#1 ranked team in Nevada and last year's state champion). Our challenge will be to bring the same level of intensity, confidence and play to ever game. While I don't like to talk about wins and losses, I am hoping that the boys play to their potential and earn a winning record in league play and overall."
The elephant in the room is not only late-inning pitching, but also the Golden Knights' penchant for walking too many batters.
Last season, SF pitchers combined for a 4.36 team ERA, walked 151 batters and struck out 142.
This year, they've combined for a much-improved 2.73 ERA, but they have already walked 43 batters in six games.
In the big picture, though, St. Francis has made its case that while they won't win every game, they aren't going to get blown out, and they're more than capable of surprising people when it comes to Mission League play and competing for a postseason appearance.
The chemistry, talent, work ethic and coaching needed are all in place, and despite playing in a hellacious Mission League, this squad isn't going to lay down for anyone.
It's now a question of execution.
Can the Golden Knights immediately improve their giving of free bases (walks), close out games late and come through at the plate with runners in scoring position?
If so, this could be a very good year for St. Francis baseball.
Quotable:
SF coach Aaron Dorlarque: "We have an extremely talented group of players this year, especially with our pitching staff. If we pitch like we are capable, we will be tough to beat. Our weakness is experience, both in terms of playing time, consistency and winning. We are in year two of turning the baseball program and culture around at St. Francis. That process typically takes 3-4 years. If we can turn the tide with our confidence and win a few games early in the season, I think we can fast forward the cultural transformation to one centered around strong character, excellence, competing every pitch and ultimately expecting to win."
SF senior Aaron Treloar: "This team is expecting me to drive in runs and hit consistently. They also expect me to pitch deep into ball games and come in clutch situations on the mound and deliver. I expect myself to do the same. My role this season is to be a vocal leader in the dugout and be an RBI guy at the plate. It is also to teach the younger guys what it means to compete. It's unbelievably awesome to have everything taken care of (going to Point Loma next year). It's a great feeling to go out there with all my teammates who I would do anything for, and compete in games. Now all I have on my mind is finishing off the semester strong in the classroom and winning ball games. This year's team knows how to grind out at-bats and put pressure on the opposing pitcher. We also have been getting better about driving in runs in key situations. We're a great mix of young and old guys, and we all get along super well. The SF baseball team is my second family."
SF senior Hayden Byrnes: "We are capable of competing at a high level in the Mission League. I believe we have the ability to make a deep run in the playoffs this year. As a team, our talent at the plate and on the mound has gotten better. We've also formed a very good, collective leadership among the seniors. My role is being one of the starting pitchers. I'll also be starting in left field to contribute to the already-talented line up. One thing that needs to be improved or addressed is our approach at the plate with runners in scoring position, and our pitchers need to execute earlier in the count."
SF senior Chris Stamos: "The team is capable of taking over every game if we show up and play to win every pitch. This year, we are capable of winning every series if pitchers throw strikes and we take care of the little things. Compared to last year, we have more raw talent, more experience, and I feel like we are all on the same page when it comes to chemistry and team goals. I'd like to see myself as the table setter when it comes to pitching, because when I throw strikes and do my job, everything else falls into place. When it comes to outfield and hitting, I don't see myself as a middle of the order guy, but a guy to get people over and excel in situational hitting because I put the ball in play. Along with the rest of the seniors, I have to be a leader on this team and keep an even keel so that others will follow suit. Something that concerns me the most is the energy when we start games, I don't want the first inning to be the Achilles heal of this potentially loaded team. We need to come out hungry and ready to compete day in and day out or we won't compete at all for a playoff spot."
SF senior Christian Muro: "We are capable of competing. Competition will lead to wins. We have a lot of experience at the varsity level this year. Having this experience can help win some games. Playing a full seven innings. Starting the game off strong is the key to winning baseball games."
St. Francis Recent Records By Year:
2018: (1-4 overall, 0-1 in Mission League)
2017: (9-20, 6-12)
2016: (6-22. 2-16)
2015: (12-17, 3-9)
2014: (9-18, 1-11)