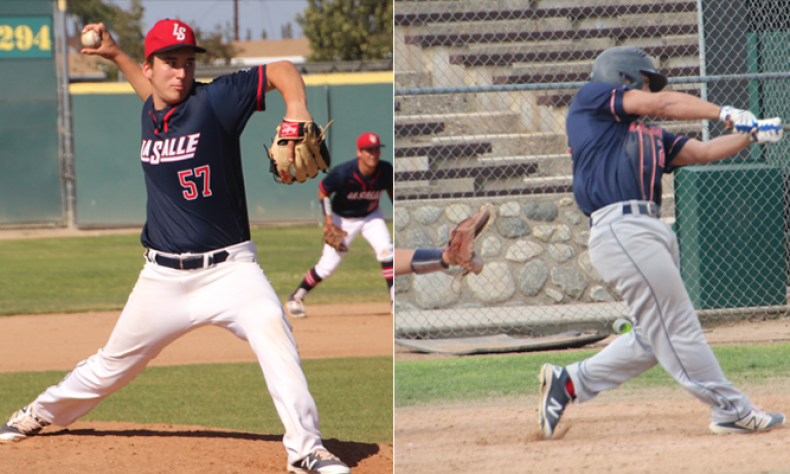 Zane Lindeman (l) and Ethan Patrick (r) By BRIAN REED-BAIOTTO, Sports Editor The end of the 2017 season was a tumultuous time for the La Salle baseball program. The administration parted ways with popular coach Mike Parisi, which did not go over well with the players. And as murky as the situation seemed, first-year coach […]
Zane Lindeman (l) and Ethan Patrick (r)
By BRIAN REED-BAIOTTO, Sports Editor
The end of the 2017 season was a tumultuous time for the La Salle baseball program.
The administration parted ways with popular coach Mike Parisi, which did not go over well with the players.
And as murky as the situation seemed, first-year coach Eddie McKiernan couldn't have handled the transition or the start to this season any better than he has.
McKiernan, a CIF champion himself as a player at Monrovia High School, had some experience with local baseball players through his own academy, and he worked hard to earn the respect of his players.
It's paid off so far, as the Lancers have won the first five games to start the 2018 season, including an 8-4 victory over Monrovia in the semifinals of the Dave Moore Classic.
There are a number of players who are vital to the Lancers' success, but no one carries more weight on his shoulders than star shortstop Ethan Patrick.
The La Salle senior and reigning Pasadena Sports Now co-Baseball Player of the Year is off to an insane start.
Patrick, who will play his collegiate ball at Loyola Marymount next year is hitting an area best .632, going 12 for 19 over the first two weeks.
He's driven in 8 runs, scored 7, has 4 doubles and a triple.
Patrick has also shined in the field early on with athletic plays at shortstop.
Brennan Mace will catch for La Salle, and he's hitting .462 with 6 hits, 4 runs and 4 RBIs.
Everett Sayer is 4 for 8 so far with a pair of RBIs.
Mark Daley (.333, 5 hits, 5 RBIs, 2 doubles) and Henry Kavanaugh (.312, 5 hits, 7 runs, 2 RBIs) have also keyed the 5-0 start.
The Lancers returned reigning Pasadena Sports Now Pitcher of the Year Zane Lindeman, who has a 1.17 ERA over 6 innings pitched and he's surrendered just one run and has fanned two.
Lindeman is also contributing offensively, going 3 for 6, with 3 RBIs and a pair of doubles.
But the biggest and most pleasant surprise has been the success that Landon Smith has had on the mound.
Smith is 1-0 and hasn't given up a single run over a 13-inning stretch.
He has surrendered 6 hits, walked two and struck out 16 batters.
Jeff Daley is also off to a great start.
The senior and older brother of Mark Daley is 3-0 with a 0.00 ERA.
Daley has allowed just two hits and has struck out 3 batters in 8 innings.
Peter Thorsen (1-0) has also recorded a victory and has a 2.80 ERA through 5-innings and 5 strikeouts.
La Salle's pitching staff has an impressive 1.20 team ERA that has walked 8 batters and struck out 28 more.
Sophomore Luke Heiberg is expected to have a big season.
Five games in, Heiberg is hitting .235 (4 of 17) , has scored 4 times and has driven in three runs.
La Salle is certainly capable of not only knocking reigning Del Rey League champ Bishop Amat off their perch, the Lancers could also make a deep playoff run if their hitting and pitching continues to improve.
With consistent efforts on the mound throughout from both Smith and Lindeman, the Lancers could very much control their own destiny in a potential championship season.
For area baseball fans, if you want to see a kid who excels in every phase of the game, come out to Arcadia County Park some afternoon and watch how well Ethan Patrick plays at shortstop and in the leadoff spot for the Lancers' offense.
Patrick is an old-school or throwback type of player, where he does all the little things well, and is someone that any baseball purist would appreciate watching.
Quotable:
La Salle coach Eddie McKiernan: "This year, the boys have parpared very well. The league should be tough like always, but I expect our boys to be in the mix. We have two starters that could beat anyone. Henry Kavanaugh, Ethan Patrick and Zane Lindeman are great leaders and Brennan Mace will hold down the fort behind the plate. We are going to compete one game at a time and see how far it take us. These boys can do something special this year."
La Salle senior Ethan Patrick: "As our season is starting up, I think my role this year on the team is to be a leader on the field and continue to help our offense succeed. I think this year we have really solid pitching throughout the staff, which I think we lacked in last year. The area we need to make our biggest improvement in is our offense. We get a decent amount of hits per game, but we struggle when it comes to getting timely hits to score runs. As a team, I would really like to win the Del Rey league, and make it deep into playoffs. Individually, my goal is to just help the team win in any way possible."
La Salle senior Zane Lindeman: "My role is similar to last year. It's to continue to hold down the rotation. Landon is awesome this year. I want to contribute more on offense this year. I think we're better offensively this year. We have some young bats that I think are going to contribute. We need to work on little things. Getting bunts down, and better approaches with runners in scoring position. I want to win a bunch of games and make a run at a league title and a CIF title."
Del Rey League Standings Through March 11:
La Salle (5-0)
Serra (2-1-1)
Cathedral (3-2)
St. Paul (2-2)
Bishop Amat (3-4)
La Salle's Recent Records By Year:
2018: (5-0)
2017: (18-4 overall, 7-5 in Del Rey League)
2016: (20-8, 8-4)
2015: (10-14, 3-9)
2014: (16-14, 6-4)