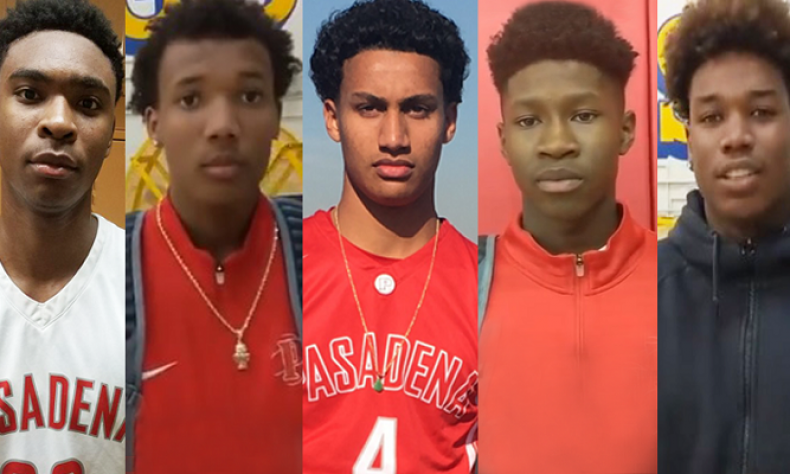 L-R: Bryce Hamilton, Darius Brown II, Tavian Percy, Omari Moore, Darius Mason From STAFF REPORTS Had you known Chino Hills held a 41-11 second quarter lead in their CIF State Division 1 semifinal at home, you might be surprised to see the final score. For anyone that has seen this Pasadena program play all season, […]
L-R: Bryce Hamilton, Darius Brown II, Tavian Percy, Omari Moore, Darius Mason
From STAFF REPORTS
Had you known Chino Hills held a 41-11 second quarter lead in their CIF State Division 1 semifinal at home, you might be surprised to see the final score.
For anyone that has seen this Pasadena program play all season, though, the Bulldogs furious comeback didn't present the slightest of surprises.
PHS showed courage and perseverance in cutting that once 30-point deficit to just one at 75-74 after a pair of Bryce Hamilton free throws late in the game.
Chino Hills, however, staved off a near-miraculous comeback by edging PHS, 77-74, on Tuesday night to end the Bulldogs season.
PHS held Onyeka Okongwu to 22 points, including just 7 second-half points.
The Huskies' 6-foot-9 star did collect 15 rebounds.
But the Bulldogs made major inroads from the CIF-SS Division 1 title-game loss when Okongwu had 38 points that night.
Bryce Hamilton finished off a storied prep career with 25 points (9 of 22 shooting), including three 3-point baskets, 10 rebounds, 2 assists and 2 steals.
His partner in crime from the beginning, Darius Brown II, finished off his remarkable career at PHS with 21 points (9 of 18 shooting), including three 3-point buckets, 5 assists and 4 steals.
Andre Ball added 21 points for Chino Hills and Ofure Ujadughele had 17.
Tavian Percy contributed 14 points (5 of 8) and had a team-best four 3-point baskets.
Darius Mason ended his junior season with 8 points (3 of 6), 3 rebounds, 2 assists and 2 steals.
And last but certainly not least, Omari Moore added 6 points (3 of 7), 6 rebounds, 7 assists and 4 steals.
PHS shot 47 percent from the field (29 of 62), and made 10-of-25 from behind the 3-point line.
The Bulldogs tallied 23 team rebounds, 17 assists and 11 steals to just 4 turnovers Tuesday night.
Chino Hills now goes on to play top-seeded St. John Bosco Saturday in Long Beach for the CIF State Division 1 Regional championship.
While it might take several days or weeks to wipe away the pain of a remarkable run being ended, in time, this PHS program, including the players, coaches and their families have so much to be proud of.
The Bulldogs, over the last two years with this core of players went a combined 52-15 overall, 27-1 in Pacific League play and 11-4 in the postseason.
It's nearly 80-percent success rate over that time is a testament in and of itself, but considering the incredible schedule they play in early season tournaments makes it all the more impressive.
But better than winning 8 of every 10 games is the way this group represented their program, school and families, and the way they conducted themselves in the classroom, on the court and as maturing young adults.
This program, along with their friendly crosstown rivals at Muir made this a season for the ages, as the two Pasadena powers had historic seasons.
Box Score:
PHS: 10-10-33-21-(74)
CH: 21-23-13-20-(77)
Records:
Pasadena (25-8); Chino Hills (24-11)