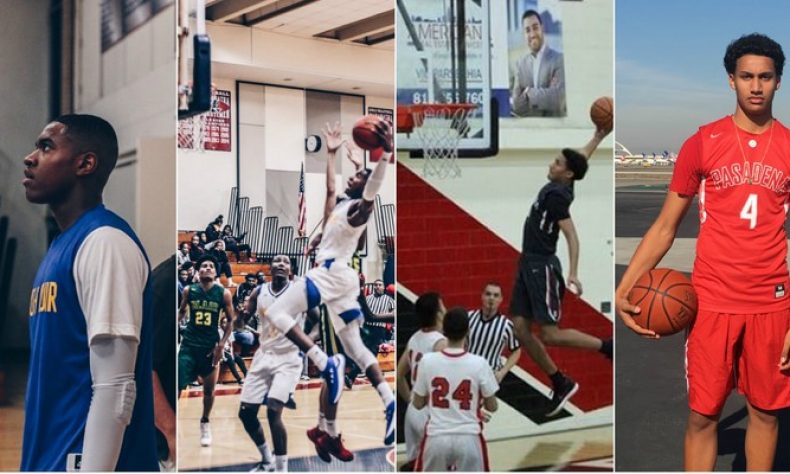 By Brian Reed-Baiotto, Sports Editor With Friday's announcement from Pasadena point guard Darius Brown II that he would be continuing his playing career at Cal State Northridge next year, the area's recruiting process now focuses on Pasadena's Tavian Percy and Muir's Hunter Woods. They are considered the area's two most complete and college-ready seniors, and […]
By Brian Reed-Baiotto, Sports Editor
With Friday's announcement from Pasadena point guard Darius Brown II that he would be continuing his playing career at Cal State Northridge next year, the area's recruiting process now focuses on Pasadena's Tavian Percy and Muir's Hunter Woods.
They are considered the area's two most complete and college-ready seniors, and both are awaiting potential offers so they're able to make an informed decision with those around them that they trust.
Both Percy and Woods have a number of traits that make them attractive to programs at the next level, and it starts with the success both have attained in the classroom.
In terms of the basketball part of it, though, they both stand approximately 6-foot-6, both shoot from distance, they're athletic, long, intelligent, versatile and are students of the game.
Both helped lead their programs to historic season's and they are as impressive in the classroom and as young men as they are on the basketball court.
Percy came from Miami where he was 'the man,' and joined a team that had three (Bryce Hamilton, DBII and Darius Mason) established stars.
This humble young man said early on that headlines and praise weren't his desire, it was to do his part in helping Pasadena chase CIF-SS and CIF State titles.
His range is pretty unlimited, he's a good passer and rebounder.
But it's his ability to lock down an opponent's offensive star while on the defensive side of the court that those around him respect most.
Percy averaged 14 points, 6 rebounds, 3 assists and 2 steals per game.
He did his part and then some in Pasadena's winning of the Pacific League championship, which they accomplished for the 14th consecutive season.
Percy's numbers could have been much higher, but he played for a program that had five separate players (Hamilton, Mason, Brown and Omari Moore) that averaged 10 shots or more per game.
He is someone who is well-spoken, coachable and would make any coach, program or school proud by the way he carries himself on and off the court.
Perhaps most impressive about this kid was the deeper they got in the playoffs, the higher his shooting percentage got, especially from behind the 3-point arc.
Woods was without question 'the man' for the Mustangs.
He played a starring role, and along with his fellow senior buddies (Tiyon Martin, Simaine Stewart, Haleem Jenkins and Tasson Aubry) led the Muir program to their most wins (24) in more than two decades.
Woods, like Percy, is tall, long, athletic, bright, versatile and he accepts a lot of pressure to carry a program.
He averaged 22 points, 10 rebounds, 4 assists, 3 steals and 2 blocked shots.
Another thing Woods is known for is that even on nights he's not shooting particularly well, he finds other ways to take over games with his boards, assists and blocked shots.
What separates Woods from many is his maturity in good times and bad.
He happily deflects most of the credit in victories to his teammates, and he shoulders the majority of the blame in Muir losses, as great leaders tend to do.
Muir finished just one-game back of PHS in total wins this season, and the Mustangs won three postseason games in CIF-SS Division 2A, and another in the CIF State Division 2 playoffs.
Woods is a very engaging, bright and accountable player and person.
His ability to be a stat sheet stuffer makes him a very desirable athlete and his character and personality will allow Woods to fit in anywhere he decides to go.
Percy and Woods are both surrounded by strong and impressive parental figures and they have the unconditional love of those around them.
One other trait they share in common is both prioritize their education, their families and being solid members of society before basketball even comes into their minds.
The best part about the Pasadena-Muir boys basketball rivalry is that unlike most cross-town competitors, the coaches, players and families not only like the other side, when they're not going head-to-head, they root for one another.
And this is no different.
The city and its fans will anxiously wait to see where two of their best and most impressive kids/athletes winds up.
Quotable:
Muir coach Simaine Stewart: "Hunter Woods' basketball IQ is off the charts. He is a well-rounded basketball player and he has the ability to play the 2 & 3 in college. His range is limitless. Hunter, I believe still hasn't become the player he will become.. His ceiling is so high. Tavian is an extremely athletic wing with great shooting range. His ability to get to the rim and finish over bigger help-side defenders is a great bonus. He will help a program at the next level."
Pasadena coach Tony Brooks: "In the case of Tavian, I get the most frustrated when it comes to college coaches and what they look for while recruiting prospects. Who would not want to have a 6-foot-6 pure shooter in this age of offenses that promote the 3-point shot, who also is a super athlete and can defend four of the five positions on the court? On top of all that, he's a winner on the court and a high character kid and a great student off the court.
Based on the number of west-coast schools that did not make postseason college tournaments, you would think there would be school's falling at his feet. Even the schools that did make the tournament could use him on their team. Assessment of talent is not a pure science and many college recruiters just get things wrong. The hope for Tavian is that he will get picked up a little later this spring because I know a lot of schools are very intrigued by him. He just played in a senior showcase full of talented seniors and he score 24 points and shows he's the best of the bunch on both teams. We all wonder now what will happen but in the end I'm hopeful he will land somewhere.
Hunter has been a top player from this Pasadena area for four years. He's long, very smart and has a lot of range on that jump shot of his. Every team has him emphasized on their scouting report. If you do find some success in slowing him down, all of a sudden he's pounding the boards, getting put backs and increasing his team's possessions.
Like Tavian, Hunter is a winner and a great student and it is important for coaches like myself to have guys like this get those scholarships. They are my examples of how to do things right to the younger players. Regardless of whether a college coach awards them with scholarships, they are great role models. Then again, those youngsters may pay attention a little more when they see the clear result of their hard work and sacrifice. The fact remains, both of these guys are super talents, some of the best that have ever come out of this city. I trust that my college peers will see things the way I do and give both of these guys shots at making their rosters."