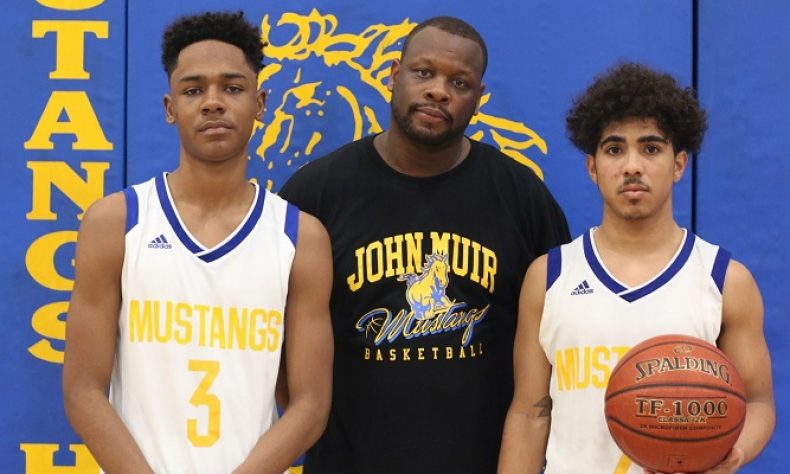 Simaine Stewart Jr, Simaine Stewart, Tiyon Martin By BRIAN REED-BAIOTTO, Sports Editor Any time you're saddled with deciding who did the best coaching job in the Pasadena area boys basketball world, Tony Brooks will always rank near or at the top of that list. And while Brooks continued the excellence he's maintained at Pasadena and […]
Simaine Stewart Jr, Simaine Stewart, Tiyon Martin
By BRIAN REED-BAIOTTO, Sports Editor
Any time you're saddled with deciding who did the best coaching job in the Pasadena area boys basketball world, Tony Brooks will always rank near or at the top of that list.
And while Brooks continued the excellence he's maintained at Pasadena and within his program, we feel there was one coach who got the most out of the talent he was dealt.
Muir entered the season as the clear underdog in the Pacific League to Pasadena, and they also knew PHS returned its championship team from a year prior and added two (Tavian Percy, Omari Moore) talented athletes to their roster.
Both of the Mustangs' league losses were to Pasadena, and they were also substantial in point differential.
But it wasn't about the coaching, the Bulldogs were just too big and too talented and they won their 15th consecutive Pacific League championship.
That said, however, this was a banner and historic season for Muir basketball.
The Mustangs won 24 games this season and it was their program's most in nearly 20 years.
They won six more games than a season ago and scored over 400 more points on offense than in 2016-17.
The Mustangs 24 victories were second in the area, and just one back of Pasadena's 25 this year.
Muir's 12 Pacific League victories were tops in at least 16 years for the program.
And they made a CIF-SS Division 2A semifinal run, and won a CIF State playoff game, despite being under-sized and in many cases under-manned compared to the southern section's premier programs.
For their historic season, for representing their school, program and families well, and for being a leader and mentor to his players on and off the court, Simaine Stewart has been named the 2017-18 Pasadena Sports Now Boys Basketball Coach of the Year.
The success for the sixth-year coach was extra special, because the 2017-18 roster included his son, Simaine Stewart, his stepson, Tiyon Martin, as well as seniors Hunter Woods, Haleem Jenkins and Tasson Aubry.
All involved said the key difference this season had a lot to do with a team chemistry that took a while to metastasize.
They had most of the same roster from 2016-17, but they actually liked each other, pulled for each other and held themselves accountable, both individually and collectively.
Stewart works at AT&T during the day and then spends the rest of the evening and well into the night preparing his players for not just basketball, but life and becoming productive members of society.
One of the many impressive facts about this season for Stewart and Muir, besides their 24 wins throughout, 12 in league, and their 4-2 record in the postseason, was the way they reacted to adversity.
Heading into the first showdown with PHS on January 19, the Mustangs had won eight consecutive games.
After the 19-point setback, they won six consecutive before the Bulldogs earned the season sweep.
But even after that, Muir makes a CIF-SS semifinal run and suffers a brutal, six-point setback in Santa Barbara to the same San Marcos program that cruised to the CIF title one week later by 20 points over Riverside Poly.
So, the Mustangs had to be through, right?
Not even close.
Twelve days later, and in spite of the rust and the lingering frustration of the semifinal loss, Muir showed its mettle with a 58-54 CIF State victory over San Marcos of San Diego.
Their season finally did come to an end when they fell at top-seeded Brentwood, 72-61, but not before the Mustangs' players, coaches and the program itself had changed expectations for the school and future classes of athletes to come.
Stewart, in true "Coach Stew" fashion, wanted little to none of the credit for the ascension of his program and the record breaking season.
In fact, Stewart said he was most proud that his players earned and held a collective 3.3 grade-point average.
One of the great moments of the season, also planned by Stewart, his wife Tracy, and many others, like Hunter Woods' mom, Kimberly Green, was a pregame ceremony on senior night.
The Mustangs' seniors, all eight of them (Hunter Woods, Tiyon Martin, Simaine Stewart, Lief Cienfuegos, Jalen Johnson, Haleem Jenkins, Jordan Pace and Tasson Aubry all had video tributes in their honor and in front of the entire gym, which was packed to the rafters.
The high point, was when Haleem Jenkins' mom, Alesha Duffy, flew in from New York a couple days early and surprised her son on the court when he was introduced.
Jenkins and his mother enjoyed a long and emotional embrace that even PHS fans were touched to see.
This was a real family atmosphere that Stewart has fostered at the school and it was incredibly touching to see the evolution of proud and yet testy athletes that took a couple years to accept each other, and once they did, they made program history.
What made it even more special for Stewart is he is leading a school he not only loves, it's always the one he graduated from.
And those five seniors (Woods, Jenkins, Martin, Stewart and Aubry), who scored nearly 95% of the Mustangs points this season, they'll always be able to walk back into their gym and know they are the face of what Muir excellence is all about.
"Our success goes to my seniors and my staff," Stewart said. "All season, both of those groups kept us focused as seniors are supposed to do. All I did was try and keep us on track and challenge the players to stay the course. Our program started its climb back to the greatness of the past. We had a great turnout and our families were so happy."
Quotable:
Muir senior Hunter Woods: "Coach Stew trusted us this year to play our game and he helped us improve as players. He allowed us to use our skills in a way we all best felt it fit and it helped us become successful. But he also helped engineer an atmosphere where we became a family and I'll always appreciate the influence he had on my life, both on and off the court. He genuinely cares for each of his players and this year was special to all of us."
2018 Muir Boys Basketball CIF-SS Playoff Results:
Feb 14: Muir 80, Saugus 61
Feb 16: Muir 72, La Serna 47
Feb 20: Muir 62, Walnut 50
Feb 23: San Marcos (Santa Barbara) 65, Muir 59
March 7: Muir 58, San Marcos (San Diego) 54
March 10: Brentwood 72, Muir 61