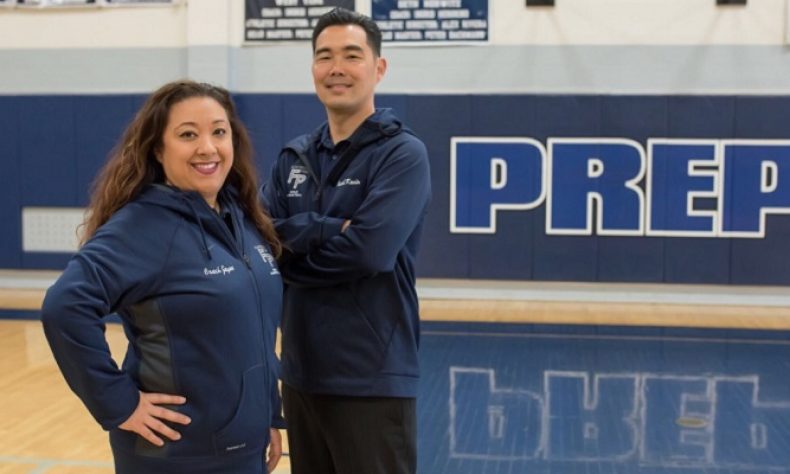 Jayme Kiyomura-Chan Kevin Kiyomura By BRIAN REED-BAIOTTO, Sports Editor Kevin Kiyomura and his cousin, Jayme Kiyomura-Chan, have done nothing but win basketball games since taking over the reigns at Flintridge Prep in 2012. Kevin, 46, and Jayme, 41, have that rare trait when it comes to most coaches, in that they're able to put their […]
Jayme Kiyomura-Chan Kevin Kiyomura
By BRIAN REED-BAIOTTO, Sports Editor
Kevin Kiyomura and his cousin, Jayme Kiyomura-Chan, have done nothing but win basketball games since taking over the reigns at Flintridge Prep in 2012.
Kevin, 46, and Jayme, 41, have that rare trait when it comes to most coaches, in that they're able to put their individual ego's on the shelf and both do different but equal duties in making the Rebels the Prep League's premier program.
After a second-place finish in their first year (2012-13), they have owned the Prep League, and even earned the school its first CIF-Southern Section Division 5AA championship in 2016.
Since the beginning of the 2013-14 season, Prep has won five consecutive league championships.
They have won 33 straight league games, and went 12-0 this year for the second consecutive season.
If that weren't enough, the Kiyomura cousins, who's dads are brothers, led the program to the 2018 CIF-Southern Section Division 3A championship game.
That included a huge semifinal upset at top-seeded Oxford Academy.
For their consistency of excellence, for their winning a fifth consecutive Prep League championship and a deeper run than any Pasadena or La Canada girls program, Kevin Kiyomura and Jayme Kiyomura-Chan have been named the 2017-18 Pasadena Sports Now Girls Basketball Coaches of the Year.
What could arguably be the most impressive part of this year's run is that not one Rebels' player was a senior.
Kaitlyn Chen, this year's Pasadena Sports Now co-Player of the Year with La Salle's Julia Macabuhay is a sophomore.
Andie Kim is a sophomore, Madison Manning a junior and Sofia Gonzalez is just a freshman.
The Prep foursome averaged a combined 47 of the Rebels' 53 points per game.
They also won 19 consecutive games that stretched between December 27-March 3, which meant the Rebels went 65 straight days without falling.
In all, Flintridge Prep went 24-7 overall, and 12-0 in Prep League play.
The 24 wins, compared to other area powers, was four more than La Salle, five more than Pasadena and they finished with six greater than rival Poly.
In six seasons, the Kiyomura cousins have racked up an unheard of 80-percent (winning percentage) after going 131-32 overall.
They have led the program to a 66-6 mark in league and have gone 17-5 in the CIF-SS playoffs.
"This year's team was a lot of fun to coach for several reasons," Jayme said. "The first being their youthfulness and willingness to try whatever we asked of them. There weren't a lot of bad habits to break and they instantly had great chemistry. They genuinely enjoyed being around one another."
Said Kevin: "For me, this year was enjoyable and a challenge because I felt my coaching would have more of an impact on the season's success compared to that of the prior seasons because of our youth and inexperience. They always put the team's success first.."
To their credit, both say they couldn't do it without the other, and both play the role of good cop and bad cop.
"During games, we both take care of different aspects of the game, and bounce things off each other when necessary," Kevin said.
Both Kevin and Jayme have young kids and both of their spouses have been invaluable in allowing this to happen.
Jayme's husband, Phillip, and Kevin's wife, Kerri, put in so much work to allow their spouses to excel at Flintridge Prep.
Jayme has 8-year old twins and an 11-year old daughter.
Kevin has daughters aged 14 and 17.
They are in many ways more like brother and sister because they're both the oldest of their siblings and their personalities and work ethics gel as one.
We asked both what they appreciate most about the other.
Kevin's response was: "Jayme has stepped up to be the voice and face of our coaching staff. She does an amazing job of speaking to the players, parents and faculty, which is something I shy away from. She has a genuineness about her that makes everyone who comes in contact with feel her honesty, integrity and love for our players."
Jayme described Kevin as: "He is one of the great mentors of my life, but he's also one of the most cherished friends. We are truly Yin and Yang. He is steadied, calculated, introspective, and he brings a sense of peace and calmness. I appreciate Kevin's love for the game and constant willingness to learn and grows as a coach. He has the mind of a great strategist and a teacher of the game."
During this season, we've spoken to at least five of the Flintridge Prep players.
And to a man (or woman) they rave about the atmosphere of positivity that both Jayme and Kevin have fostered.
They describe Kevin as the guy who makes the plan and Jayme makes sure they follow it out like it was a blueprint.
The perfect example they gave was their February 24 CIF-SS semifinal match up with No. 1 seeded Oxford Academy out in Cypress and on a Saturday night.
Kevin had devised a plan that focused on Madison Manning doing her best in shutting down Oxford's Austyn Masuno.
Now, keep in mind, Manning is 5-foot-7 and Masuno is 6-foot-2.
Masuno was averaging 23 points and 12 rebounds per game and the Patriots were 28-2 and on a 16-game win streak when the Rebels came to town.
Despite being down 10 points after the first quarter and 9 points at half time, not one Rebels' player or coach was worried.
Somehow, they all bought into the plan, and were going to see it through.
Kevin's plan, and Jayme's vocalizing paid off as Prep outscored Oxford Academy, 24-10 in the second half to upset the top seed, and Manning held Masuno to more than 10 points and several rebounds under her average.
Great coaches were able to devise a plan, and it was carried out by an under-sized and inexperienced roster to defeat the division's top seed and to exceed everyone's expectations.
And that's exactly why Kevin Kiyomura and Jayme Kiyomura-Chan have earned the title of the 2017-18 Pasadena Sports Now Girls Basketball Coaches of the Year.
Flintridge Prep Under Kevin Kiyomura and Jayme Kiyomura-Chan:
2012-13: 19-9 overall, 9-3 in Prep League (second place)
2013-14: 19-5, 10-2 (league champions)
2014-15: 24-3, 12-0 (league champions)
2015-16: 21-5, 11-1 (CIF-SS and league champions)
2016-17: 24-7, 12-0 (league champions)
2017-18: 24-7, 12-0 (CIF-SS Division 3A runner up, league champions)