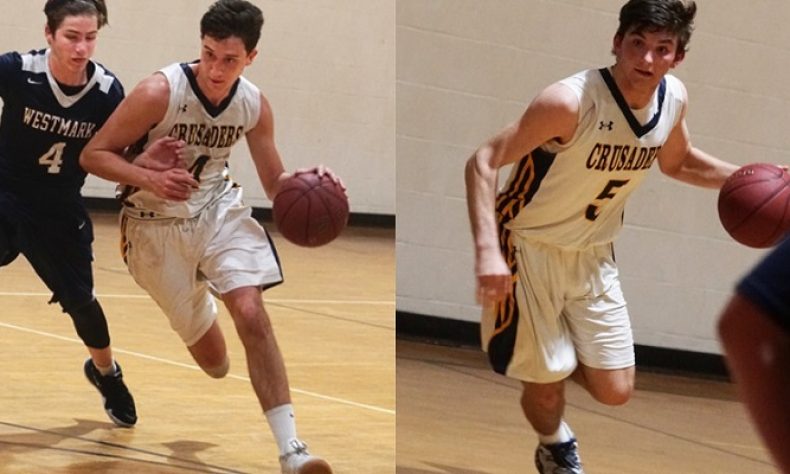 Two Crusaders Awarded First Team All-CIF Honors From STAFF REPORTS No area boys' basketball team was more successful in the postseason than St. Monica Academy. The Crusaders advanced to the CIF State Division V Tournament, and two players, Peter Ford and Charlie Boles, were named to the CIF Div V-A first team. Only the top […]
Two Crusaders Awarded First Team All-CIF Honors
From STAFF REPORTS
No area boys' basketball team was more successful in the postseason than St. Monica Academy. The Crusaders advanced to the CIF State Division V Tournament, and two players, Peter Ford and Charlie Boles, were named to the CIF Div V-A first team. Only the top 10 athletes in the division were recognized with All-CIF honors.
Senior Peter Ford averaged 18.6 points per game in the postseason and is the "best pure shooter that we've ever had at the school" says SMA head coach Peter Grimm. Junior Charlie Boles averaged 12 points per postseason game. "Charlie is an absolute workhorse," says Coach Grimm, "and he has more energy, especially during games, than three players combined."
"I am very pleased that Peter and Charlie have been awarded First Team All-CIF honors," says Coach Grimm who was selected the All-Area Boys' Basketball Coach of the Year. "They have worked tirelessly at their craft, and it is a great accomplishment to be recognized in this way. The entire team takes a lot of pride in their success. They would be the first to tell you that in a team sport like basketball all individual honors are the result of good team play."
The league champion Crusaders (14-0 in league) entered the playoffs as the 4th seed overall in Div 5A and defeated their first three postseason opponents. They received an at-large berth in the state tournament after their historic playoff run ended in the section semifinals against #1-seeded Duarte High School (student body 852 compared to SMA's 109).
St. Monica's girls and boys basketball teams have garnered many league championships and playoff appearances in SMA's 9 years in CIF, but this was the first time a basketball team advanced to the semifinals or to the state tournament.
SMA's athletic program has achieved 24 league championships, 24 All-CIF awards, 40 playoff runs, one section title in girls volleyball, and 5 NCAA athletes in the last 3 years.
St. Monica Academy, 2361 Del Mar Rd., Montrose, CA 91020, (818) 369-7310 or visit www.stmonicaacademy.com.