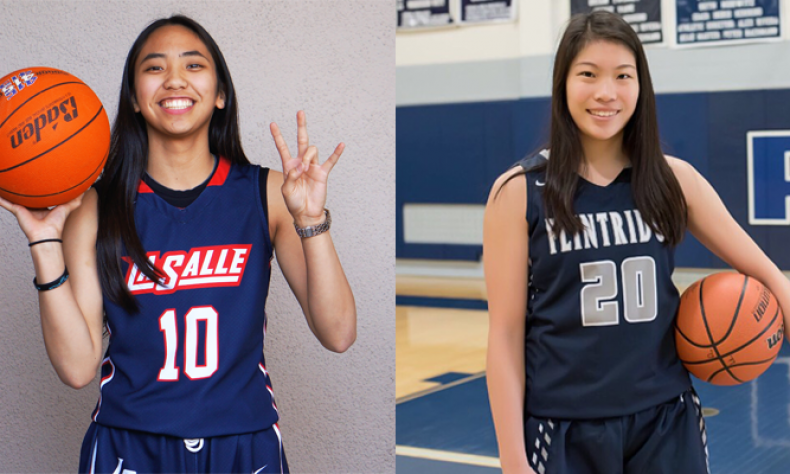 Julia Macabuhay (l) and Kaitlyn Chen (r) By BRIAN REED-BAIOTTO, Sports Editor Julia Macabuhay and Kaitlyn Chen have a lot in common when it comes to their elite production on a basketball court. The Flintridge Prep and La Salle girls hoops programs do as well. Both Macabuhay and Chen, who are team captains, led their […]
Julia Macabuhay (l) and Kaitlyn Chen (r)
By BRIAN REED-BAIOTTO, Sports Editor
Julia Macabuhay and Kaitlyn Chen have a lot in common when it comes to their elite production on a basketball court.
The Flintridge Prep and La Salle girls hoops programs do as well.
Both Macabuhay and Chen, who are team captains, led their schools to league championships, and both did it without dropping a single game.
The Rebels went 12-0 en route to their fifth consecutive Prep League championship and they outscored their league foes by a combined score of 670-396.
The Lancers cruised to a Santa Fe League title by going 8-0, and did so by a margin of 517-226.
Chen earned the Prep League's Most Valuable Player honor, and Macabuhay became a two-time Santa Fe League MVP.
Prep won 19 consecutive games late in the season, while La Salle had both 11 and 6-game win streaks this season.
Both led their programs in the CIF-Southern Section Division 3A playoffs.
Macabuhay and the Lancers fell at top-seeded Oxford Academy after several controversial calls in the quarterfinal round, and Chen and Prep went into that same gym one round later and knocked off the Patriots to earn a title-game appearance.
Chen and Macabuhay led their teams in multiple statistical categories, including scoring, rebounds, assists and steals.
And for all of the above, and their leadership and ability to rise in the clutch, Macabuhay and Chen have been named the 2017-18 Pasadena Sports Now Girls Basketball Players of the Year.
In our two-year existence as a prep sports web site covering Pasadena and La Canada schools and programs, Macabuhay has earned this accolade in both her junior and senior years.
Macabuhay had arguably more weight on her shoulders to lead La Salle to success and her production not only earned the senior the John Wooden award as the CIF-SS Division 3 Player of the Year, she also committed to UC San Diego to continue her career at the collegiate level.
Macabuhay had a remarkable 26-point per game average, along with 8 rebounds, 7 assists and 4 steals.
It didn't stop there, as the area's most dynamic player upped her production to 33 points per game in the CIF-SS playoffs and her single-game high was a 48-point effort against Mission Prep.
"Julia is hands down the best high school basketball player I've ever coached," La Salle coach Freedom McCullough said. "If I had to compare her to a player, it would be Jrue Holiday. I was an assistant coach (at Campbell Hall) in 2005 when Holiday led us to CIF and State championships and we went 32-0. Julia has that same poise, skill set and leadership qualities that leaves coaches and fans alike in awe. A player like Julia only comes once in a generation."
She was so incredible that in many conversations with La Salle boys basketball coach Mike Lynch, he said how much he'd love to have her on his program, and how well respected she is by all athletes of every sport at her school.
Macabuhay deflected much of the credit to her teammates, and emphasized how much production she needed and got from fellow Lancers Alyssa Arroyo, Brianna Antillon, Nicole Ortiz and Crystal Ramirez.
"As a team our season ended a little earlier than expected, but we did very well, especially as the playoffs came around," Macabuhay said. "I would have never thought that I would receive this much recognition as I did this season, and I owe it to my teammates and coaches, because they pushed me to get better every day."
Chen and Flintridge Prep had an incredible run and were just five points shy of winning the CIF-SS Division 3A championship.
Chen had more talent around her, as Macabuhay accounted for 46-percent of the Lancers offense, while Chen poured in nearly 40-percent of the Rebels points throughout the season.
But keep in mind that Chen is just a sophomore, and as elite as she is already, and with the support around her both in terms of teammates and coaches, her ceiling is unlimited going forward.
Chen averaged 21 points, 9 rebounds, 4 assists and 3 steals per game and her high-game was a 36-point effort against South Pasadena.
In terms of versatility, Chen, Macabuhay and Pasadena's Kamesha Moore are far and away the area's most complete players.
As mentioned above, Chen and the Rebels won 19 consecutive games over a 65-day stretch and they knocked off top-seeded Oxford Academy in the semifinal round of the CIF-SS Division 3A playoffs, and did so on the Patriots own floor.
Along with the 2017-18 Pasadena Sports Now Girls Basketball Coaches of the Year (Jayme Kiyomura-Chan and Kevin Kiyomura), Chen was aided greatly by teammates Andie Kim, Sofia Gonzalez and Madison Manning.
But make no mistake, Chen was 'the guy,' or in this case, 'the gal.'
And considering the Rebels have won five straight Prep League titles and are currently on a 33-game league win streak, along with the fact that not one Prep player was a senior, the Flintridge Prep domination is poised and likely to reign for at least two more years.
"Ali (Fujimoto) and Maddy (Manning) were also team captains, so the pressure wasn't as impactful since I had to other trustworthy captains," Chen said. "This season was so special because I feel like we were so close in age and we were able to bond really well. The CIF finals were never a part of our goals, but it was a nice surprise, especially with this group of girls. We were able to do that through hard work and late nights in the gym. We also never looked past a game. All the credit goes to our coaches, because of all the time and energy they put into us. They made sure we improved as both players and people. I'm very excited for the future and what it may bring us."
Her coaches are just as thrilled for what is to come for their program in the immediate future.
Said Rebels' coach Jayme Kiyomura-Chan: "Kaitlyn is our captain and go-to player. Well prepared teams game plan for her and still have no answer. What makes her so special is her ability to go out and score 30-plus points a night, but she would never feel comfortable with doing that unless we absolutely needed her to. She would much rather share the ball and get her teammates involved than rack up personal accolades. She is truly a remarkable young lady. Kaitlyn has the potential to leave FP as the best girls basketball player in school history."