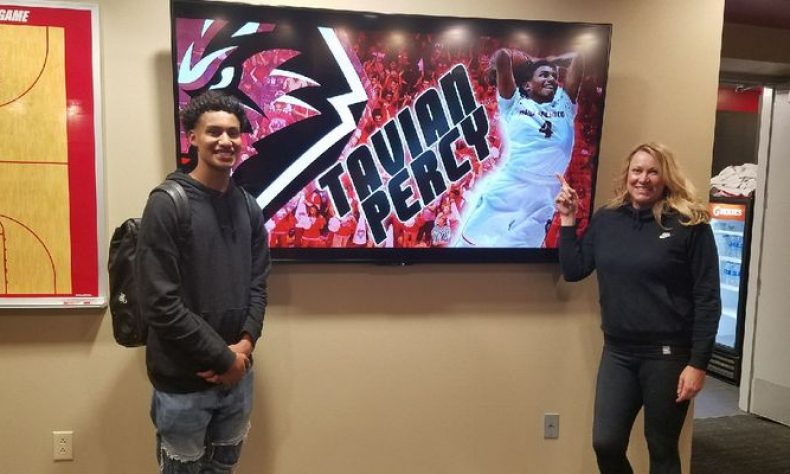 By Brian Reed-Baiotto, Sports Editor He might have been in Pasadena for just one year, but Tavian Percy leaves with a solid legacy as both a player and a person. Percy, who was 'the guy' in Miami, came out west to play with and against the best. He wanted to get better and get […]
By Brian Reed-Baiotto, Sports Editor
He might have been in Pasadena for just one year, but Tavian Percy leaves with a solid legacy as both a player and a person.
Percy, who was 'the guy' in Miami, came out west to play with and against the best.
He wanted to get better and get noticed and Percy succeeded at both.
Many wondered how a star, who was joining an already established program with three headliners would fit into the mix.
For Percy, he fit in better than anyone could of expected or hoped, and it was due to his work ethic, personality, and the acceptance among each of his teammates and coaches at PHS.
The 6-foot-6 senior added a lot to the Pacific League champs and CIF-SS Division 1 runner up.
He was second in points scored and three pointers made.
Percy averaged 15 points, 6 rebounds and 3 assists per game for a program that went 25-8 overall and 13-1 in Pacific League play.
But it was Percy's contributions that aren't always seen on a stat sheet that made him so revered within the program.
He was credited with adding length and making PHS a more lethal shooting team, and especially from distance.
It was, however, his ability to lock down an opponent's best scorer that made head coach Tony Brooks the most proud.
When Percy headed west with his mother, Teresa Disbennet, they both became quick and permanent members of the PHS basketball family.
In fact, Percy and Disbennet spent part of their Thanksgiving and Christmas days with Brooks and his family, and Teresa was often times seen giving hugs to the other team mom's at the well-attended Bulldogs' games.
His dad, Terry Percy, remained in Florida, but he followed every game online and even made a surprise visit to root on his son and his son's teammates in their first of two victories over Muir.
His coaches and teammates said Percy couldn't have possibly handled the transition better because of his disarming and easy-to-like personality.
On the court, his teammates actually had to prod Percy and tell him it was OK to take more shots, and that he had earned their trust and respect.
Percy played his best basketball when it counted the most, and that was his performances in the postseason.
He was the only Pasadena player to shoot over 50-percent from the field collectively throughout their seven-game playoff run, including the CIF-SS Division 1 finals and the CIF-State Division 1 Southern California Regional Semifinals.
Percy had several suitors, but he fell in love with New Mexico on his trip this week to Albuquerque.
There was an awesome photo from the trip of Percy and his mom smiling next to a picture of framed poster of Percy in a New Mexico uniform just outside of the basketball gym.
While looking back on his past year at PHS, Percy said the confidence both his teammates and coaches had in him helped raise his own confidence as well as his play.
Percy said a moment he will hang on to for decades to come was their 30-point comeback in the CIF Division 1 State Regional Semifinals against Chino Hills.
They came up just short, but perhaps no game or scenario could better describe or weigh the heart, tenacity and skills quite like erasing a 30-point deficit on the road and against the eventual CIF State champions.
Quotable:
Pasadena basketball coach Tony Brooks: "Part of his success was his shot selection. He doesn't take bad shots. His percentage in the playoffs, it came from taking shots in rhythm, and when he gets an open look, it's usually going to find the bottom of the net. He is also just an exceptional shooter.His teammates went to him and told him to take more shots. It's when he hesitates that he misses shots. The team gave him the green light. His standout game to me was against Corona Centennial in Damien game. They had been beating teams pretty soundly, and we were down 14-3, and I called a time out. Bryce and Tavian saw the need and took over, and he this athletic dunk over a talented Damien player that I'll never forget. His mom is amazing. She encourages him on the nuances of playing the game and in his confidence. I used to tell him I want him to play fast and free and so did his mom."
Teresa Disbennet (Tavian's mother): "At the end of the season, Etop Udo-Ema, Director of the Compton Magic approached Tavian to see if he would like to come out for practice with them. Etop attended many of Tavian's games and started networking with scouts about his talents. Once Tavian joined the Compton Magic, the calls from college coaches starting coming, which led to University New Mexico visit and eventual signing for full scholarship. Coach Brooks and Etop's combined efforts led to my son moving on to the next level. Getting a fresh start on the other side of the country with a coach as giving as Coach Brooks was such a blessing. All Tavian needed was a coach to allow him to play "fast and free". Tony and later on Etop gave Tavian the confidence to play fast and free. The 3's started flowing and the above the rim play was undeniable. We have family now in California and that will never change. We are truly blessed."
Terry Percy (Tavian's father): "We always knew he could play and would go to the next level, he just didn't have the type of high school team here in Miami for that exposure. The move only happened because we met Coach Brooks who was recommended by every college coach we knew out west. The exposure and opportunity to play for Brooks was a deal-maker. I am most proud of Tay for his mental toughness and humble nature. His talent even Ray Charles could see, but he's a team-first kid with a bag of skills and a great attitude. We are believers and always follow God's plan."
Pasadena assistant coach Darius Brown: "Tavian's decision to come to Pasadena was very beneficial. He helped a great team become greater and he put himself in a position to get noticed by working hard and it resulted in a full scholarship to the University of New Mexico. His attitude was nothing but positive. He just fit in right away and contributed in the wins. We got another shooter and a great defender with length. Tavian is a great kid, and he will continue to succeed at the next level."
PHS senior Bryce Hamilton: "Tavian was a big part to our team. He brought his ability to score the basketball from all three levels to help us on the offensive end and his athleticism which gave problems to our opponents on both ends of the floor. Tavian will have a successful college career at New Mexico. He's only going to get better and will help his team out a lot with his abilities."
Tavian Percy's 2018 Postseason Numbers:
CIF State Playoffs
CIF Division 1 State Playoffs (first round) vs Narbonne: 20 points (9-of-13 shooting)
CIF Division 1 State Playoffs (second round) vs Taft: 21 points, 7 rebounds (10-of-17)
CIF Division 1 State Playoffs (third round) vs Chino Hills: 14 points (four 3-pt baskets)
CIF-Southern Section Playoffs
CIF Division 1 Final vs Chino Hills: 16 points, 4 of 6 from 3-Point Range
CIF Division 1 Semifinal vs Rancho Verde: 5 points
CIF Division 1 Quarterfinal vs Damien: 12 points, 9 rebounds
CIF Division 1 Second Round vs Loyola: 13 points, 9 rebounds
2017-18 Pacific League Standings:
Pasadena (25-8, 13-1)
Muir (24-9, 12-2)
Crescenta Valley (16-13, 8-6)
Burbank (17-11, 7-7)
Glendale (18-10, 6-8)
Arcadia (10-12, 6-8)
Burroughs (12-14, 3-11)
Hoover (5-22, 1-13)