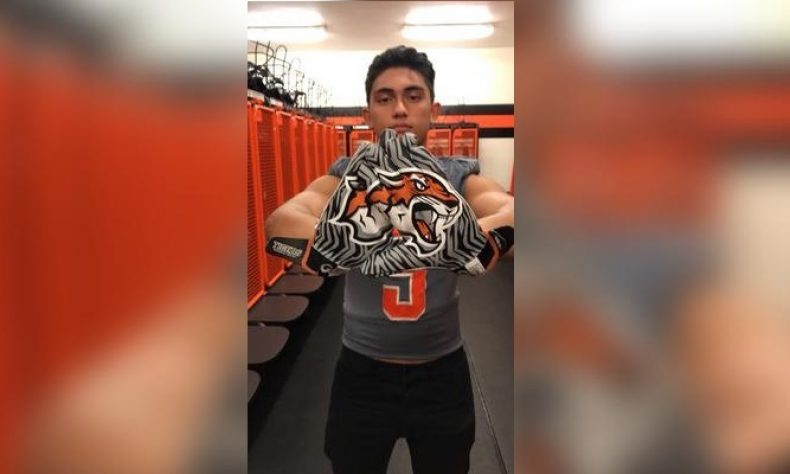 By Brian Reed-Baiotto, Sports Editor When thinking about the 2017 St. Francis football program, the first names that probably come to mind are Darius Perrantes, Greg Dulcich, Elijah Washington and Blake Howard, and deservedly so, as all four had MVP-type seasons. The Golden Knights, however, wouldn't have had their best and most successful season since […]
By Brian Reed-Baiotto, Sports Editor
When thinking about the 2017 St. Francis football program, the first names that probably come to mind are Darius Perrantes, Greg Dulcich, Elijah Washington and Blake Howard, and deservedly so, as all four had MVP-type seasons.
The Golden Knights, however, wouldn't have had their best and most successful season since 1964 without selfless, team-first guys like Isaac Cordova.
St. Francis went 12-2 and earned a spot in the CIF-SS Division 3 title game for the first time in 53 years.
And while other players were more often in the limelight and headlines, Cordova was the guy downfield opening holes with his blocks, or knocking down passes and making tackles from the defensive backfield.
To this writer, Cordova was the unsung hero on that team, because he genuinely got as much satisfaction out of a block or batted down pass or tackle as he did from scoring.
All he cared about was winning games and doing his part, and Cordova didn't seek any attention for what he would tell you was just doing his job.
Don't get this wrong, his stats put him in an elite status among players in the area or section.
But what he did that you might not see on a stat sheet were just as important if not more, because of what those blocks or tackles or drive-sustaining catches meant for his program.
Cordova was third on St. Francis in receptions (26), yards receiving (484) and touchdowns (4).
On the defensive side of the ball, he was third in total tackles (62), and second to Blake Howard with 48 solo tackles.
He also had an interception on defense, but it was what he did for his teammates and their success that made him such a valued and revered teammate, and it also made him one of the most complete players in the area.
Watching No. 11 on the field was a thing of beauty, because you were witnessing a fundamentally-sound and technically advanced kid making plays against opponents that some might think were or at least looked bigger, stronger or faster.
At the end of many, many plays, you would see Cordova picking himself off the grass and dirt.
But far more times than not, it was after he had knocked an opponent on his butt, and either a St. Francis running back or receiver had benefited from Cordova's selflessness, which allowed them to get downfield or in the end zone.
All that success and all the sacrifices he made before and during the season made this past weekend possible, as Cordova committed to continue his collegiate ball at Occidental and for a school he's always dreamed of attending.
"I've loved this school since the first time I walked on the campus and I like knowing I'll have the opportunity to compete for a spot early on (in his college career)," Cordova said. "I can't wait to get there and start working with my new teammates."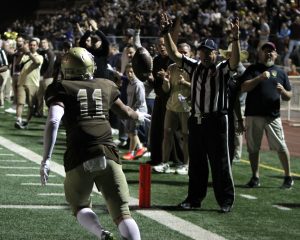 Cordova will major in Biology and hopes to be a dentist one day down the road.
His parents, Rio and John, and sister, Sydnee, were and are his biggest fans, and despite the location of games changing from La Canada to Eagle Rock, they'll still be on hand to root for their son/brother.
As part of such a special team, including a core of seniors that did so much for the school and program, Cordova looks back on his time with satisfaction and pride.
Two of his most memorable experiences was a first reception of the season that he took 64 yards for a touchdown against Mira Costa in the season opener.
And the other being a Kevin Armstead interception at the end of the La Serna game in the first round of the playoffs that allowed for the Golden Knights to defeat not only the Lancers for the second time that season, but also victories over Citrus Hill and El Toro, respectively.
What would he want to tell his family, his coaches and teammates?
"I am so thankful to my parents and sister for always supporting me in everything I do and for their love, and I want to let my teammates and coaches know that it was an honor to go to battle with you every day. I am so proud of this class (of seniors) and how everyone fought for each other and the greater collective good."
Quotable:
St. Francis coach Jim Bonds: "Isaac had a season for the ages. I'm not sure we could have asked him to do much more. On offense, he ran precise routes and if the ball was near him, he was coming own with it. But it was all the little things that he did that excite you as a coach. He was an unbelievable blocker. He is extremely smart and in a pinch, could have played any of the skill positions on offense. On defense, he was always in the right place at the right time. He was not afraid to hit anybody, and he was also helpful in getting us lined up pre-snap, because he is so intelligent. I think Occidental is a great fit for him, and I look forward to watching him play over the next four years."
St. Francis senior Blake Howard: "Isaac is a great guy, both on and off the field. He's always been one of the hardest workers ever since we played against each other in middle school. He is extremely talented and has a great attitude. He's always willing to go the extra mile to push himself to the top. He's also one of the funniest guys you'll meet and he has a great personality."