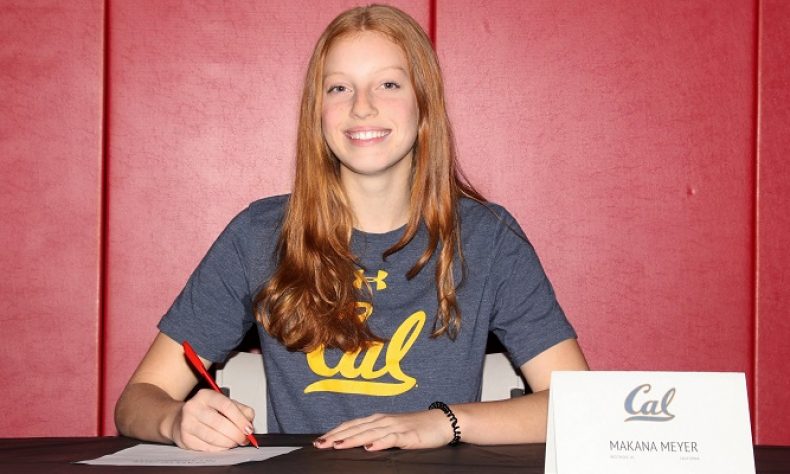 Makana Meyer Cal Signing By BRIAN REED-BAIOTTO, Sports Editor Makana Meyer has always wanted to attend the University of California at Berkeley. Her grandmother and aunt attended the school. The only scenario that could top that of being a student at Cal for Meyer would be competing for the Bears' women's volleyball program. Meyer, and […]
Makana Meyer Cal Signing
By BRIAN REED-BAIOTTO, Sports Editor
Makana Meyer has always wanted to attend the University of California at Berkeley.
Her grandmother and aunt attended the school.
The only scenario that could top that of being a student at Cal for Meyer would be competing for the Bears' women's volleyball program.
Meyer, and her tag-team partner at Westridge, Allison Martinez, (the two-time Pasadena Sports Now Girls Volleyball Player of the year & a future Cal State Long Beach player), earned back-to-back Prep League championships in 2016 and 2017.
They also made consecutive trips to the CIF-SS semifinals and did so in two different divisions, as well as compiling the most wins and best winning percentage of any two-year run in school history.
Meyer was exceptional with 796 career kills, 64 blocks, 353 digs and 125 aces over the past two-plus seasons in Pasadena.
Her size, success, athleticism and work ethic earned Meyer the chance to play for the University of California at San Diego and she couldn't have been more happy about that school, the coaches and what would have been her teammates.
But after her prep volleyball career ended back on November 18 at Olympian High in Chula Vista in the CIF State Division 2 playoffs, Meyer's stock has gone way up.
She and Martinez play for the San Gabriel Elite's (Club Volleyball) 18 Roshambo and they have had remarkable success.
They finished first in Dallas, third at the SCVA in Anaheim and they will compete in the Junior Nationals at the end of April in Anaheim.
"In just the last couple months, I'm almost a completely different player. I've had a lot of growth and change," Meyer said.
Meyer's profile, because of her play, has continued to ascend, and it set up the opportunity for her to play Pacific-12 Conference volleyball when Cal made it clear that they wanted Meyer in Berkeley.
Meyer didn't like having to tell UCSD she had decided to decommit, because they had been so kind and supportive and she was genuinely looking forward to living in San Diego and playing college volleyball.
But sometimes things fall into place and this is one of those rare moments.
"It wasn't fun at all, and I hope they know how difficult it was for me, but this was a once in a lifetime opportunity that I couldn't turn down," Meyer said. "I have been told I could never play at a school like Cal, and because of hard work and teammates at both Westridge and San Gabriel Elite, I am going to live out my dream playing Division 1 and Pac-12 volleyball."
Quotable:
Westridge and Brooklyn Elite volleyball coach Otto Lacayo: "Makana's growth has been one for the books. Ever since I've known her, she has been determined to be an NCAA Division 1 athlete, and she now gets to complete in the Pac-12. I'm beyond excited for her. All of her success is well deserved and her journey has been nothing short of inspirational. I'm extremely proud to have witnessed her pre-collegiate career and I know she will make the Golden Bears proud. Berkeley just picked up a tremendous athlete, a fierce competitor and a dedicated team leader. I can't wait to watch her play in that blue and gold."