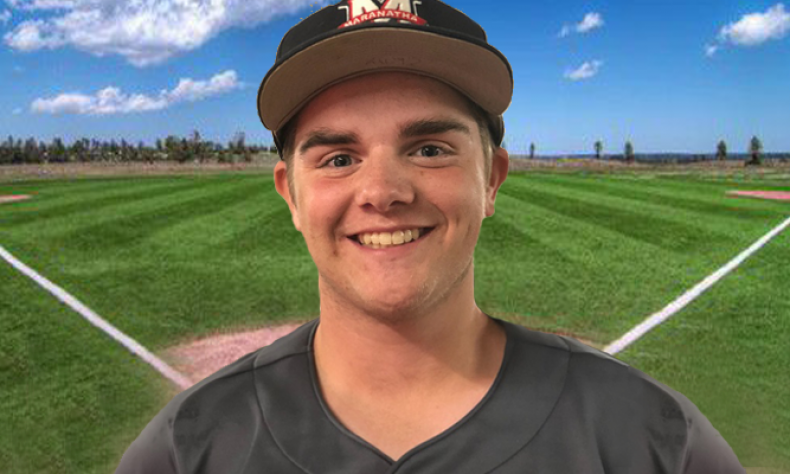 From STAFF REPORTS The Maranatha High School pitching staff has now gone 46 consecutive innings without allowing a run. The Minutemen earned a six-inning, 10-0 victory at Valley Christian in Cerritos on Friday afternoon. It's their seventh consecutive victory via shutout and they haven't allowed a run since the third inning of their April 21 […]
From STAFF REPORTS
The Maranatha High School pitching staff has now gone 46 consecutive innings without allowing a run.
The Minutemen earned a six-inning, 10-0 victory at Valley Christian in Cerritos on Friday afternoon.
It's their seventh consecutive victory via shutout and they haven't allowed a run since the third inning of their April 21 match up with Oxford Academy.
MHS has won 13 games in a row, and need just one win next week to earb the Olympic League title outright.
Will Downing went the first five innings and only allowed two hits.
Downing didn't walk a batter and he struck out five.
In 30 innings pitched this season, Downing has not surrendered a single run.
He's walked two batters over that period and struck out 34.
JP Caire went the final inning and escaped without any harm.
Caire walked a pair of VC batters, and he struck out two.
Max Blessinger went 2 for 4 from the leadoff spot, he scored twice and drove in a pair of runs.
Nick Iverson doubled, walked, scored twice and had an RBI.
Casey Popham doubled, scored and had an RBI.
Sal Tabullo walked twice, singled, scored and drove in one run.
Dawson Netz doubled in one run and Charles Acker went 1 for 1 with two RBIs.
Jacob Moreno had two hits and scored a run for MHS.
The Minutemen can wrap up the Olympic League outright title when they host the reigning champs from Village Christian on Tuesday night at 6 at Brookside Park.
Dawson Netz, who is 8-0 and on a 48-inning scoreless streak will get the ball.
Brett Garcia and Hank Brown had one single apiece to account for the VC offense on Friday.
Box Score:
M: 1-3-0-2-2-2-(10)
VC: 0-0-0-0-0-0-(0)
Win: Will Downing
Loss: Ryan Bloom
2B: Nick Iverson (M), Dawson Netz (M), Casey Popham (M)
Records: Maranatha (20-4, 10-0); Valley Christian (10-16, 1-10)