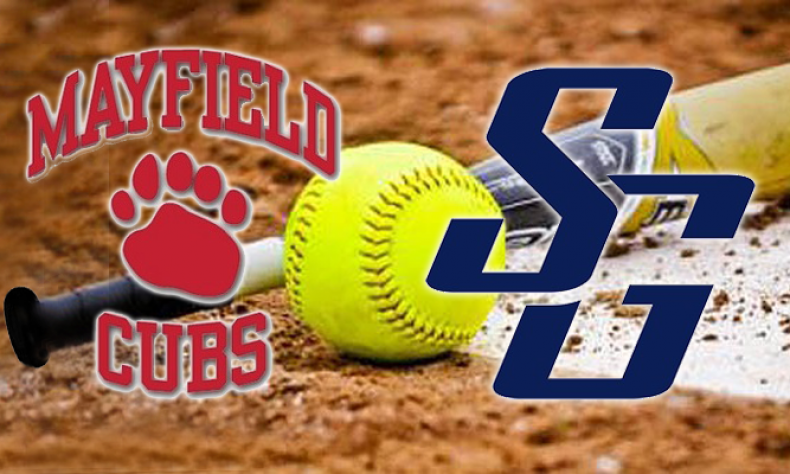 From STAFF REPORTS Just when you thought Mayfield was going to go one-and-out in the playoffs because of their poor finish in the regular season, the Cubs showed Thursday why they were the Prep League's co-champions. Mayfield, behind five scoreless innings in the circle from Jaylin Domingo earned a five-inning, 10-0, mercy-rule victory over visiting […]
From STAFF REPORTS
Just when you thought Mayfield was going to go one-and-out in the playoffs because of their poor finish in the regular season, the Cubs showed Thursday why they were the Prep League's co-champions.
Mayfield, behind five scoreless innings in the circle from Jaylin Domingo earned a five-inning, 10-0, mercy-rule victory over visiting St. Genevieve.
Domingo allowed just two hits, didn't walk anyone and struck out two to earn the victory.
She also went 1 for 2 at the plate, with a walk, two runs scored and a pair of RBIs.
Alyssa Romo finished 2 for 3 with a double, triple, scored once and drove in three runs.
Taylin Yankovich singled twice, drove in a pair of runs and scored once.
Julia Watson walked twice, singled, scored once and drove in two runs.
Megan Moffatt went 2 for 3 with a pair of singles, one run scored and an RBI.
Mayfield will face the Orange Vista-Moreno Valley winner on Tuesday.
Box Score:
SG: 0-0-0-0-0-(0)
M: 0-6-0-0-4-(10)
Win: Jaylin Domingo
Records: St. Genevieve (8-8-1); Mayfield (16-7)