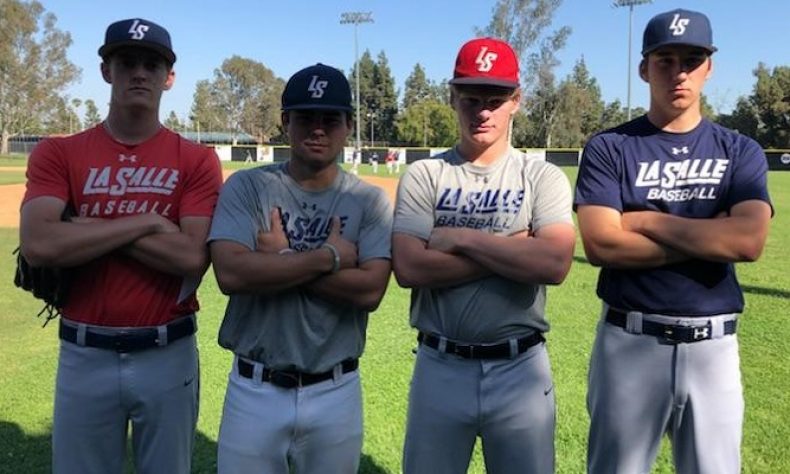 By BRIAN REED-BAIOTTO, Sports Editor For those who have followed the 2018 La Salle baseball season, it could be argued that the Lancers rode a roller coaster with a ferocity only appropriate for Magic Mountain. La Salle won their first five games and seven of eight. And as fun and rewarding as baseball can be […]
By BRIAN REED-BAIOTTO, Sports Editor
For those who have followed the 2018 La Salle baseball season, it could be argued that the Lancers rode a roller coaster with a ferocity only appropriate for Magic Mountain.
La Salle won their first five games and seven of eight.
And as fun and rewarding as baseball can be to those who share the passion for this game, it can be equally frustrating, challenging and depressing.
La Salle went on a four-game losing streak midway through the season, and a couple weeks later, they dropped a pair of one-run games to a St. Paul team that can't really match the Lancers' talent.
After that two-game sweep at the hands of the Swordsmen, La Salle fell in the Del Rey League standings from second to third place.
They also faced a real scenario that the playoffs were far from a guaranteed proposition, especially considering a two-game match up with first place and undefeated Bishop Amat was up next.
But just when it looked to some of us on the outside that the death knell was ringing, this program held a team meeting to discuss the immediate future and whether they had the heart to pull a 180-degree turn and move forward over the final two weeks of the regular season.
They answered that question with a resounding 'yes.'
La Salle swept Amat and then went on to sweep the Del Rey League's bottom feeders from Cathedral to finish in second place.
The four consecutive Del Rey League wins has set up today's (Friday) match up at Charter Oak (14-11) in the first round of the CIF-SS Division 3 playoffs.
But how did La Salle make such a dramatic about face so late in the season?
It's pretty simple, they've gotten contributions from each and every player that takes the field, but none have needed to pull their weight more than seniors Ethan Patrick, Brennen Mace, Zane Lindeman and Landon Smith.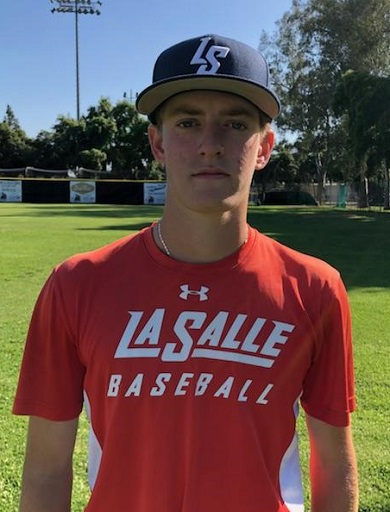 Landon Smith has had an incredible senior year, with all things considered.
The 6-foot-1 right hander didn't get his first real taste of varsity baseball until this, his senior season.
Smith has been clocked in the low 90's and while his skinny physical appearance isn't going to intimidate anyone, he's put up elite numbers throughout the 2018 season.
In fact, he's been so impressive that he'll be pitching at St. Mary's College next year despite having just one year under his belt at the varsity level.
His evolution has impressed coaches, teammates and opponents alike.
Smith is 4-1 with a 1.73 ERA.
He's walked 23 and his 54 strikeouts are third best in the area.
Maranatha's Dawson Netz has 88 strikeouts and Poly's Matt Queen has 57 through the regular season.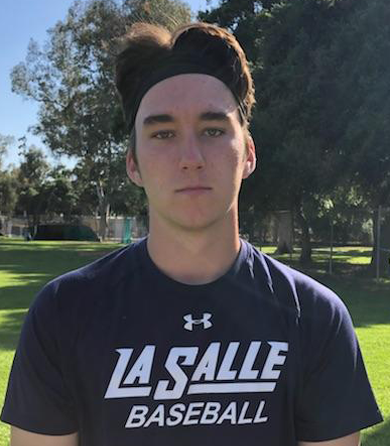 Zane Lindeman, the reigning 2017 Pasadena Sports Now Pitcher of the Year would be the first to tell you he didn't have his best stuff and wasn't healthy until midway or so through the season.
And until Lindeman got on the roll he's currently enjoying, in many ways, Smith served as the Lancers' ace early this season.
His fastball, as mentioned, is on pace with the area's and section's best when it comes to velocity and as of late, Smith and Jeff Daley have combined to be a very effective 1-2 punch in games Smith starts.
Zane Lindeman, along with Maranatha's Dawson Netz have been the area's most consistent big-game pitchers over the past two years.
But that is nothing new for the 6-foot-4 senior.
He boasts a remarkable 21-7 career record over the past three years, which includes a no-hitter back on April 19 last season over San Pedro in the St. Paul Tournament.
Lindeman, over the past 36 months, has walked 33 batters and fanned 146 over a combined total of 192 innings.
Of those 33 walks, only four have come in 2018.
Lindeman and Netz are the area's only two pitchers with a better than 10-to-1, strikeout-to-walk ratio.
His 1.32 career ERA is very impressive, but it's when he raises his game to the next level that impresses his coaches and teammates the most.
Lindeman is his best in the biggest games and when his team needs it most, which included his three-hit shutout over Amat, and an eight-strikeout victory in his next start over Cathedral.
Among his career resume and biggest wins includes a 3-0 shutout over Santa Monica last year in the first round of the CIF-SS Division 3 playoffs.
Lindeman will play his college ball next year at Cal Poly San Luis Obispo.
But for now, the senior's full attention is on Charter Oak in Covina, where the Lancers face off with the Chargers at 3:15.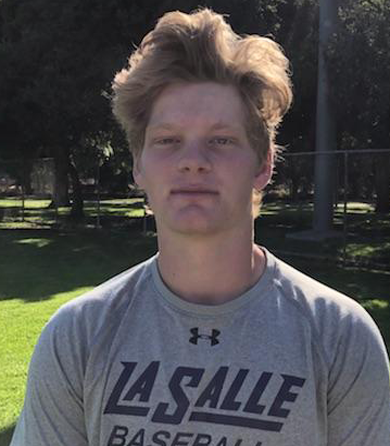 Brennen Mace is, to this writer, the area's most under-appreciated baseball player in 2018.
He reminds us a lot of St. Francis football player Isaac Cordova, as both Cordova and Mace quietly contributed in so many ways to their programs' success, and did so while others were getting the majority of the credit or headlines.
Mace's ascension at the plate is only half of his remarkable story, and only part of his value to the Lancers' program and its success.
In three seasons, Mace has seen his average go from a less than impressive .077 to .141 in his sophomore and junior years, respectively.
This season, though, Mace is hitting .424 with 25 hits.
He's scored 11 runs, driven in 14 and has six doubles.
Mace is second best (on his team) in average, hits, doubles and RBIs.
He's more than doubled his batting average and RBIs from 2017 and tripled his doubles' tally from last season.
As mentioned, his bat is only half of what Mace contributes to first-year coach Eddie McKiernan's program.
His steadiness and solid play behind the plate has been hailed by his pitchers.
In fact, senior Jeff Daley calls Mace "my catcher," and went on to say "I have so much faith in him behind the plate and the game he calls, that I can relax on the mound and throw any pitch the situation calls for."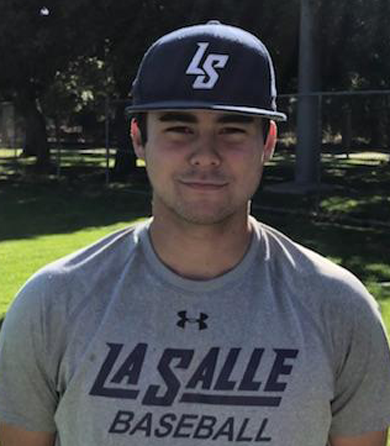 Ethan Patrick is a flat out stud.
To baseball purists or those of us who have played the game at a high level, you can't help but appreciate and admire what all Patrick brings to the field and within the clubhouse.
He'll play his college ball at Loyola Marymount in the near future, but for now, he's hoping to lead his program in the postseason, and all while padding his near unparalleled career statistics.
The senior shortstop covers a lot of range and makes plays that impress all, but it's his contributions at the plate that separate EP from almost everyone.
The reigning Pasadena Sports Now co-Player of the Year with Maranatha's Eddie Lopez and Marco Martinez leads La Salle in almost every offensive category.
Patrick is batting .432, which is sixth best in the area and his 35 base hits are third, behind Max Blessinger (43 hits) and Poly's Franco Alonso (38).
He's scored 18 runs, driven in 18, has seven doubles and has six of La Salle's seven triples.
Patrick leads the program in every category, except for runs, where Henry Kavanaugh's 20 are two better than EP.
His career stats are pretty astounding.
Patrick has a career (cumulative) batting average of .401, which includes 108 career hits, 56 runs scored, 45 RBIs, 23 doubles and 13 triples.
Perhaps Patrick's most impressive stat is one that shows just how consistent and elite his career play has been.
In his three years on varsity, Patrick's 31, 42 and 35 hit totals, respectively, have paced the Lancers' offense.
And if all that wasn't enough, Patrick and volleyball star Sophie Anderson makes up the campus' best-known power couple at La Salle.
Quotable:
La Salle coach Eddie McKiernan on his four star seniors: "Ethan is a hard-working kid. I'm always impressed with his leadership and work ethic. The kid will have a great future. Zane makes great adjustments after facing guys once or twice. He is a bulldog, who refuses to lose when it matters most.
Landon worked extremely hard this summer and fall. He's going to St. Mary's and has a chance to be a really good college pitcher and hopefully further. Landon and Zane's value to our staff is equal and both push each other. Brennen and I have always had a great relationship. The kid has always worked hard for me and has been dialed in. He's become a much better hitter because he committed himself to the approach and it's paid off big time."
La Salle senior Ethan Patrick: "This season has been full of ups and downs. After we lost the series to St. Paul, we knew something had to be changed. The coaches and seniors held a meeting and we talked about what needed to be done in order to be successful. Ever since we had this meeting, we worked harder in practices and we started to play better baseball. This year's team is a lot more relaxed than last year. I really think this helps us play loose and have fun while we are playing. I feel like my role on the team is to lead by actions. I think when I do well, it motivates the other guys to do well behind me. This ultimately helps us win ball games. Our pitching rotation is by far one of the best rotations in the area. Zane and Landon are both unstoppable. They have both played a huge role in getting us into the playoffs."
La Salle senior Brennen Mace: "I have improved my hitting this season by changing my entire approach at the plate and being more aggressive. I shortened up my swing and with RISP (runners in scoring position) I rarely take hittable pitches. I also try to drive the ball the other way because all my power is to right center. Repetition and quality swings have helped keep my swing consistent. Pitchers and catchers are the two most important positions on the field and it is a necessity that they work together. I provide comfort for my pitchers because they understand I am willing to block any ball regardless of location and when tested, I have an arm capable of throwing out the majority of base stealers.
With Jeff (Daley) in particular, we like to have a fast tempo because it builds momentum and gets our guys back in the dugout. Not every team has the luxury of having 12 seniors and I believe that is why we have the mental toughness other teams lack. The work ethic at practice is intensifying because there are so many guys who want to make a CIF run. There were times this season when we really had to hold one another accountable and that is why we found success late in the year. The biggest turning point in our season was when we beat Amat twice in one week. It built our confidence tremendously and for the young guys, it showed them that anything is possible."
La Salle senior Landon Smith: "Among my own teammates who had been on varsity prior to this year such as Ethan and Zane, no mentality change was needed because we all knew what we expected of each other coming into this year. When it comes to playing opposing teams, I was forced to start mixing in off-speed pitching and working the corners of the plate if I wanted to be successful at the varsity level. As long as I remembered that my abilities either matched or exceeded that of my competitors, I was fine out there on the bump.
Success on the playing field didn't come as a surprise necessarily, but it did come very rapidly. I believe my success stemmed from a point about a year ago when I realized I was headed into my senior season and I asked myself 'do I really want baseball to be over for me?' My success came out of me running from the end of my career, and my desire for success has since opened up doorways to new places I had never once thought I could visit."
La Salle senior Zane Lindeman: "I think it's been (peaking at the right time of the season) taking care of myself. I understand my arm better and I know what I need to do to stay sharp. I wasn't sharp in the first half, so it was huge for Landon to step up in the way he did. He's shut down pretty much everyone this year. He's grown so much this past year and it's been fun to watch. You can't be satisfied (regardless of how well you're playing). You always want to keep improving. If you don't, there's someone who's hungrier who's going to take your spot. I have some really good people around me, like Coach Eddie, Coach Schmitty, and they've helped me improve with the mental side of the game a lot. And I can't understate how much the energy of the team has helped towards the end of the season. It's a lot easier to pitch knowing you have a team who's locked in and with you."
La Salle Baseball Records By Year
2018: 14-10, 1-1
2017: 20-15, 1-1 in playoffs
2016: 20-8, 1-1 in playoffs
2018 Del Rey League Standings:
Bishop Amat (16-11-1 overall, 10-2 in league)
La Salle (14-10, 8-4)
St. Paul (11-14, 5-7)
Serra (13-14-1, 4-8)