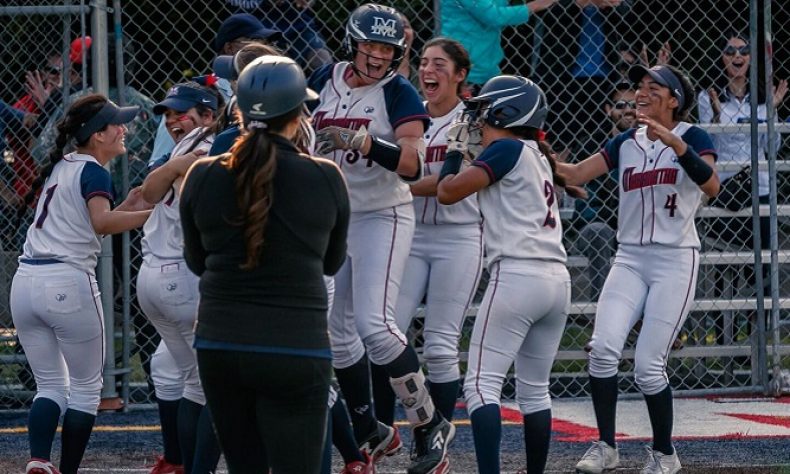 From STAFF REPORTS | Photos courtesy of BigCasino.smugmug.com It had been five years since the Maranatha softball program had won a playoff game. After seven scoreless innings by both pitchers, Heritage's Janae Hernandez hit a solo home run off MHS sophomore Devyn Netz to take a 1-0 lead in the top of the eighth inning. […]
From STAFF REPORTS | Photos courtesy of BigCasino.smugmug.com
It had been five years since the Maranatha softball program had won a playoff game.
After seven scoreless innings by both pitchers, Heritage's Janae Hernandez hit a solo home run off MHS sophomore Devyn Netz to take a 1-0 lead in the top of the eighth inning.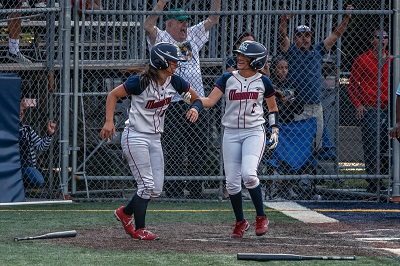 Down to their final three outs and with the season on the line, Miranda Lopez singled home Gracie Rose to tie the game at 1-1.
Two innings later, Maranatha got the walk-off, 2-1 victory when Priscilla McAllister led off the 10th inning with a double.
The Maranatha junior scored when Netz hit a sharp ground ball into the hole and the Patriots' shortstop overthrew their first baseman.
McAllister went 5 for 5 and Caroline Diehl singled and doubled for MHS.
Netz earned the victory in the circle, going all 10 innings and allowing that one run on four hits.
The sophomore walked two and struck out 15.
Lauren Granados, Gracie Rose, Miranda Lopez and Lauren Ramirez had one hit apiece for the Lady Minutemen.
Maranatha will travel to La Canada (22-4-1) on Tuesday in the second round.
The Spartans defeated West Valley, 3-1, on Thursday.
Quotable:
Maranatha coach Sammy Skinner: "It was a great game by both teams. Our home crowd was fantastic. Every single one of our kids contributed in some way. From cheering and encouragement from the dugout to timely hits and a solid defensive effort. I am so proud of all our young ladies and coaches."
Maranatha pitcher Devyn Netz: "I definitely couldn't have done this without my (entire) team. This win was not just impacted by one player. It was impacted based upon each player's contributions. Our team bond is special and I believe that we can go far as long as we play for each other."
Box Score:
Heritage: 0-0-0-0-0-0-0-1-0-0-(1)
Maranatha: 0-0-0-0-0-0-0-1-0-1-(2)
Win: Devyn Netz
Loss: Anniyah Farley
Records: Heritage (14-13); Maranatha (16-6)