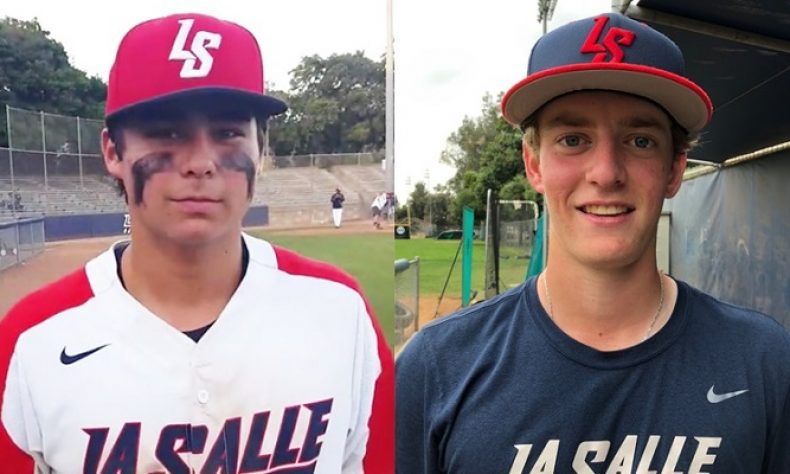 Ethan Patrick (l) and Landon Smith (r) From STAFF REPORTS When asked about his pitcher's performance Tuesday afternoon, La Salle shortstop Ethan Patrick said "Landon (Smith) just 'pitched the game of his life.' Smith conceded that he had never been in this position before, considering this is his first year on varsity. But that's what […]
Ethan Patrick (l) and Landon Smith (r)
From STAFF REPORTS
When asked about his pitcher's performance Tuesday afternoon, La Salle shortstop Ethan Patrick said "Landon (Smith) just 'pitched the game of his life.'
Smith conceded that he had never been in this position before, considering this is his first year on varsity.
But that's what makes Landon Smith's story so special.
A guy that hadn't seen any real time until his final year in high school throws a two-hit shutout over the fourth seed from Temecula Valley.
And he did so in a 1-0 victory in the second round of the CIF-SS Division 3 playoffs, and in a game some local scrubs predicted they would lose.
Some 96 hours after Zane Lindeman went the distance at Charter Oak, it was Smith's turn and he answered the bell in a big way.
Temecula Valley, which won 10 more games than La Salle in the regular season had one real shot early on.
The Golden Bears had runners on second and third base with one out in a 0-0 tie.
Smith, though, struck out the next better and got himself out of the jam with a harmless fly out.
La Salle's and the game's lone run came in the bottom of the fifth.
Ethan Patrick, who had three hits in the game, led off with a double.
Mark Daley laid down a bunt and in an attempt to nail Patrick at third, the ball was overthrown and Patrick jogged home for what turned out to be the game-winning run.
Smith didn't walk a batter and struck out three in a masterful 83-pitch performance.
Max Rangel was saddled with the loss after scattering six hits and giving up the one unearned run. He walked a pair of batters and struck out six.
The last out, a fly-ball to Mark Daley in center field capped a special afternoon for the Lancers' program.
La Salle will head to Lake Elsinore on Friday to take on Temescal Canyon.
The Titans (22-8-1) shut out Long Beach Poly, 5-0, in their second round game on Tuesday.
Zane Lindeman, who has a career record of 22-7, is expected to get the start for the Lancers.
Quotable:
La Salle coach Eddie McKiernan: "Landon was great and pounded the zone. He worked ahead in counts and had some quick innings so we could get back in the dugout and hit. I am very proud of him. He pitched the way that we all knew he can pitch. St. Mary's is going to be lucky to have him next year."
La Salle pitcher Landon Smith: "I could tell in about the first and second inning that I had the stuff I needed to compete and put up a good fight. My inside fastball was getting most out of the outs. It was my go-to pitch. There was a point in the seventh inning where I thought to myself, 'how did I get here,' and then I snapped out of it because I still had work to do."
La Salle shortstop Ethan Patrick: "It was a huge win for the team and for Landon. I personally think Landon pitched the game of his life. The offense was just not getting the job done, but Landon did an outstanding job of keeping us in the game. Winning this game over the fourth overall seed (Temecula Valley) gives us a lot of confidence going into Friday."
Box Score:
TV: 0-0-0-0-0-0-0-(0)
LS: 0-0-0-0-1-0-X-(1)
Win: Landon Smith
Loss: Max Rangel
Records: Temecula Valley (26-6); La Salle (16-10)