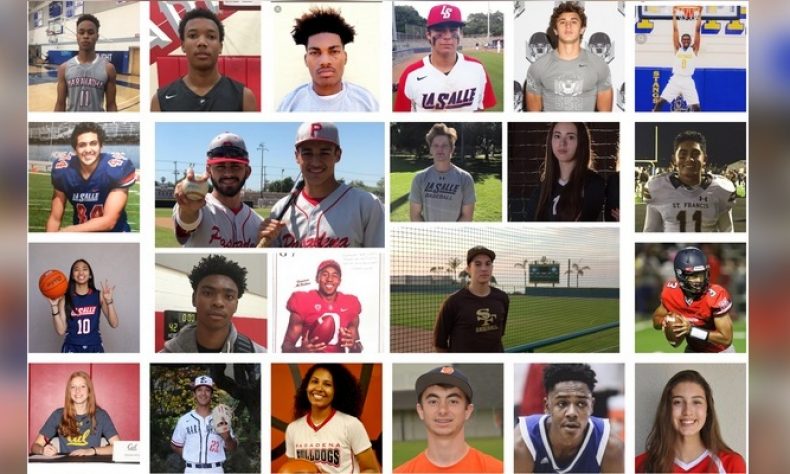 By BRIAN REED-BAIOTTO, Sports Editor When Maranatha and Poly walked off the baseball field Saturday at Cal State Fullerton and UC Riverside, respectively, as CIF-SS champions, it officially marked the end of the 2017-18 prep sports season. We're looking back on a banner year and celebrating the accomplishments of an incredibly star-studded senior class. It […]
By BRIAN REED-BAIOTTO, Sports Editor
When Maranatha and Poly walked off the baseball field Saturday at Cal State Fullerton and UC Riverside, respectively, as CIF-SS champions, it officially marked the end of the 2017-18 prep sports season.
We're looking back on a banner year and celebrating the accomplishments of an incredibly star-studded senior class.
It all started with football season back in late August.
St. Francis (12-2) continued to pace the area's programs with excellence.
The Golden Knights finished second in the Mission League just one-game back of Cathedral after going 4-1 in league play.
But thanks to seniors Blake Howard, Greg Dulcich, Elijah Washington, Gabriel Grbavac, Isaac Cordova and so many others, St. Francis made their way to the CIF-SS Division 3 championship game for the first time since 1964.
And while the final play of the game saw Rancho Verde connect on a game-winning field goal, something that still sticks in the craw of many, including this writer, the 2018 senior class at St. Francis has raised the bar for classes to come.
Dulcich took his game to the next level in the postseason and will now fight for playing time at UCLA.
The 6-foot-4, two-sport athlete, caught 50 passes for 1,168 yards and 12 touchdowns. He also filled in competently at quarterback when needed.
Howard, who will attend the University of Alabama, joined Dulcich and junior QB Darius Perrantes as the 2017 Pasadena Sports Now Football Players of the Year.
The multi-skilled Howard had 37 receptions for 581 yards and 7 TD's, and he led the Golden Knights defense with 70 tackles and 4 sacks, as his best buddy, Gabriel Grbavac was second with 66 tackles and 4 sacks.
Elijah Washington will continue his playing career at the U of La Verne. The SF captain (along with Dulcich and Matt Barriga) had an amazing senior year and fought through the final two playoff games injured.
Washington led SF with 1,005 rushing yards and 16 TD's, and he caught 20 passes for 329 yards and two additional scores. Number 25 also held his own at linebacker.
Cordova was someone we believe didn't get enough credit for doing all the little things well (catching passes, making blocks and tackles, and ask any of his teammates or coaches and they'll tell you SF was not in the title game without his production.
Cordova will continue at Occidental and is fighting for playing time right away, thanks to his final prep year, where he caught 26 passes for 485 yards and four touchdowns. He also had 62 tackles on defense.
Poly started the year 1-1-1 after a season-opening loss at Temple City, a victory over Mission from British Columbia and a triple overtime tie at Brentwood.
The Panthers, though, went on to win their next seven games before exiting in the first round of the playoffs.
Graham Olson threw for 9 TD's and rushed for three more scores.
Cameron McFarlane, who will head to Stanford to get ready for football season, rushed for team-highs in yards (608) and touchdowns (11).
McFarlane was second to Franco Alonso with 63 tackles, but his numbers would be much different had the Panthers not blown out six consecutive opponents, which saw many of the Poly stars taking many second halves off.
Christian Henderson scored four combined touchdowns and Jackson Hayes scored six receiving TD's, two on the ground and he led Poly with nearly 1,200 yards of all-purpose yardage.
Maranatha (6-4) had a huge bounceback season.
One year after going 3-6-1, the Minutemen went 6-5 behind their star quarterback Kwon Peterson.
Peterson threw for nearly 2,100 yards and was second in the entire area with 21 touchdowns and was picked just six times. He also rushed for 214 yards and another score on the ground.
Peterson hit senior Awan Parker for almost 700 yards and 8 TD"s.
Parker also had a team-best five rushing TD's and 334 yards.
Sumner Ortlund had 354 yards receiving and four scores.
La Salle had a brutal season, going 3-7, and this postseason got even tougher.
Seventh-year coach Russell Gordon stepped aside after the season to be closer to family and is now in charge of football operations at Antelope Valley College.
After Gordon's departure, almost every skilled player transferred out to a number of schools, with Arcadia getting much of the Lancers' talent.
Jacob McDonough and Dante Coxsom, the only two seniors at receiver, combined for almost 300 yards and two scores.
One of the few bright notes for 2017 was senior linebacker Joey Rivera, who led the entire area with 94 tackles.
The undersized senior was everything that's right about high school sports.
That brings us to girls volleyball, also in the fall season.
La Salle led the way behind sixth-year coach Tiare Tuitama, who has the area's only two CIF-SS titles since taking the reigns back in 2012.
And despite drama that was avoidable, Tuitama and the Lancers (28-7) made trips to the CIF-SS Division 3 and CIF-State Division 2 finals.
The Lancers fell in both title games to an incredible Sierra Canyon team.
Seniors Tori Ashkinos, Sophie Anderson, Sophia Sanchez and Claire Forrest all played enormous roles in the Lancers' success.
Westridge (25-6) had a two-year run that this school had never seen.
Thanks to the play of seniors Allison Martinez, Makana Meyer and Eryn Boken, the Tigers earned back-to-back Prep League championships, and this past season, they went 12-0 in league play.
In our opinion, Martinez, who will play at Cal State Long Beach, and Meyer, who will play her collegiate play at Cal-Berkeley were the best 1-2 punch, especially considering how much was expected of them.
Martinez, the two-time Pasadena Sports Now Girls Volleyball Player of the Year is considered the best player in school history and someone that shattered the school's record books, and Meyer has seen her stock rise exponentially on the club ball circuit.
Boken was a very solid contributor to a program that made consecutive semifinal runs in the CIF-SS playoffs, even after being moved up in 2017.
Their coach, Otto Lacayo, was so sought after because of his ability to stabilize a program at a school not known for their athletics, was hired to run the Brooklyn Elite volleyball club in New York.
The 2017-18 boys basketball season was one for the ages for a pair of rivals.
Pasadena (25-8) won their 15th consecutive Pacific League championship and their second trip to the CIF-SS finals in two years.
The Bulldogs were defeated by Chino Hills in the CIF-SS and CIF-State playoffs, but not before continuing to pace the area as the most consistent and elite program in Pasadena.
PHS was led by seniors Bryce Hamilton, Darius Brown II, Tavian Percy, Omari Moore and Darius Mason.
This is a story about seniors, so, we'll leave Darius Mason out this one time, but make no mistake about it, the soon-to-be PHS senior will be 'the guy' next season for the Bulldogs.
Hamilton, who is already in Las Vegas to attend and compete at UNLV led the area again with his 24 points, 9 rebounds, 4 assists, 3 steals and 4 blocks per game.
Hamilton, according to his coach, Tony Brooks, is one of the three best PHS players in the past 30 years, and was as versatile as anyone in prep hoops.
Darius Brown II was leaps and bounds the area's best point guard and that led Cal State Northridge to claim the Bulldogs' senior as their own.
DBII was remarkable and came back from an early-season injury to run the area's most proficient offense, which included two games with a new-record of 20 assists.
He averaged 16 points, 11 assists, 4 rebounds and 6 steals per game.
Tavian Percy made a name for himself in just one season at PHS by contributing 13 points, 6 rebounds, 3 assists and a pair of steals per game, which landed the 6-foot-6 senior a spot at the U. of New Mexico.
Percy was a rare breed in that his ego was non-existent, while his play and contributions were unlimited and elite.
Omari Moore could never be graded solely by his numbers.
He averaged 9 points, 6 rebounds, 3 assists and 2 steals per game, but his ability to be as versatile and dependable as he was helped make PHS the area's premier program again.
Muir (24-9) had their best season in nearly two decades.
Simaine Stewart did such a remarkable job that we named him the 2017 Pasadena Sports Now Boys Basketball Coach of the Year.
They couldn't necessarily match the talent of PHS for the Pacific League title, but that didn't slow down their record season, including a second-place effort in the Pacific League and a semifinal spot in the CIF-SS Division 3 playoffs.
Muir earned playoff victories over Saugus, La Serna and Walnut in the CIF-SS D3 postseason and they went on to defeat San Marcos of San Diego in the first round of the state playoffs.
The Mustangs were led valiantly by a solid core of seniors, which included Hunter Woods, Haleem Jenkins, Simaine Stewart, Tiyon Martin and Tasson Aubry.
Woods, one of the area's best players, let alone best kids, paced the Mustangs with 21 points, 10 rebounds, 4 assists, 3 steals and 2 blocks per game.
The 6-foot-6 Woods is still looking for a place to play his college ball, and while it's taken too long for those who know the Muir senior, everyone is certain he will find the right location if he's patient.
Tiyon Martin and his stepbrother, Simaine Stewart Junior, were an incredible 1-2 punch as dual points guards.
They combined for 20 points, 10 assists and 5 rebound per game.
Jenkins and Aubry collectively contributed 23 points and 13 rebounds for the Mustangs.
Other area seniors that shined included Blair's Dez Washington (31 points, 8 rebounds), and Maranatha's Fordham-bound Chris Austin (25 points, 6 rebounds and 4 assists) and teammate Xavier Ford (17 points, 3 rebounds, 3 assists).
In girls basketball, Julia Macabuhay was the area's most dynamic player, let alone senior.
Macabuhay averaged 30-plus points per game and carried the Lancers to the CIF-SS quarterfinals.
She had over 10 games of 30 points or more this season, not to mention her skills collecting rebounds, assists and steals.
PHS saw the graduation of senior standouts Mariah Cathcart, Nia Cathcart, Amber Townes and Taurie Magee.
Those four seniors, along with their younger teammates and coach Jett del Mundo have changed the culture and expectation level at PHS as they head into the future.
That brings us to baseball season.
As mentioned above, both Maranatha and Poly won CIF-SS Division 3 and 6 titles, respectively four days ago.
The Minutemen, finished the 2018 season with 20 consecutive victories and that D3 championship.
To make matters worse for future opponents, and for all intents and purposes, MHS loses just Marco Martinez (.405, 32 hits, 28 RBI, 27 runs scored) from this season's championship run.
Poly got remarkable senior seasons from Matt Queen (12-1 on the mound, .389 batting average), Cameron McFarlane (.380), Jackson Hayes (.389), Ty Evans (.326) and Ben Bryson (.487), all of whom played huge in the Panthers' title run.
The Panthers earned D6 playoff victories over South El Monte, Azusa, Ganesha, Pomona and Moreno Valley.
Poly outscored their postseason opponents by a combined margin of 45-8.
La Salle made a remarkable run to the CIF-SS Division 3 title game against top-seeded Maranatha this past Saturday.
The Lancers' began their magical ride over the final two weeks of the regular season, as well as that D3 run, and it was impacted heavily by five solid and productive seniors.
Ethan Patrick, the Loyola Marymount commit, along with Maranatha junior Max Blessinger had the two best offensive seasons in the area.
Patrick, though, didn't have the same back-up from 1-to-9 like Blessinger and the Minutemen enjoyed.
The senior shortstop hit .450 with 48 hits, and game after game, he found a way to make the difference in a Lancers' victory, including a single-turned-inside-the-park base hit that ended up defeating Long Beach Wilson in the D3 semifinals.
Zane Lindeman finished his remarkable prep career 23-8, which included playoff victories this season over both Charter Oak and Temescal Canyon, and the right-hander handed Bishop Amat their first league loss of the year.
Brennen Mace had a giant senior season, batting over .430 with 30 hits and 24 RBI.
Landon Smith had a huge senior year, despite it being his first varsity season.
Smith went 6-2 with a 1.75 ERA and was near the top in the area with over 60 strikeouts.
And last but not least, was the area's most reliable arm out of the bullpen, senior Jeff Daley.
Daley finished 6-2 with 3 saves, and one of those victories came in the semifinal round over LB Wilson, a game that finally put the brainy Daley in the spotlight.
Muir had easily the best season of any area program when it came to expectations.
As mentioned ad nauseam, the Mustangs hadn't seen the playoffs since 1987.
That meant a top-four finish in the Pacific League, and to save some drama, Muir finished in third place, which included a two-game lead over fourth-place PHS and Burroughs.
If that weren't solid enough, especially considering this was done in just the first year of coach Adonis Harrison's reign, the Mustangs went on to earn CIF-SS Division 5 playoff victories over Twentynine Palms and Rancho Christian.
The future is very bright from the program as senior Valente Vera is the only key graduating player.
Vera went 6-4 with a 2.35 ERA, and that included a complete-game victory at Twentynine Palms.
Pasadena's Alvie Castro (.355, 27 hits, 18 runs, 16 RBIs and 6-2 on mound with a 0.89 ERA) and Adrian DePasquale (.400, 26 hits, 10 runs, 17 RBIs) did all they could to keep the Bulldogs in the playoff hunt.
Unfortunately, and out of their (Castro & DePasquale) control, several of their teammates were ruled ineligible late in the season because they failed to maintain a 2.0 GPA and the Bulldogs fell short of a postseason appearance.
St Francis had another sub-par season, but one has to consider they play in a brutal Mission League that includes Harvard-Westlake, Chaminade, Alemany and Notre Dame of Sherman Oaks.
The Golden Knights went 9-20 for the second consecutive season.
One of the area's most consistent players over the past two seasons, Aaron Treloar, had a solid run.The Point-Loma commit hit .329 with 10 runs, 6 doubles, 3 triples and 20 RBIs.
Chris Stamos had a really solid first two-thirds of the season and then got hammered over his final three or four starts, one of which saw him surrender 13 runs to Harvard-Westlake without recording an out.
All things considered, the Pasadena area programs won two major CIF titles with both Poly and Maranatha winning baseball championships, and a pair of runners up with PHS boys hoops and St. Francis football.
And while this (2017-18) prep sports season came to an end some 72 hours ago, the 2018 football season is just 72 days from now, with kickoff set for August 17.