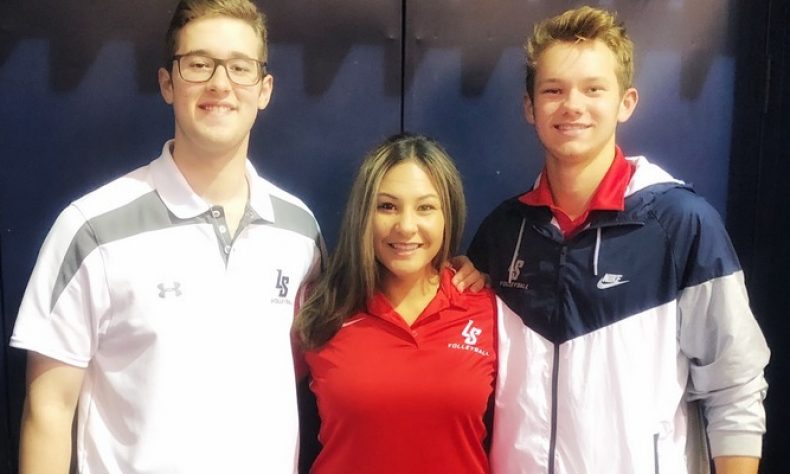 By Brian Reed-Baiotto, Sports Editor It doesn't matter if you're discussing boys or girls volleyball. When it comes to excellence in area programs, the first school that comes to mind in regards to accomplishments and consistency in the past several years is La Salle. In the fall, the Lancers' girls earned a CIF-SS Division 3 […]
By Brian Reed-Baiotto, Sports Editor
It doesn't matter if you're discussing boys or girls volleyball.
When it comes to excellence in area programs, the first school that comes to mind in regards to accomplishments and consistency in the past several years is La Salle.
In the fall, the Lancers' girls earned a CIF-SS Division 3 finals appearance, and during the spring season, the boys program didn't fall until the CIF-SS Division 4 semifinal round.
But the boys accomplishments were more than just that.
They defeated Camino Real League power St. Anthony for the first time, and that victory back on May 1 in four games helped earn the Lancers a share of the league championship.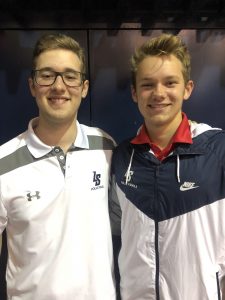 If was their first league title in 12 years.
La Salle (23-7 overall, 9-1 in league) was paced by a pair of tall, hard-working and humble young men, but their success was very much a complete team effort in 2018.
Will Dalgarn and CJ Rettig were certainly the stars and go-to athletes when a match was on the line.
They excelled both with their play and in ways that only leaders can.
Neither Dalgarn or Rettig would intimidate an opponent at first glance, but their play doesn't just surprise opponents, it earns them a respect held only for the sport's elite players.
Tiare Tuitama, who coached both genders to record seasons during the 2017-18 school year is the only area volleyball coach to win a championship since her arrival in 2012.
In fact, Coach Tui has a pair of CIF-SS championships.
She is a hard-ass in the best possible way.
Tuitama isn't there to pad someone's ego and tell them life is easy or fair, and while it hasn't rubbed everybody the right way, she is beloved among 98% of her players and has the universal respect amongst her peers in the coaching world.
It is for their record-tying and record-breaking run in 2018 that has earned Will Dalgarn and CJ Rettig the title of Pasadena Sports Now Boys Volleyball Players of the Year.
And for her unparalleled success, her impact on student-athletes, both on and off the court, and not to mention her perseverance, Tiare Tuitama has been named the 2018 Pasadena Sports Now Boys Volleyball Coach of the Year.
Dalgarn looks very much the La Salle Student Life (Body) President that he held over this past year than an elite athlete.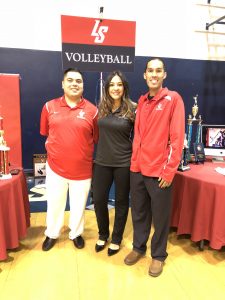 But he loved knowing how he didn't look the part and yet the 6-foot-3 Lancer proved any and all doubters wrong over the past four years that he spent up at the varsity level.
In fact, Dalgarn is the career kills leader for the boys program.
Dalgarn led La Salle with 458 kills in 2018, as well as 37 aces, 31 blocks and 411 digs.
But it wasn't the numbers that Dalgarn was focused on, it was which row La Salle needed him at most, what adjustments he could make as the coach on the court and what teammates he could help build up so when their time to shine came, they were ready, willing and able.
He wasn't just a great volleyball player, he isn't just a universally respected president and peer among those on the campus, he's also a very smart kid and has a GPA over 4.0.
Dalgarn will be attending Texas Christian University, as will his buddy and Lancers' pitcher Jeff Daley in the fall.
Rettig called Dalgarn "a great leader, because he made every player on this team believe in themselves and he didn't care who got the praise as long as we continued to win," Rettig said. "Will is our guy and someone we all looked to as a four-year starter as to how to do things the right way. He would notice things in practice and make adjustments that would help our team, and no one questioned it, because we believe and trust in his judgement."
Dalgarn said his favorite moment was certainly beating St. Anthony in four games on senior night to claim their first victory over the Saints and a share of the league championship.
He felt his role was to "make sure my teammates always felt calm and were ready each play," he said. "I didn't have to be the guy making kills all the time, because we had CJ and we had so many guys that just did their jobs to make us the team we became. I am very proud of what we accomplished."
He called Coach Tui a second mom, even though to be fair, she would have been a pretty young mom when Dalgarn was born.
"His play on the court, the responsibilities that he shouldered and the academic excellence he pursued are all second to just what a quality young man Will is," Coach Tuitama said. "I am really going to miss him and all the seniors, because it was such a special year and he led the way."
Rettig is just a junior, and much like Dalgarn, he looks like someone you'd more likely see on a skateboard on the peninsula in Newport Beach than on a volleyball court.
But to his credit, Rettig is one of the schools' most accomplished and versatile athletes.
He's played most sports, and added one more to his resume this year.
When the soccer team was about to begin the season, his friends convinced him to come out and play goalie, despite never having played competitive soccer in the past.
Because he's a good guy and a solid friend, he didn't want to let his buddies down, and he not only came out for soccer, his play in goalie helped lead La Salle to an undefeated league championship.
Rettig had double digit games in shutting out the opponent and had everyone in the program amazed and incredibly appreciative.
But then he moves on to volleyball and the jump between his level of play from his sophomore season to this past year was remarkable.
On any given night, it was Rettig in the lead with kills or it was Dalgarn, but the great thing about both of these kids is that neither care about the headlines just as long as La Salle came out on top.
Rettig's willingness to give up his body on defense is something his coaches and teammates praise, not to mention his ability to put the ball away and be the 'Robin' to Dalgarn's 'Batman.'
Rettig was second this season in kills with 406, and he added 29 aces, 22 blocks and 418 digs.
"CJ is one of the best pure athletes I've ever been around," Dalgarn said. "He's also a really good and humble guy. He puts his body on the line to make plays for our team every night we play and that's one of the reasons we were able to win a league championship and make a deep playoff run. He is very much going to be 'the guy' next year for the program."
Along with his other teammates, his coaches respect the star junior.
"CJ is such a great kid and competitor, and along with Will, it gave us two really good options to go to any time we needed," Tuitama said. "He's worked hard over his entire high school career and it's paying off big time. He is an incredible athlete, who is capable of being a star in any sport he plays. He doesn't say a lot, but his actions speak volumes."
Tuitama said Rettig has gone from a guy that could have walked on to play NAIA (college volleyball) to now a student-athlete that is being recruited.
Tuitama is the gold-standard for area volleyball coaches.
As we mentioned earlier, the girls volleyball program has been the most consistently successful in the area since she took over approximately seven years ago.
She has since stepped away from the girls program, but plans to return next year to lead the boys.
Tuitama declined to throw daggers anybody's way for moments in the fall where many thought she was mistreated or targeted by outside forces, but her players certainly wanted to make sure the fall season was much different.
"Coach Tui is such a great leader and someone I have gotten so much inspiration from," Dalgarn said. "She has taught me to work hard, expect more out of myself and how to persevere through tough times. She really is like a second mom to me and we couldn't stand to see her going through what she went through, so as the season neared, we told each other we weren't going to bring any drama her way so that Coach Tui could not only focus on us helping us get better, but just as importantly, to let her enjoy the sport she loves."
Tuitama is easily the most accomplished coach on campus with her win percentage and championships, and is someone that has an incredibly bright future ahead of her.
Part of what makes her special is her ability to use the knowledge and experience from her playing days and surrounding herself with coaches and leaders who can only help her young athletes continue their ascendance both on and off the volleyball court.
Every coach has their supporters and their detractors, but one thing even her most vehement critics can not take away is Tui's consistent record of excellence year in and year out, nor can them dim her optimistic and championship level spirit.
"I am so thankful for all the time and effort and care Coach Tui puts into each practice and each day," Rettig said. "I know how much she cares for us as people and that means a lot to not only me, but all of my teammates. We all want to play for her, because no one could possibly prepare us night in and night out like she does."
Tuitama wanted to especially thank her assistant coaches Stephen Bernabe, Ignacio Cabrera and Angel Ramirez for their tireless efforts in making this season a success.
The La Salle coaches, as well as Rettig and Dalgarn wanted to thank their entire roster for their sacrifices, production and brotherhood, including Tommy Nigro, Brandon King, Anton Aritz, Jaron Surtees and the entire roster.
Quotable:
La Salle assistant coach Stephen Bernabe on Dalgarn: "Will plays club ball and he is the kind of kid that you hope every club player would end up like, because he used all that experience to make those around him better. He is a coach on the floor or the quarterback, because he knows everybody's job and where they should be. His looks are very deceiving. If I'm scouting against La Salle, my game plan wouldn't be centered around Will, because he doesn't look the part. But once the match starts, after one swing, you're like 'wait, what is going on?"
La Salle assistant coach Stephen Bernabe on Rettig: "CJ made huge strides this season. I think he played more comfortably, which meant he was calm and that helped him take his game to the next level. CJ sacrificed his stats and everything for his teammates. He was willing to play any position we needed him to play to give us the best chance we had to win matches and that to us was huge. His senior season will be special, and he's going to help create a culture where the other kids understand that hard work pays off."
La Salle assistant coach Stephen Bernabe on Tuitama: "After everything she went through, I was so glad to see her stick it out as the boys coach and I was blown away. I don't know many coaches that would go through all of that. It was just on to the next season and let's put the work in. She has every player's respect because she gives it to them straight and her work ethic and track record are second to none. They know she cares about them as people, but she's also willing to tell them things they might not want to hear, and good coaches do that. She's a really special person and coach and I'm honored to be part of her staff."