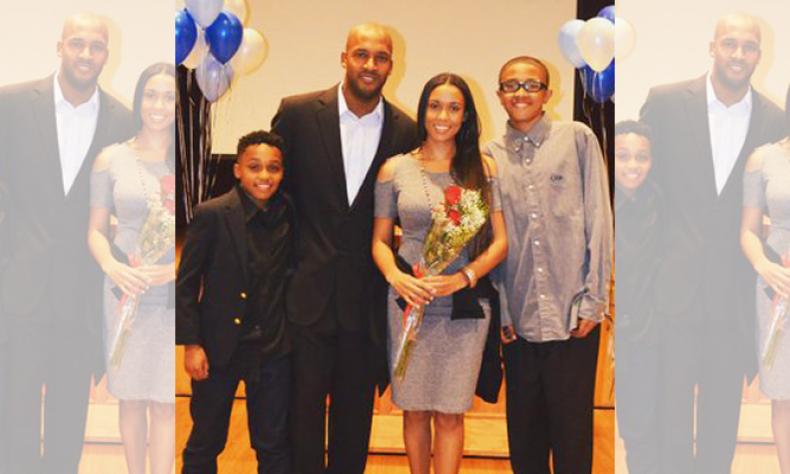 By BRIAN REED-BAIOTTO, Sports Editor It might be difficult to understand how a coach can make an impact in just one year at a school, but Jelani Gardner was able to do that. Before he took the reigns for the 2017-18 season, the Blair High School boys basketball program was coming off a run in […]
By BRIAN REED-BAIOTTO, Sports Editor
It might be difficult to understand how a coach can make an impact in just one year at a school, but Jelani Gardner was able to do that.
Before he took the reigns for the 2017-18 season, the Blair High School boys basketball program was coming off a run in both the CIF-SS Division 4AA and CIF State Division 4 playoffs.
The Vikings fell in the D4AA title game to West Torrance and then earned a CIF State victory over Palisades before being eliminated.
Their coach, Alon Margalit, left the school to take over at Cantwell-Sacred Heart after that remarkable 2016-17 season.
Another departure that was going to affect the product that Blair put out on the court in 2017-18 was the decision senior Gabriel Snow made to move back to Australia, as well as the obvious loss to graduation of senior guards Jack Dakan, Caleb Smith and Jordan Hall.
So, what looked initially like a roster that could make a similar run started to look depleted because of the above mentioned and a couple of injuries.
And in came a new coach named Jelani Gardner.
He played prep, college and professional basketball, and ushered in the Gardner-era of no-BS, hard work and a mantra of 'we're in this together' type of mind set at a school not known for their athletics.
He made the no-brainer decision to center his program around the defending CIF Division 4 player of the year, 6-foot-7 forward, Dez Washington.
But it wasn't as simple as that.
In fact, Washington acknowledged that he hadn't exactly welcomed Gardner's changes with open arms, but the Vikings new leader patiently allowed Washington to realize his new coach had the pedigree to make not only the program, but Washington himself into a better basketball player/team.
And while their low point this season was a seven-point home loss to Temple City, Gardner's program did something no Vikings' coach had done in nearly two decades and that was a victory over perennial Rio Hondo League champion La Canada.
The Vikings didn't just break the Spartans dominance head to head, they did so on the road, with their 50-45 victory back on January 26.
Blair finished in second place and one-game back of La Canada.
They earned an 11-point victory over Elsinore in the first round of the CIF-SS Division 3A playoffs, before having Buena end their season.
Blair (21-8) and Gardner somehow found a way to win 74-percent of their games, despite scoring nearly 500 less points than the season prior.
He focused on a scorched-earth defense that allowed their pressure and athleticism to hold opponents to north of 300 points less than the season prior.
Gardner enjoyed his time at Blair, but when a position at a power school like South Hills in West Covina becomes available, any coach worth one's salt would inquire.
Gardner met with the South Hills principal, assistant principal, athletic director and a number of Huskies' coaches, and the meeting obviously went well.
The difference between South Hills and Blair athletically could not be more stark, not to mention the pool of talent Gardner will have to choose from goes up exponentially.
But Gardner wanted to make sure that the school, its administrators and athletes knew how much their support has meant to Gardner and his family.
Quotable:
Former Blair coach Jelani Gardner: "First, I would like to thank Blair for the opportunity. We had a great year. The kids were great kids, and I wish everyone the best in the future. I hope the boys received life lessons that will help them navigate this thing called life. It's not easy, and I hope, through the game of basketball, I taught them some lessons that helped them develop character. I don't believe in coincidence, so I believe I was at Blair for a reason. Now I believe I'm at South Hills for a reason. I hope to be here for a long, long time."