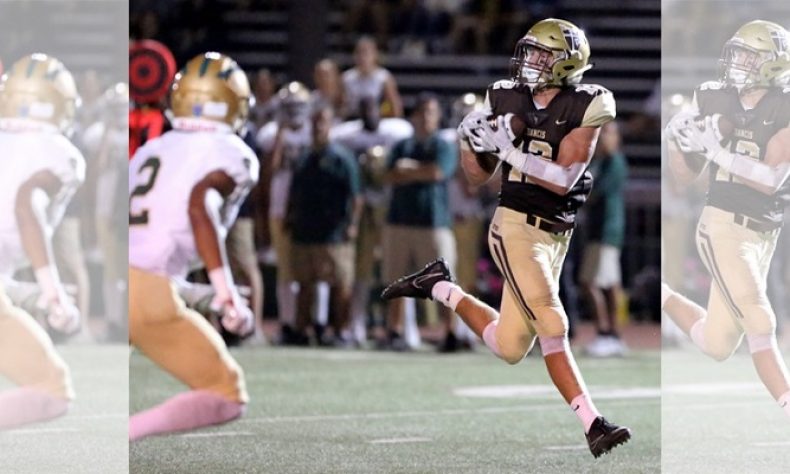 By BRIAN REED-BAIOTTO, Sports Editor | Photography by Ryan Tomey St. Francis didn't exactly begin the 2018 season the way they had planned. Their five-point setback at Mira Costa last week was far from their best football. But that's in the past and onto week two.  The Golden Knights would trot Darius Perrantes, the […]
By BRIAN REED-BAIOTTO, Sports Editor | Photography by Ryan Tomey
St. Francis didn't exactly begin the 2018 season the way they had planned.
Their five-point setback at Mira Costa last week was far from their best football.
But that's in the past and onto week two.
The Golden Knights would trot Darius Perrantes, the area's premier quarterback out on the field for what they hoped would be a rebound victory in their home opener with Damien, right?
Not so fast.
As Damien kicked off just a minute or so after 7 p.m., Perrantes was on the sidelines with a fever of 104.
Out came Doyle Kane and Perrantes' backup was nothing short of outstanding.
Kane completed 13 of 18 passes for 235 yards, he threw a pair of touchdowns and ran in another.
St. Francis earned a 38-21 victory over their visitors from La Verne in a game that was never in doubt.
On the Golden Knights' first drive of the game, Nico Boschetti gave St. Francis a 3-0 lead with his 45-yard field goal.
Not too long after that, Kane hit Tanner Tomko on a 19-yard scoring strike.
Kevin Armstead, who was held to under 50 yards last week, gave St. Francis a 17-0 lead when he sprinted into the south end zone from 90 yards out on one of the first plays of the second quarter.
Armstead scored twice and rushed for over 235 yards on 28 carries.
Tomko caught four passes for 86 yards, and had TD's of 19 and 38 yards.
Will Stewart had six tackles at middle linebacker, three catches for 65 yards and the captain does just about anything asked of him to help the Golden Knights win football games.
Jordan Barton completed 18 of 28 passes for 237 yards for Damien.
Barton hit Ruben del Castillo on a 13-yard TD in the third quarter.
Jermaine Barner scored on a 1-yard run and Chase Carter's 2-yard score in the fourth quarter accounted for the rest of the Spartans' offense.
Jacob Albertini had six catches for 85 yards for Damien.
In almost every phase of the game (blocking, less penalties, dropped passes, intensity) the Golden Knights saw major improvements from their week one loss.
St. Francis will travel next Friday to Westlake Village to take on the Warriors.
Westlake (3-0) is coming off a 24-20 victory over Oxnard.
Scoring:
SF: Nico Boschetti 45 FG
SF: Tanner Tomko 19 pass from Doyle Kane (Nico Boschetti kick)
SF: Kevin Armstead 90 run (Boschetti kick)
D: Jermaine Barner 1 run (Ben D'aquilla kick)
SF: Tanner Tomko 38 pass from Doyle Kane (Boschetti kick)
SF: Kevin Armstead 4 run (Nico Boschetti kick)
D: Ruben del Castillo 13 pass from Jordan Barton (D'aquilla kick)
SF: Doyle Kane 9 run (Boschetti kick)
D: Chase Carter 2 run (D'aquilla kick)
Box Score:
Damien: 0-7-7-7-(21)
St. Francis: 10-21-0-7-(38)
Records: Damien (1-2); St. Francis (1-1)
Angelus League Scores:
St. Francis 38, Damien 21
Cathedral 41, Carson 0
Harvard-Westlake 34, Crespi 10
Garfield 29, Salesian 6