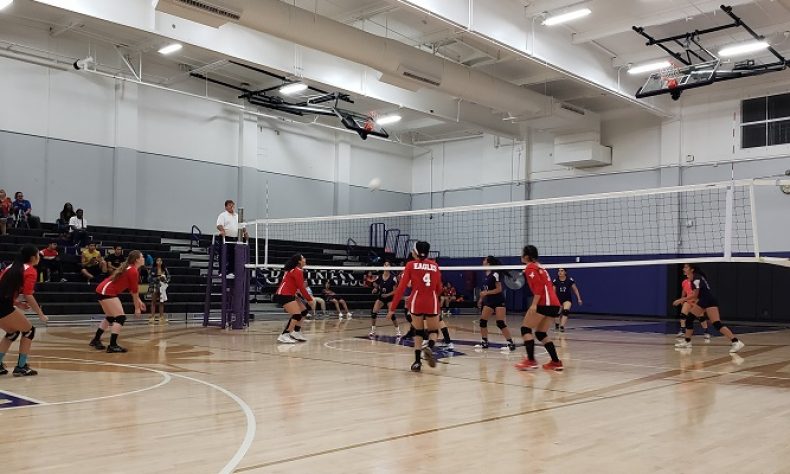 From STAFF REPORTS Marshall got a very important, Mission Valley League-opening win Friday, and did so on the road. The Eagles defeated Mountain View by scores of 25-19, 25-17, 19-25 and 25-14. Sophomore Malia Wilson had 10 digs, 5 aces, 5 kills and 16 assists. Senior Risejah Velasco added 15 digs, 6 kills and 3 […]
From STAFF REPORTS
Marshall got a very important, Mission Valley League-opening win Friday, and did so on the road.
The Eagles defeated Mountain View by scores of 25-19, 25-17, 19-25 and 25-14.
Sophomore Malia Wilson had 10 digs, 5 aces, 5 kills and 16 assists.
Senior Risejah Velasco added 15 digs, 6 kills and 3 aces.
Marshall will host South El Monte on Wednesday at 3:15 as Mission Valley League play continues.
Quotable:
Marshall coach Sang Lee: "I think we are a very balanced team this year. We spread the ball around and we rely on a team effort. I think we are still figuring out how to play together, but the girls have a great attitude and seem to like each other. We don't give up, and I think that will help us as we move deeper into league. Last year, we were 1-11 in league, so we hope to improve our league record."
Marshall senior Risejah Velasco: "We can get more wins under our belt if we keep improving. This year, we are closer as a team and have better communication. We have been practicing together since March, and I think you can see that on the court. As a team, we still have to improve our serving and passing."
Marshall sophomore Malia Wilson: "Our goal is not to hit the ball out and minimize our shanked balls. We are trying a new formation and I get nervous sometimes, but it allows me to pass and hit more, and cover more ground."
Records: Marshall (5-6 overall, 1-0 in league); Mountain View (0-10, 0-1)