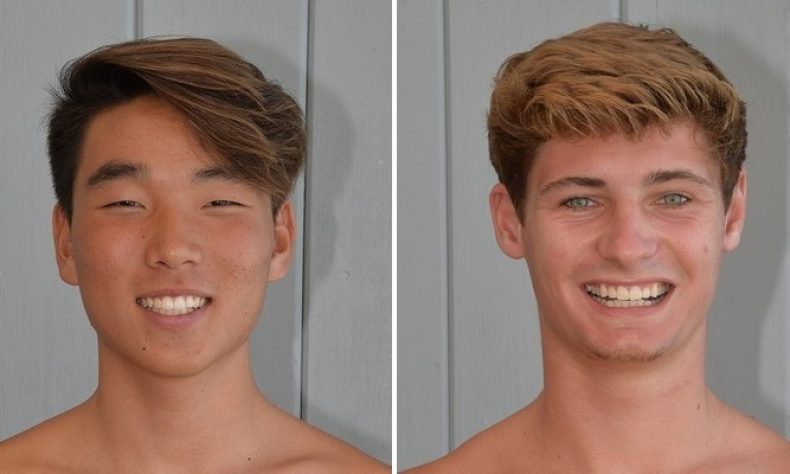 Senior co-captains Austin Lee and Alec Walsh From Staff Reports: It didn't take Poly long to assert its will Saturday during their 'Fall Tailgate.' The Panthers got out to a three-goal lead after one period and they never looked back. To El Rancho's credit, though, they got as close as two goals back late in […]
Senior co-captains Austin Lee and Alec Walsh
From Staff Reports:
It didn't take Poly long to assert its will Saturday during their 'Fall Tailgate.'
The Panthers got out to a three-goal lead after one period and they never looked back.
To El Rancho's credit, though, they got as close as two goals back late in the third quarter, but the Panthers weren't going to surrender the lead.
Thanks to six goals apiece from both Austin Lee and Alec Walsh, Poly defeated the Dons, 19-10.
Chandler Washington had four saves in goal.
Sean Zheng added three goals in the win and Diego Jaime scored twice.
Single goals by Matt Arredondo and Sean Liu accounted for the rest of the Panthers' offense.
Poly will host Pasadena on Wednesday.
Poly game notes:
The game was a back-and-forth affair for most of the first half. El Rancho closed the deficit to 12-10 with 2:32 left in the 3rd quarter before Poly finished the final 9:32 on a 7-0 run. It was the second straight game where the Panthers used a strong conditioning base to outlast their opponent (Poly was down 6-5 against Glendale at halftime before finishing with a 6-3 second half to win the game).
Senior co-captains Austin Lee and Alec Walsh spearheaded the offensive effort, both going 6-for-7 shooting in the game. Sophomore Matt Arredondo and senior goalkeeper Chandler Washington both had 5 assists. Junior Sean Liu and Sophomore Sean Zheng paced the defense with 5 steals apiece.
Box Score:
ER: 3-4-3-0-(10)
PP: 6-4-6-3-(19)
Records: El Rancho (0-1); Poly (4-0)